Wanilla is a lovely little mushroom filly, who i fell in love with when she was just a foal. .
She has the most amazing beautiful pony head, with great big bambi eyes.
Best of all is her amazing pedigree!
She is quite small, considering the size of her parents, and I hope she won't be too much taller than 86 cm, and that I with her and Waldo some lovely small true to type mushroom foals.
I can't wait to follow her development.

Wanilla has been sold to Germany.
Nr. 4 of 8
Score. 8877
Ovaerall: 8
Nr. 6 af 6
77777 = 35 point
Silver
Stamtavle

SH 782

1. kl.x. w. 46 points
Standard Champion, Overall Champion.
Bay, 97 cm

RS 252

Shown with 47 points. ELIT, Int. Overall Champion.
Chestnut, 102 cm

NPA 6685

Approved with 43 point.
Best 3 year old stallion.
Mushroom, 92 cm


RS 2345

Shown with 45 points, 4 x champion ELIT.
Black, 103 cm

Stjernen's Wanilla

v.132988

Shown with 43 points, Classwinner.
Mushroom, 101 cm


S.807629

1. premie, 2 x Algemeen Kampion.
Chestnut, 92 cm


Linda v. Botterland

S. 119292

S. 800907

1. premie, KR PREF.
Chestnut, 96 cm


S. 994 NL

1. premie, Keur, Algemeen Kampion. IBOP-A
Black, 91 cm


S 3768

2.kl.A
Best in Show Mare
Mushroom, 96 cm

Sambretta L.H.

S. 91243

2. premie
Black, 92 cm


Maravilla v. Uilenbroek

2. premie
Chestnut


SH 519

1.kl.x w. 44 points
Standard Res. Champion
ELIT
Chestnut, 101 cm


Golden Sabby

S.22447

Kroon - Super PREF.
Chestnut, 98 cm

Some family: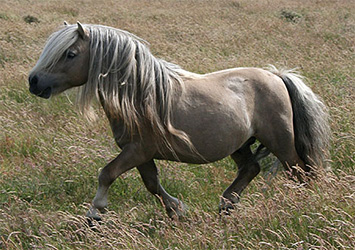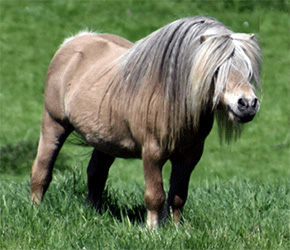 Picasso fra Holla
Shown several times with up to 44 points.
Lovely true to type mushroom stallion, by the legendary Skattens Creol.
Full brother to Claes af Bergli who has been approved with 45 points and shown with up to 46 points!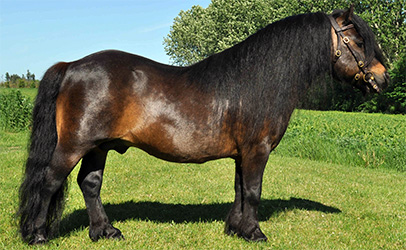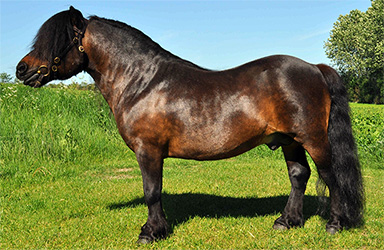 Skattens Creol
1.kl.x w. 46 points - Best Veteran - Standard Champion and Overall Res. Champion
Aprroved 2 x in Norway with 44 points
Creol was stallion of the year, across all breeds, in Norway in 2006, 2007 and 2008. He has been Best in Show several times in Norway.
Has been showed with up to 46 points in Norway and was classwinner at the International Show in Norway.
He is the sire of several approved stallions with high marks and many gold awarded daughters.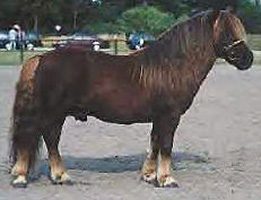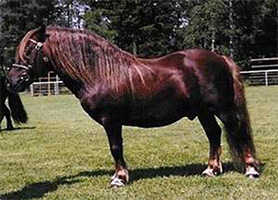 Capone Fire
The world known stallion!
Shown with up to 47 points, too many champion titles to cound, and has gotten a 10 for type on several occasions,  ELIT stallion and Internatinal Overall Champion..
He is found in the pedigree of many of the top shetland ponies across europe, just like his sire: Jolly Roger of Marshwood.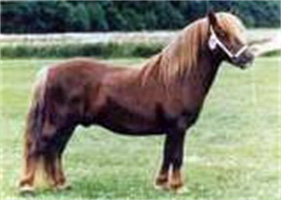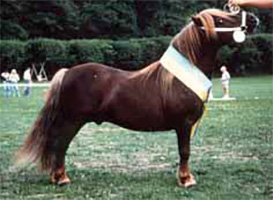 Jolly Roger of Marshwood
Jolly Roger of Marshwood really needs no further introduction. He is thought to be the leading shetland stallion of the world!
Jolly Roger has definately put his mark on the shetland pony breeding all over the world, especially in Sweeden where he stayed for most of his breeding career. Jolly Roger is the sire of several ELITE offspring, BIS, RES BIS, BIM winners, and several has gotten a 10 for type. He has also sired a large number of sweedish breeding diploma mares, and many of them have been shown succesfully internationally!
 Jolly Roger has been shown in Sweeden, with 3x45 points, and he has gotten a 10 for type and a 10 for his legs. He is a champion stallion, ELIT, and also approved for breeding in Holland, as well as Denmark, where he was shown with 44 points, 1. class and Standard Reserve Champipn when he was a veteran.
Jolly Roger is from the famous Marswoods J line, and he is out of the mare, Jolly of Marshwood, who besides being an excellent breeding mare, also harvested several champion titles in the showring..
She left a long line of very highly prized offspring, who all excelled in the showring like her.
The sire of Jolly Roger is Gletness Rockall, ELITE stallion in Sweeden, and the sire of another very succesful breeding stallion: On the Rocks og Marshwood, 1. premium and lifetime approval in Holland.. Rockall has also sired Rock Crystal of Marshwood who was approved with 1.class and did well in the danish breeding of shetland ponies, sirering several approved sons and 1. class daughters.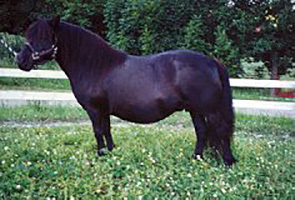 Almnäs Ariette
Shown with 45 points, 4 x champion mare in Sweeden and awarded ELIT based of the quality of her offspring.
Classwinner almost every time she has been shown.
She is the daughter of the very well known Timothy v.St. Geerhof
who is an important stallion, that has left his mark in especially Sweeden, where he has a long line of offspring who has done well in the showring.  
Ariette is the dam of several amazing offspring besides Skattens Creol, some of them are listed below:
Skattens Esmeralda
 - 
shown several times with 43 points and 10 for type, 3 x BIS, several times champion mare in Sweeden.
Skattens Wendetta
 - 
Several times gold in Sweeden, shown with 2 x 42 points and 10 for type. 
Skattens Crut - Approved stallion, shown with 44 points, and several times 10 for type, BIS, RES BIS and champion stallion in Sweeden. 
Skattens Crinoline -
shown with 42 points in Sweeden, Champion young mare and 10 for type.
Crut and Crinoline are both full siblings to Creol..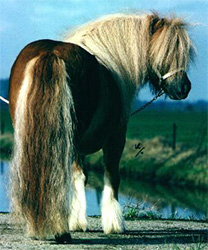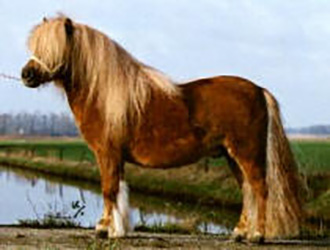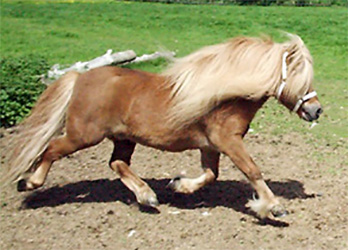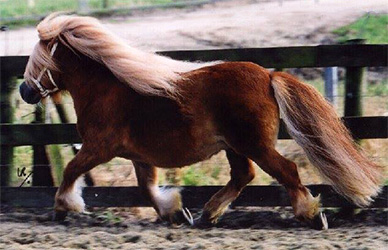 Kristof v.d. Bolster
Kristof has been given no less than 5 x 1. premie and is also Champion in both 2001 and 2004.
He has been awarded lifetime approval based on the quality of his offspring, of which almost all of them have recieved their premiums.
His father is the famous Adam v. Spuitjesdom, who is also a National Champion in Holland.
His mother, Felicia L.H. is Kroon-Preferent and also mother of Mathieu v.d. Bolster, another approved stallion in Holland. 
The rest of Kristof's pedigree counts several Preferent, Kroon-Preferent- and Super-Preferent mares and stallions.
In Holland Kristof has covered 51 mares in 2002 and 45 mares in 2003.
Here in Denmark Kristof also have several offspring who has done very well. So far 4 mares have been assessed with a 1st prize and he has one son approved for breeding.
His offspring has also done very well at foal and youngstock shows, both nationally and internationally.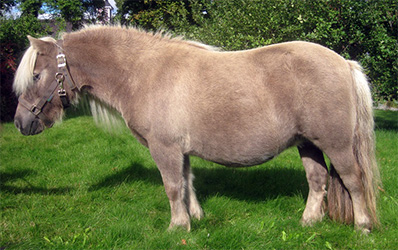 Peggy v. Botterland.
Peggy is just one of many lovely offspring from thre amazing little Kristof v.d. Bolster.
She has been shown as classwinner with 43 points.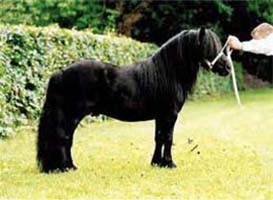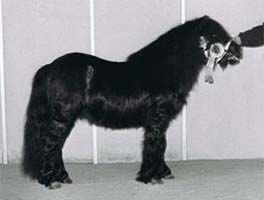 Bram van de Gathe
No less than 5 x 1. premie in Holland. Kleine Maat Champion and Overall Champion in 1996.
Has sired several 1. premie daughters and approved sons.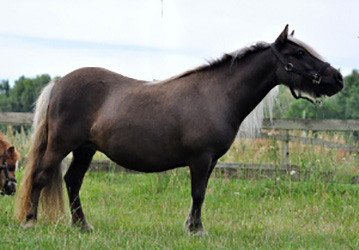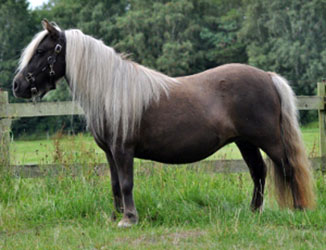 Wonder v. Uilenbroek
Approved in 2.kl.A
Shown as classwinner, nr. 1 of 12, with the maximal 24 points and was Best in Show Mare 2013