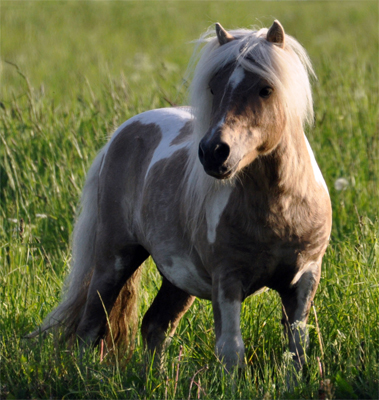 Stallion
Born: 25/5 2006
Measurements: Height: 83 cm
Color: Mushroom Tobiano
Genotype: e/e A/a mu/mu To/to
Heterozygous bay carrier and heterozygous for tobiano.
Also homozygous for mushroom and chestnut.

Waldo is a lovely little stallion I bought in Holland 2012.
He is approved for breeding in Holland with 2nd premie.
With Waldo I will finally be able to breed mushroom foals.
Since he is mushroom colored, he is homozygous for the mushroom gene, meaning he will pass as mushroom gene to all of his offspring no matter what color they get.
The fact that he is also pied is just a bonus, since I really wan't some pied foals!
He is small and compact, with good hooves and some nice free movements.
Results:


2007
Show, Holland
Twenterpreimie
2008
Keuring, Holland
2. premie
2009
Keuring, Holland
2. premie
2010
Keuring, Holland
2. premie
2012

Mountain & Moorland Winther Show
Judge: Mrs. Pat Renwick
Score: 888 88 = 40 points
Nr. 8 af 8
Description:
Typical shetland stallion, with profuse hair.
Nice topline.
Good bone.
Good free action.
Performance Test - Ringsted
Long Reins
Judges: Ole Paarup Nielsen and Jane Lund Ladegård
Points: 7,7 - 7,3 - 7,5 - 9
2. prize
2013
Stallions Assesment
Judges: Mrs. Anna Stevens and Mr. Ian Spence
Score: 998 89 = 43 points
1st class
Nr. 2 of 5


Stamtavle

Dreadnought-Dynamic v.d. Beemster

SB 0001060

1. premie PREF.
Chestnut, 82 cm

SB 0000892

1. premie, ELIT
KR. PREF
Chestnut, 84 cm

SB 0806773

1. premie, KEUR PREF. IBOP-AA
Chestnut Tobiano, 85 cm

SB 0000063

PREF.
Chestnut, 83 cm

Waldo v.d. Litherweg

SH 730

Zingrid v. Grolloo

SB 0095897


KR. PREF.
Chestnut Tobiano, 88 cm

Claret

SB 0000842

Chestnut, 87 cm

Sylvia v. Middelstum

SB 0090501

Chestnut Tobiano, 94 cm

SB 0811373

5 x 1. premie
Chestnut Tobiano, 84 cm

SB 0001104

1. premie PREF.
Chestnut, 84 cm

Roosje v. Stal Den Bosch

SB 0136478

2. premie
Chestnut Tobiano, 83 cm

Gwendolien v.d. Goede

SB 0109317

KR. PREF.
Chestnut Tobiano, 80 cm

Shoemaker Frippery

SB 0109778

2. premie
Chestnut, 85 cm

Maple of Brindister

B 1002940

Carola of Burland

B 1001278

Chestnut
Some family: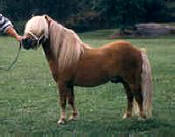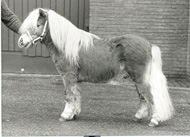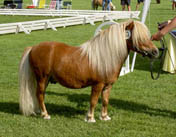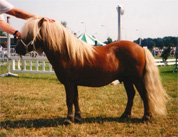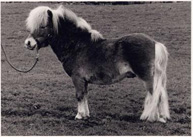 Parlington Pimpernell
One of the leading stallions in both Holland and Sweeden.
He was the best mini stallion in Holland for 4 years, before he was exported to Sweeden in 1991.
One of Europes leading stallion fathers with more than 25 approved sons in Holland, and approved sons in both Germany, Sweitzerland and Sweeden.
Used in Sweeden from 1991 til 2001, where he won severel BIS and champion titles. He was awarded ELITE several times, and was shown with up to 45 points.
In 1991 he was reserve world champion in Paris, and in 1994 he was best mini champion at the international show in Holland.
In 2001 he had 278 registered offspring in Holland, and more than 500 offspring all in all.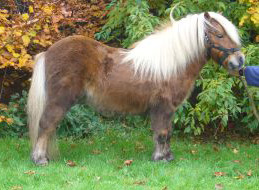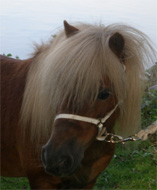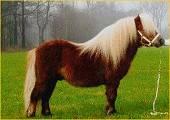 Expensive v. Bromishet
Leading dutch stallion with 12 approved sons, and 47 1. premie daughters in Holland.
He is a lifetime approved champion stallion with 1. premie and Preferent predicate.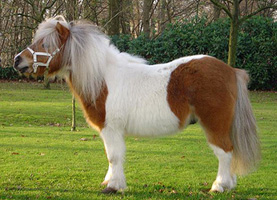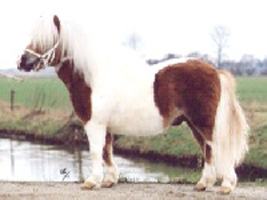 Menthe v.h. Keijzertje
Showed with 5 x. 1.premie in Holland.
Sire of 3 approved stallions in Holland, including the 1.premie stallion Rocco v. Stal Polderzicht.
Also the sire of a number of 1.premie mares and countless 2. premie mares.