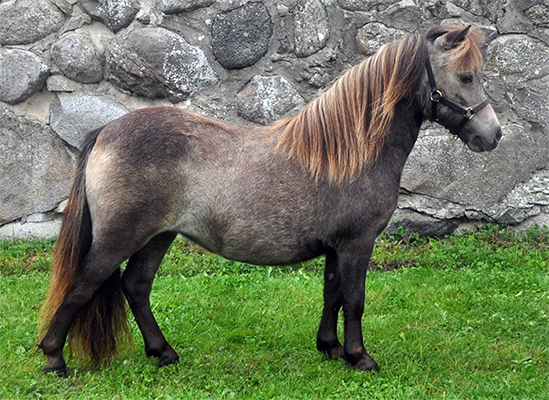 Filly
Born: 2/5 2018
Height: 54 cm on day 1
Colour: Buckskin
Genotype:

My ultimate dream foal!
Ever since I bought Tamelone back in 2012, I have dreamed of a filly foal out of her, but until now she has blessed me with lovely colts foals.
My first colt by her was Patron, who I thought was very nice. He was after Stjernens Mini-Paschal, so ofcourse I had to cover Tamelone with him again last year, when I had rented him.
And finally my dream came true! Not only did this breeding result in a filly foal, but even in one of my absolute favorite colours!
I am compltely in love with little Trinity, who has the cutest little head, excellent type and some very promizing movements!
She has already during, her very first summer, done very well in the show ring and I can't wait to see her develop in the coming years!

Sire is 1 class palomino stallion. Mini Champion and Overall Reserve Champion. He is also approved in Sweeden and has been shown there with several times Gold and champion titles.
Dam is also 1st class, Medium Champion and Overall Reserve Champion. She is also sevral times classwinner with 42 points in Sweeden. And in 2018 she also got a International Veteran Champion title.
Damsire is the well known 1. premie, KEUR and PREFERENT stallion Kiliam v. Dennehove. Known for passing his amazing movements.
Trinity's brother, Hedegårdes Shadow, was approved for breeding as a 3 year old with 42 points and was Medium Champion. As a 5 year old he got his final approval, again with 42 points and was Mini Champion.
Her mothers sister, Trix v. stal Poldervreugd is also a 1st class mare, with 9 out of 10 for movements. Mothers brother, Pericles v.h. Wald is also 1st class, and also Mini Champion and Overall Reserve Champion.
All in all, incredible bloodlines in this little girl.


Results:
2018
ISPC Internationalt Show - Herning - Danmark
Judges: Pernille Bjerre, Sue Pye and Stein Langøren
Nr. 1 af 1
Silver
Res. Junior Mini Mares Champion.
Ahla, Laholm. - Sweeden
Judge: Torsten Jeppsson
Nr. 1 of 4
88888 = 40 points
Champion Foal
2019
Halloween Show - Sölvesborg - Sweeden
Judge: Mr. Remond Molenkamp
Nr. 1 of 2
Classwinner
88877 = 38 points
Silver
Golden Crown Shetland Show - Sweeden
Judges: Maria Jansson and Christine Ivarsson
Nr. 2 of 2
8,5 8 7,5 7 8 = 39 points
Silver
Stamtavle

SH 540

2.kl.B - Mini Champion
Palomino, 82 cm

S. 801587

1. premie
Chestnut, 81 cm

SH 695

1. kl.x - Mini Champion + Overall Reserve Champion
Palomino, 85 cm


Lezah of Longalley

RS 4521

Palomino, 92 cm

Shady Acres Trinity

S 2283

1. kl.x
Chestnut, 86 cm

Skovlundens Gordon

SH 186

1. kl
Chestnut, 87 cm


Paradisets Nadia

S 1422

2. kl. A
Chestnut, 91 cm

S. 808271

1.premie
KEUR. PREF.
Black, 82 cm

Florio v.d. Beatrixlaan

S. 800761

1. premie
Chestnut, 85 cm

S 3212

1. kl.x - Medium Champion + Overall Res. Champion
Bay, 88 cm

Wish v. Stal Noord Zuid

S. 95647


2. premie KR. PREF.
Black, 79 cm

Heidi v.d. Hexelhof

S. 110597

2. premie KR
Bay, 87 cm

SB 0802732

2. premie PREF.
Chestnut, 82 cm

Bonny v.d. Hexelhof

S. 98730

2. premie KR. PREF.
Bay, 84 cm
Some family: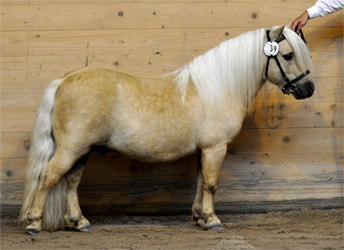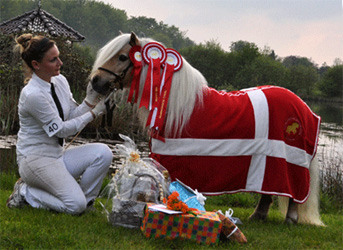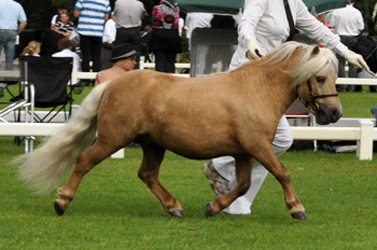 Stjernens Mini-Paschal
1. kl.x. with 43 points. Mini Champion. Overall Reserve Champion.
Also approved in Sweeden. Shown sveral times in Sweeden with gold and champion titles.
Winner of the 2011 Performance Test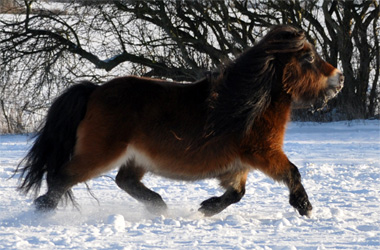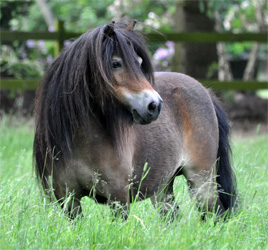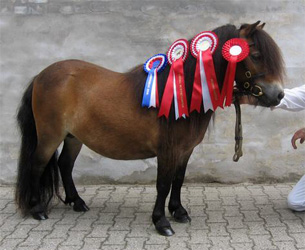 Tamelone v. Stal Poldervreugd
1. kl.x with 43 points. Medium Champion. Overall Reserve Champion.
Multiple times classwinner in Sweeden with 42 points.
Gold and International Veteran Champion 2018.
Brother: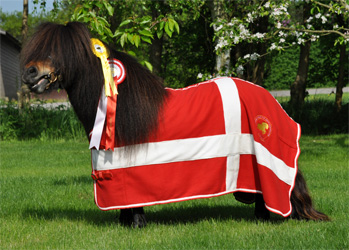 Hedegårdes Shadow
2012: Approved for breeding and classwinner with 99888 = 42 points
Medium Champion
2014: 1.class and classwinner with 99889 = 43 points
Mini Champion
Aunt: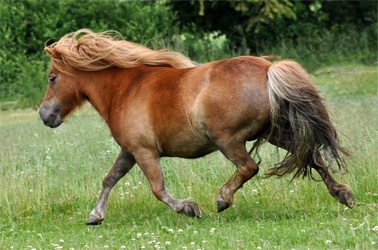 Trix v. Stal Poldervreugd
1 kl. with 888 99 = 42 points
Uncle: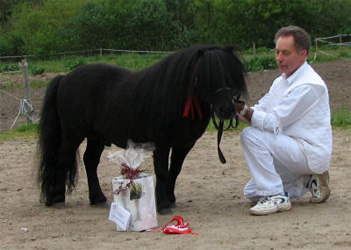 Pericles v.h. Wald
1. kl. with 988 89 = 42 points
Mini Champion and Overall Reserve Champion
Has sired two 1. kl. mares and an approved son, out of only 6 shown ponies so far.

Paradisets Petrea
1. kl.x with 44 points
Only two shown offspring, both with 1. kl and both with champion titles.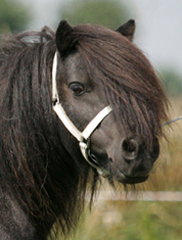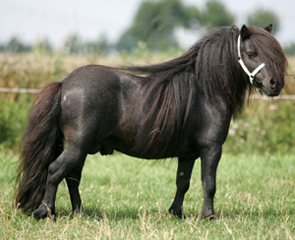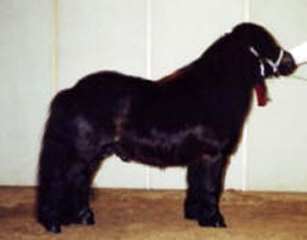 Kiliam v. Dennehove
A very important mini stallion with several approved sons and many 1. premie kroon daughters.
Shown with several 1. premiums and has been awarded Preferent title based on the quality of his offspring.
Has a breeding index of 106 for type and 102 for movements!