August 12th to 14th Lena and I went on an amazing stud tour in Jutland..

Mosbækminde
On friday we first drove to Stutteri Mosbækminde. Lena really wanted to see Lamse (Liam of Borgie) again, since he is the father of her stallion Opus.
I was looking foreward to seeing some offspring after Mosbækmindes Guinness, since he is a stallion I would like to use on some of my mares.
We were shown around by Hans and Louise, and we saw many lovely ponies. A common thread here was the very strong and high quality limbs that we saw on almost all of the ponies there.
Lamse had gotten old and grey (heis 27 years old now) but hw was having a great time with his ladies, and still produces foals, so we must say that he is very viril for his age.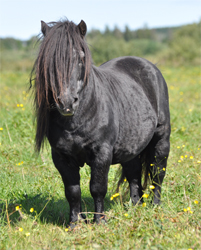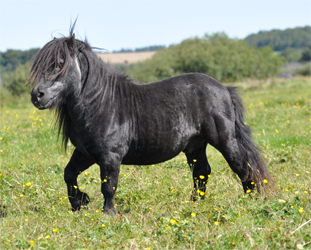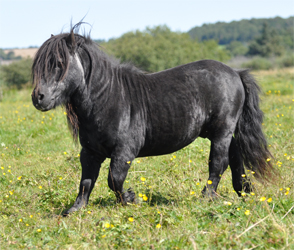 Liam of Borgie - 27 years old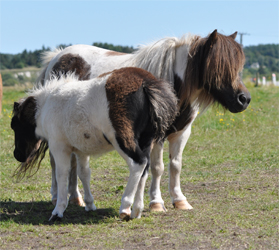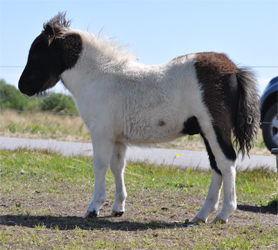 Guinness' mother: Modbækmindes Gabrielle with Guinness' fullbrother: Mosbækmindes Garlic

Hedegårde
In the afternoon we went to Stutteri Hedegårde, where we were wellcomed by Anette and Jørgen. They had been very sweat and offered to let us spend the night there.
On this stud there was a small group of shetland ponies of very high quality, with beautiful heads, lots of hair and fantastic movements.
This is according to Anette also some of the things they have focused on with their breeding, and it shows.
I especially fell for their two dutch imported ladies: Tamelone v. Stal Poldervreugd and Trix v. Stal Poldervreugd, they had both inherited the amazing movements of thier father: Kiliam v. Dennehove.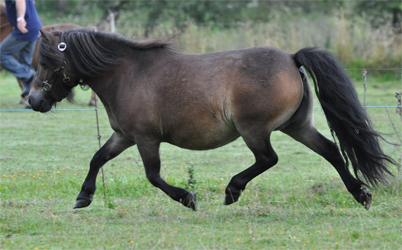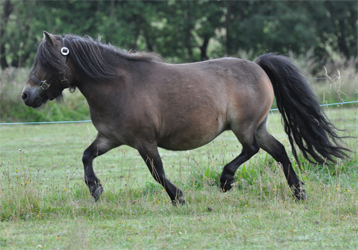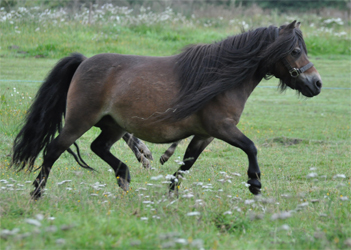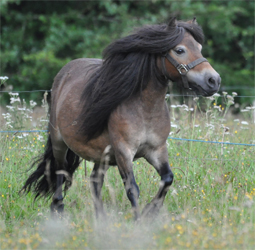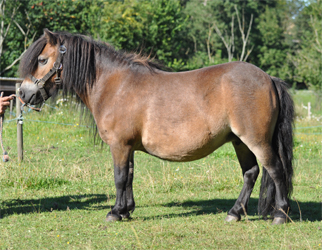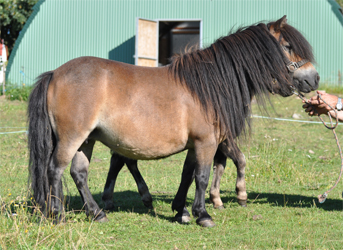 Tamelone v. Stal Poldervreugd - Showed with 43 point = 1st class, with a 9 for her trot.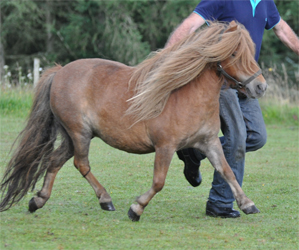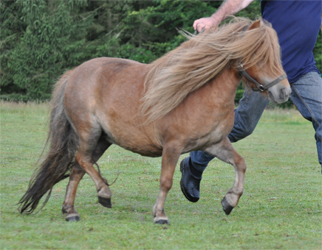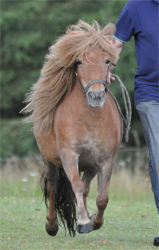 Trix v. Stal Poldervreugd - shown with 42 points = 1st class, with 9 9 for movements.
Lena fell in love with Anette and Jørgens 2 year old stallion: Hedegårdes Shadow, out of Tamelone and sired by their own stallion: Hedegårdes Moonshadow.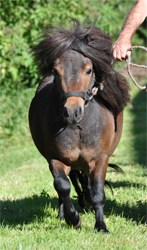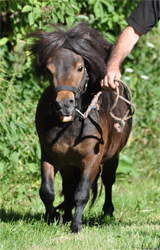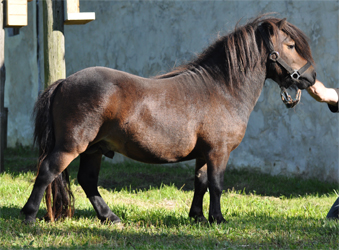 Hedegårdes Shadow - 2 years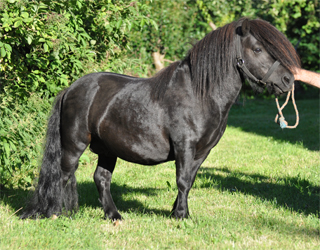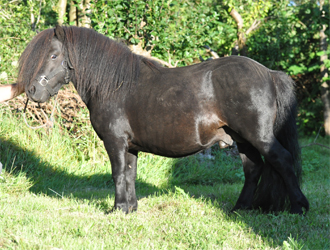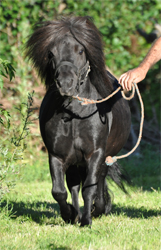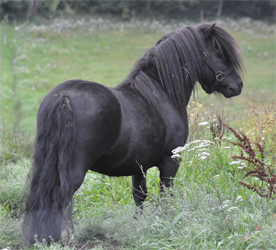 Hedegårdes Moonshadow
We also saw the two full sisters, Queen and Penny Lane, which are both after their former mare Hedegårdes Lilibet and their lovely stallion Pericles, who incidentely has the same father as Tamelone and Trix.
He has also inherited some amazing movements which he passes on to his offspring. Both mares are graded 1st class.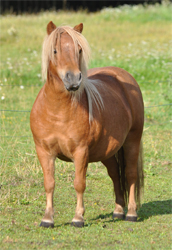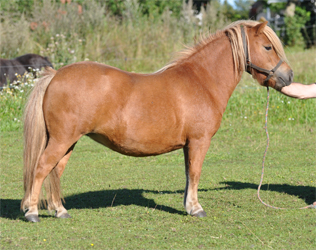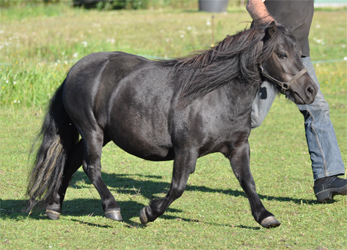 Hedegårdes Penny Lane - 42 points and Hedegårdes Queen - 43 points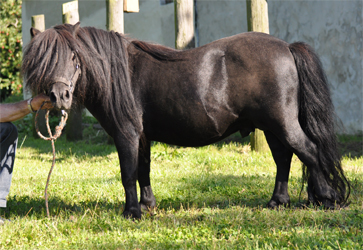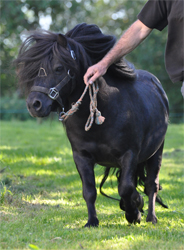 Pericles v.h. Wald - 1st class.
Tamelone had a wonderful colt foal, who is a full brother to Shadow.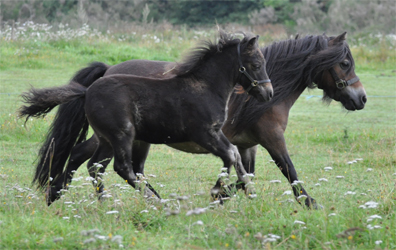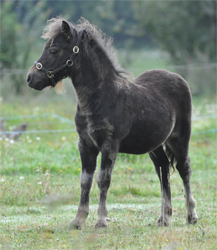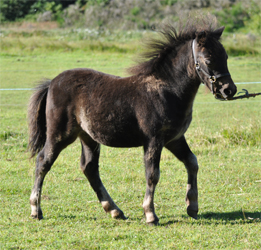 Hedegårdes Uhno
Hewre are some pictures of some of the other ponies at the stud: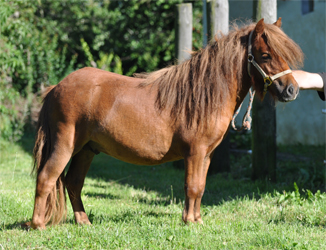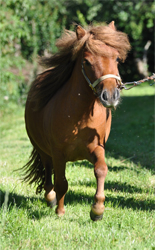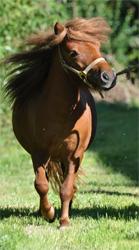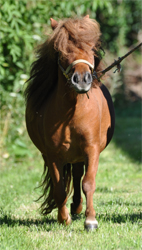 Hedegårdes Trixtan, yearling colt after Trix and Otan v. Lumaud's Hofke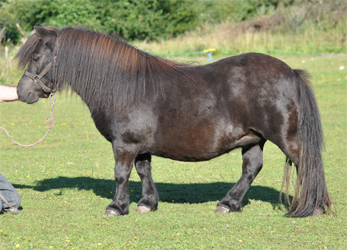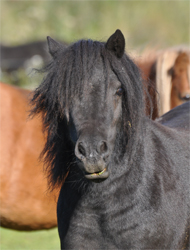 Hedegårdes Prisille and Hedegårdes Roxette
After we had eaten supper, we went with Jørgen out to let in the ponies for the night. Yes, the ponies from Stutteri Hedegårdes are very spoiled!
Freshly done stables, with fresh hay awaits them, and Jørgen has been round to emty all the automatic watercups, so they are filled with fresh water.
And ofcourse he has also cut a bit of fresh grass for them to out in their stalls for the night.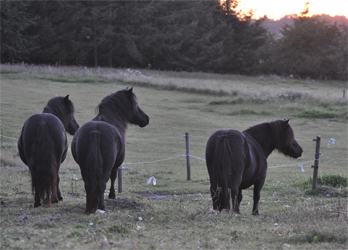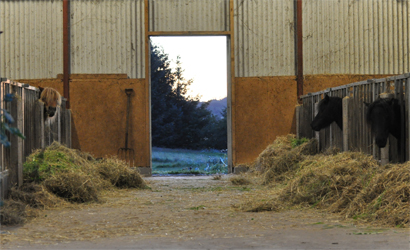 The sun sets and all the ponies are tugged in for the night.
The next morning Jørgen even lays some of the freshly cut grass in te paddocks for the stallions, even though the paddocks are already some of the most amazing, lush paddocks we have ever seen.
Lena and I agreed we would like to bring tem home with us to the very flat Zealand.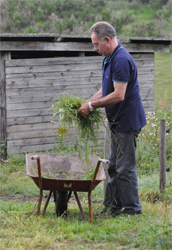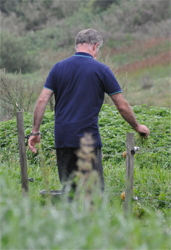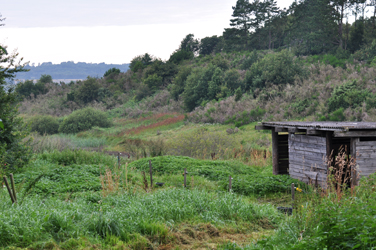 All in all it was an amazing and very cosy visit to Stutteri Hedegårde, and we had such a great time we ended up being late for our next stop.
Lille Ensted
Here Kari wellcomed us, and showed us her shetland ponies.
It was some very lovely ponies of high quality and interesting colors.
We started by seeing her three 2 year old colts, and Lena and I especially thought the Bay Roan colt Mignon Telstar looked promising.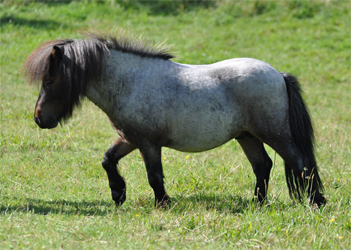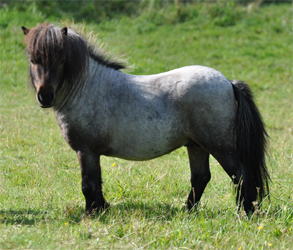 Mignon Telstar - 2 years old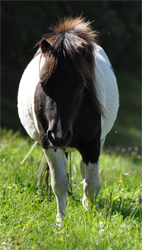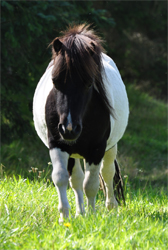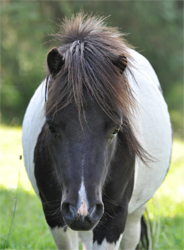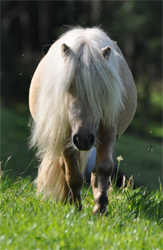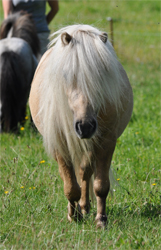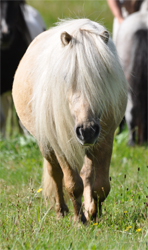 Secret's Monty - 2 years and Cees v.d. Beekhoeve - 2 years
After this we went over to see the mares. Lena really liked Kari's little bay mare, Pamela of Duke Stable, who she has imported from Holland. There she is graded with 1. prize and now she is in foal with Bakkegaard's Buzzlightning, who is also the father of my little Zita and Zilvers future foal. I also really like little Pamela, but I really fell for Kari's two piebald mares.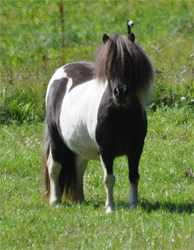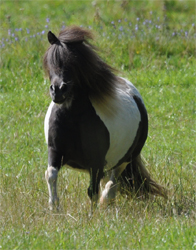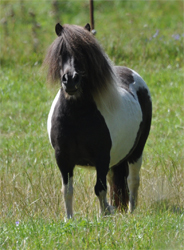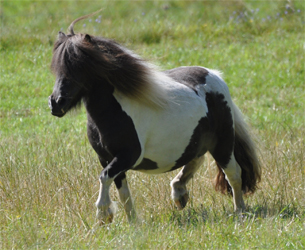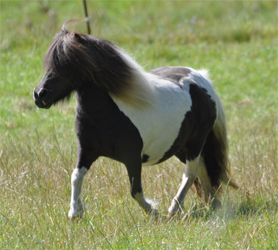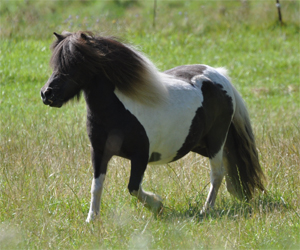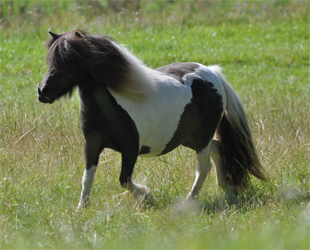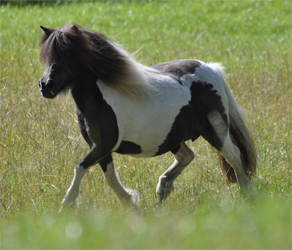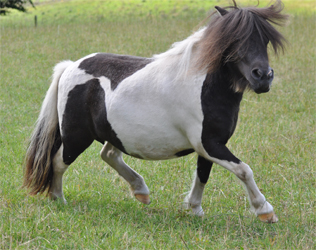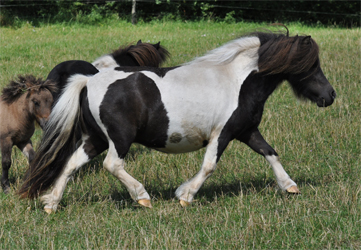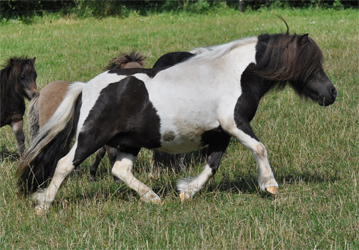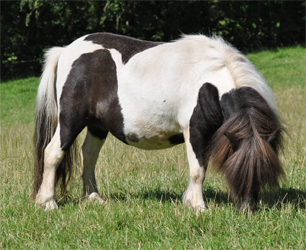 Yesmine v.d. Vaarhorst - 1st class.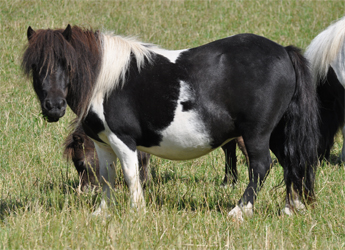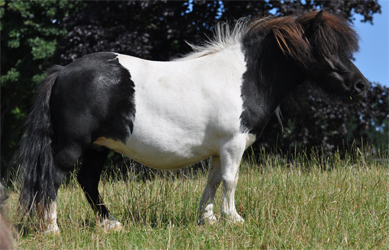 Aarupgaard's Disya - 1. class.x. Mini Champion 2010
These two mares each had a foal, who funny enough was after two of the stallions I would like to use on my mares in the future.
So I was happy to see both foals looked really good!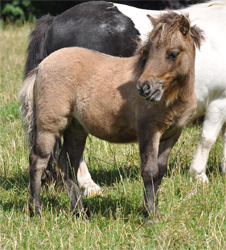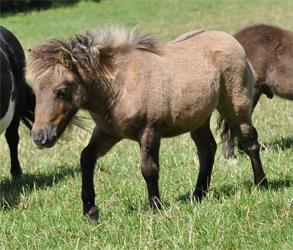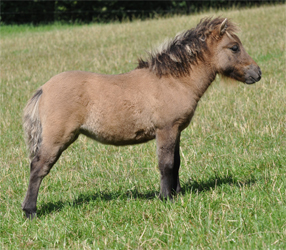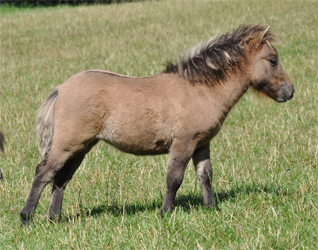 Lille Ensteds Dundee after Disya and Halstock Chester Cat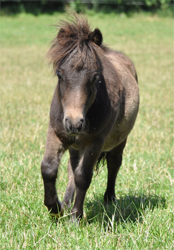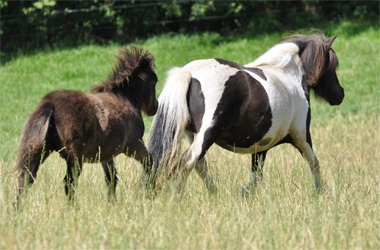 Lille Ensteds York afterYesmine and Skäpperöds Rasputin
After having seen Karis wonderful ponies, she invited us in for a lovely lunch, before we went on our way.
Skovmosen
We were actually supposed to go by the Aulum show, but since it was getting pretty late, we decided to go straight to Louise at Stutteri Skovmosen instead.
We weren't supposed to go there until sunday morning, but this way we could spend a little more time with Louise, without stressing about the time.
Louise mainly has big standard ponies, so most of them was probably quite a bit bigger than what Lenas and I prefer, however there was one little mini mare that both Lena and I thought lokked lovely.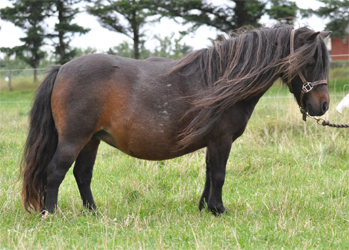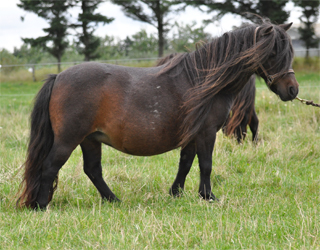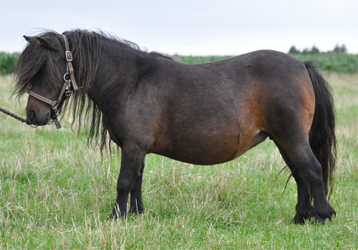 Pinne v. Stal Noordhoekhof
We also saw Louise's BIG filly after Stjernens Calypso and Clivocast Nelson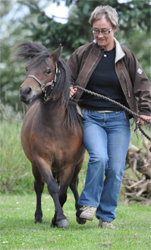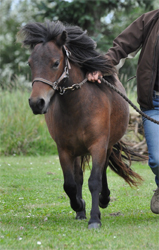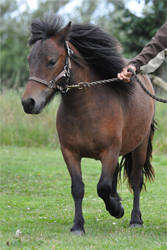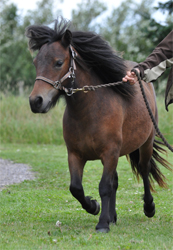 Skovmosens Carisma
And her half brother from this year, after Bakkens Makalu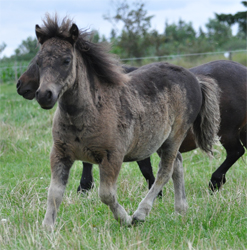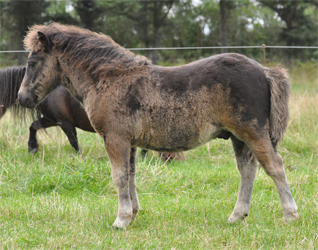 Skovmosens Conrad
Finally we also went over to see Louise's lovely 3 year old stallion, Bellman.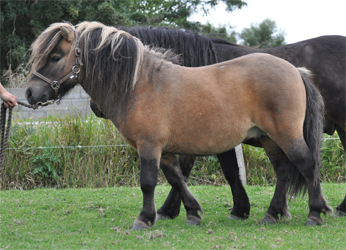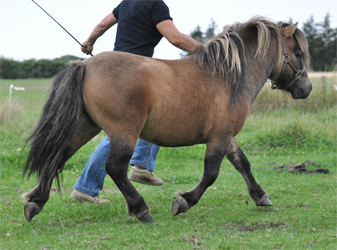 Skovmosens Bellman
As the eveningapproached we headed for our next destination, which was luckily only 10 minutes away.
Stutteri Kongsgaard
Mette and Peter I know already, so it was a happy reunion.
First we had some very nice supper, and then we went for a walk to see all their lovely ponies and all their many other animals.
Among others we saw: Gotlandsruss, Icelandic Horses, parrots, pot belly pigs, lamas, alpacas, cats and kittens, Kalle the Camel and their lovely dogs (Landseer, Pug and a single jack russell ;)
They have a great place, with lovely big paddocks, where the animals can go all the way down to the water.

Kalle the Camel quickly fell in love with Lena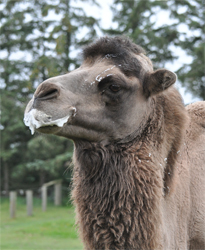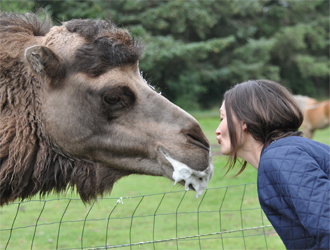 But Lena thought the alpacas were lovely, and had already fallen in love with Black Bandit.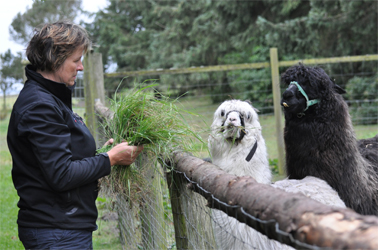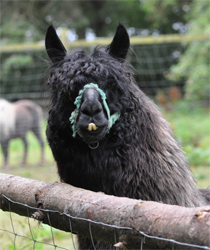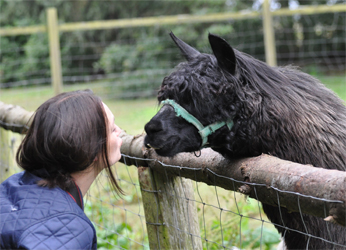 After a well earned sleep, we got up, and went on a walk with our cameras.
The weather which had been nice and sunny both friday and saturday, was now unfortunately a bit wet, so we didn't mannage to take that many pictures.
However, we had to have a little fotoshoot with Guinness, sice I have long been interested in using him for some of my mares.
He definately didn't disappoint, and showed Lena and I what would have to be described as the best trot we have ever seen. Unfirtunately we didn't get pictures in the moments when he was really showing off, but we still got some great pictures.
Below are a few of them.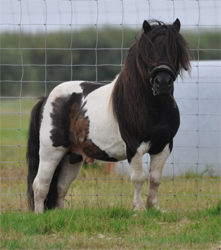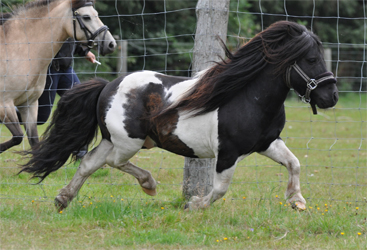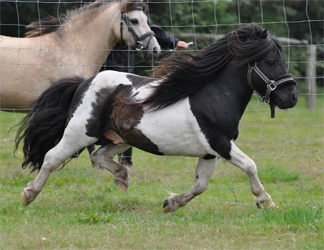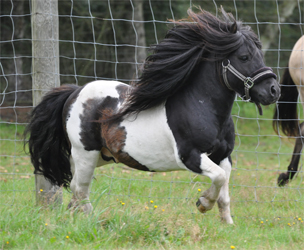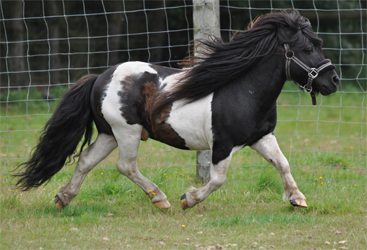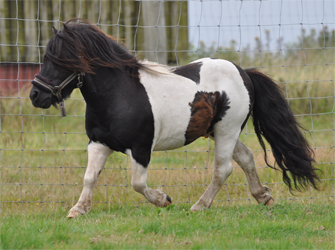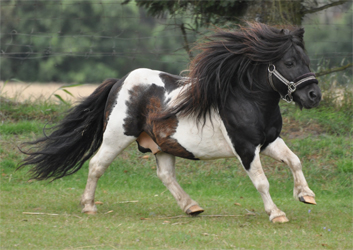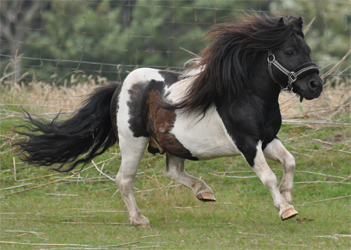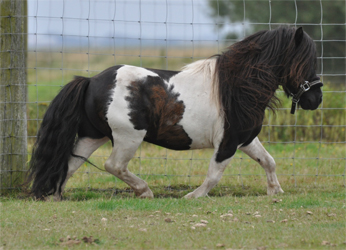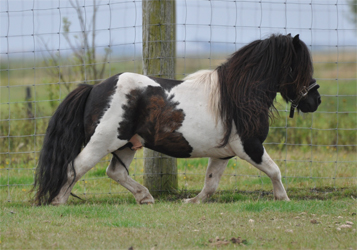 Mosbækmindes Guinness - 1st class.
After the photoshoot we went over to see the mares again, but unfortunately we could't take many pictures because of the rain.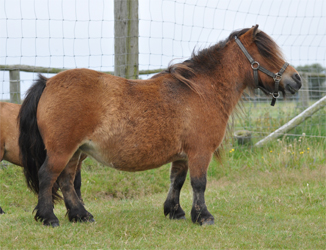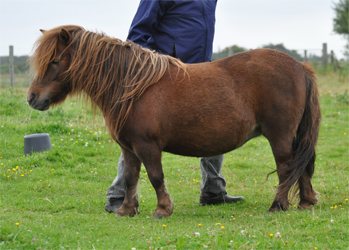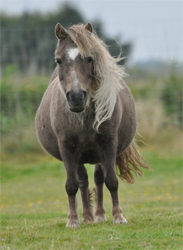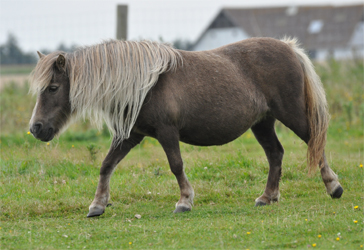 Kassandra Bredgaard - Bergeruds Cecilie - Naomy v.d. Rosairlo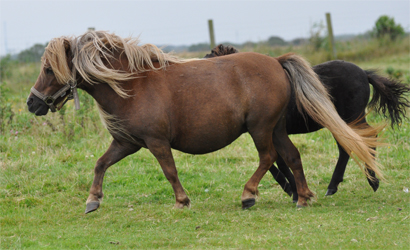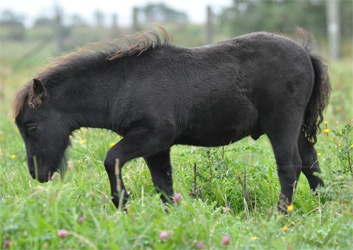 Stjernen's Mini-Krinoline and her foal from this year, after Guinness - Kongsgaard's Kilkenny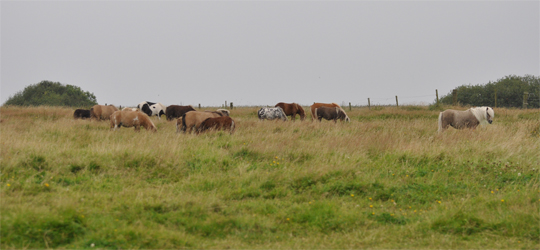 Paddock Paradise - filled with mini shetland ponies in a many lovely colors!
Finally I also had to have some pictures of the lovely little Chester Cat, who I am going to use on my mares next year.
He wasn't keen on moving to far away from his little girlfriend Kassandra, but we did mannage to get him to trot a little bit.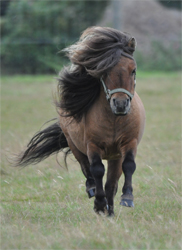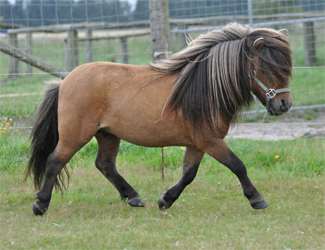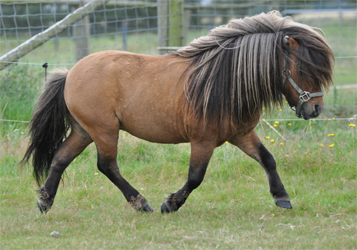 Halstock Chester Cat
Suddenly it was getting late and we hd to pack our things and say goodbye to Peter and Mette, and move on.

Egedal
At Egedal we were greeted by Tanja and Michael and a myriad of ducks, chickens and geese, in many different interesting breeds.
Since we knew the rain was following us, we decided to right ahead and "inspect" Tanja and Michael's many lovely ponies.
We started with the paddock with the mares and foals. On the way there we bumped into a lovely little bay and white colt after Rasputin.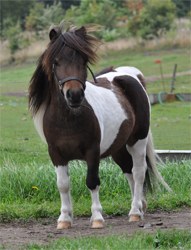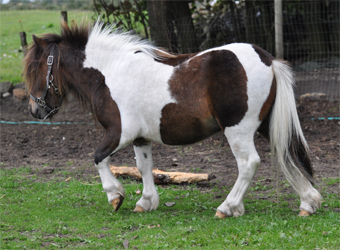 Egedals Hidalgo - 2 years old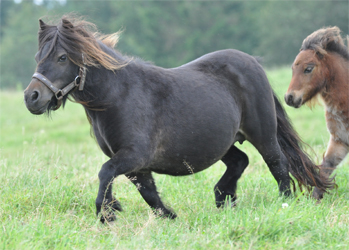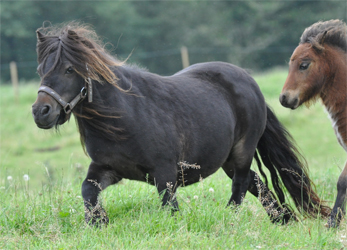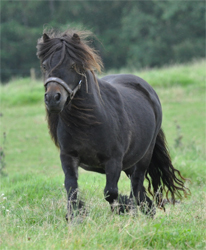 Stjernens Nichole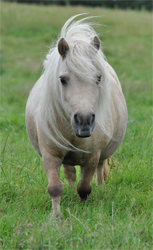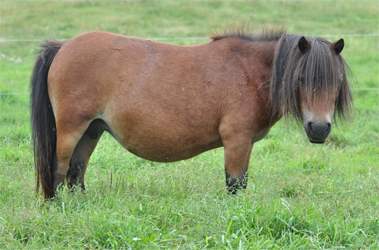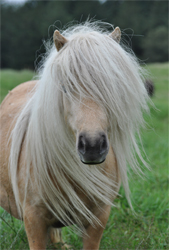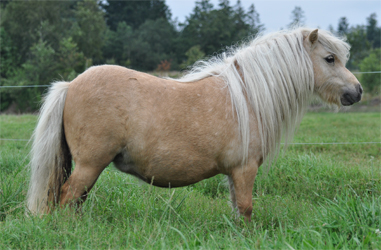 Tartans Lucky - Jolien v.d. Westerbrink - Egedal Golden Diva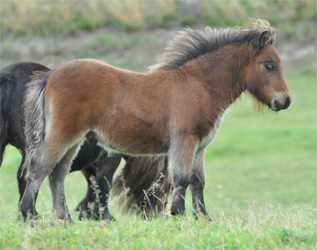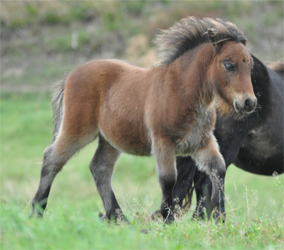 Egedals Jackson
Agter this we jumped in the car, since the other ponies we in paddocks a while waway from the farm. First Bester and his mares, and then the fillies.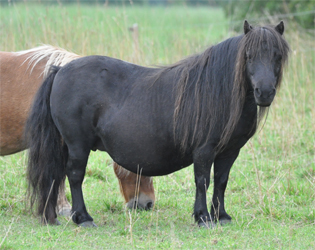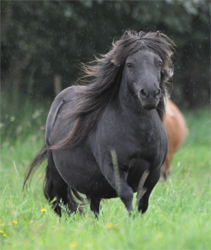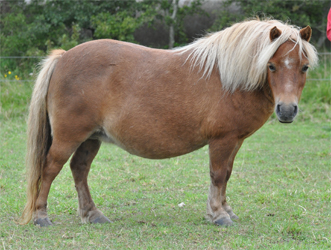 Stjernens Alberte and Lolholms Isabella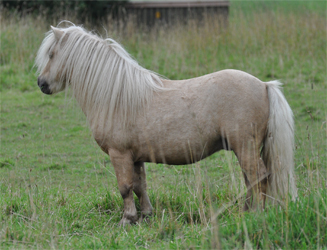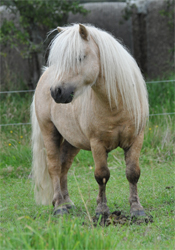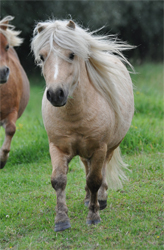 Harvey's Bester II
Among the fillies there was especially one I really fell for.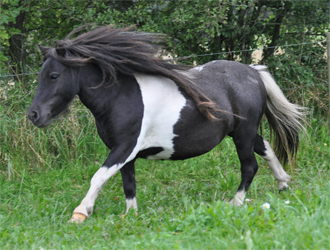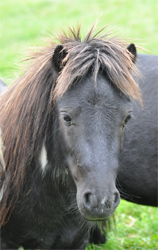 Egedals Honeybear
After this we went on to see the colts, who were running in the greatest paddock Lena and I have ever seen. It was a great big gorge, filled with lush grass and trees in both sides, providing shelter from the weather at all times.
We bot agreed it was the perfect surroundings for a group of colt, that would build up so much muscle running up and down the hills playing with eachother.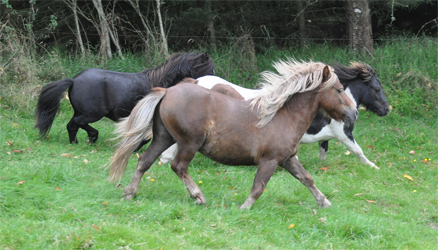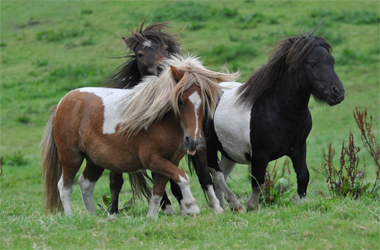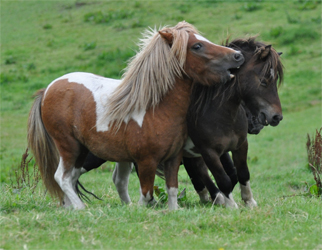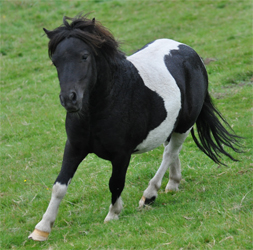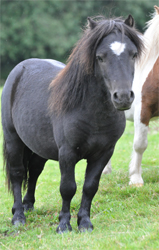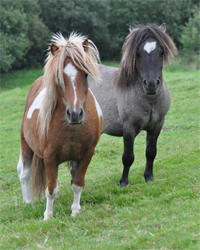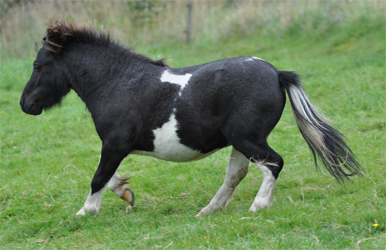 Next to the colt were Snorri and his ladies. Not many pictures unfortunately as the rain had picked up.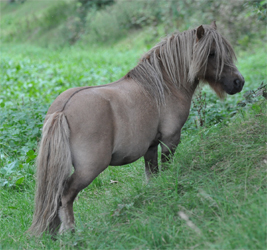 Engbo's Snorri - 1st. class
Finally it was time to see the two little stallions Vlesco and Rasputin. Rasputin is probably the pony I have been looking most foreward to seeing on the whole trip.
For some reason I have just fallen in love with this little gut, and I definately didn't like him any less after I had seen him in real life.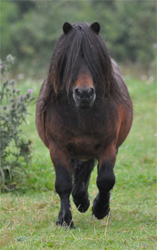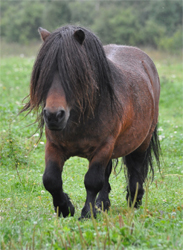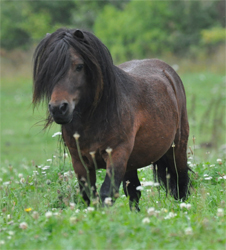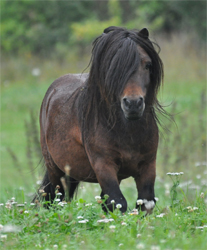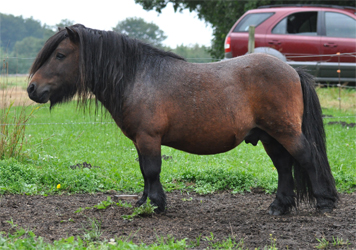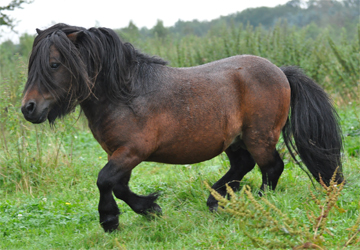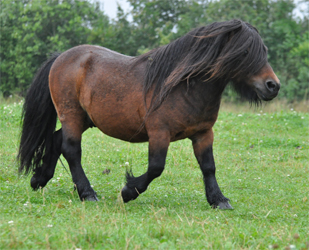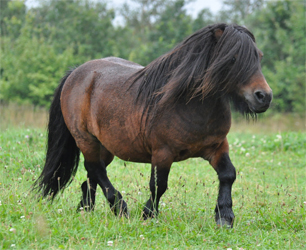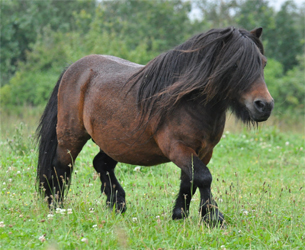 Skäpperöds Rasputin - 1st class.
Also Vlesco was a great little stallion, with many qualities. He is the kind of allround quality pony, where it is hard to find any faults at all. Even though Rasputin has a bit more volume than Vlesco, then Vlesco on the other hand has a better topline and a prettier head. Definately some very lovely stallions the both of them!!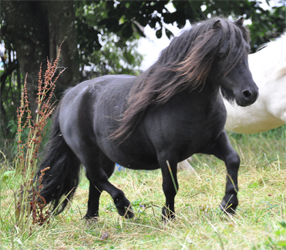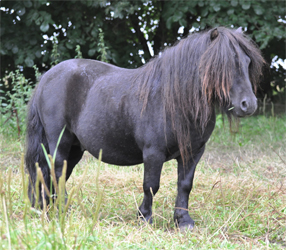 Vlesco was running with Tanja's little cremello mare Melinda.
Rasputin actually also had his own little cremello mare, this was Kari's little mare Tothill Iced Gem, but unfortunately I didn't get any pictures of her.
I guess I was a little preoccupied with Rasputin :(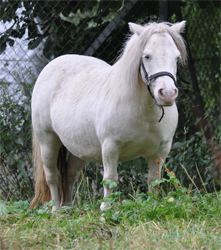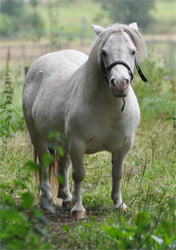 Kimberwood Melinda
Egedal is a real paradise to me... lots of animals and many lovely shtland ponies. I especially envy Tanja all her lovely high quality minis in lovely colors. There was definately a lot of them that I wouldn't mind bringing home with me :)
It has been such an amazing trip. Lena and I were completely high in the following days.
We have made lots of new "shetlandpony friends", gotten a lot of inspiration and many good memories. And ofcourse seen a lot of fantastic ponies!
It is definately something we wan't to do again soon. And we are already looking foreward to meeting all of our new frinds at the different shows and assesmenst.
Thank you so much to Mosbækminde, Hedegårde, Lille Ensted, Skovmosen, Kongsgaard and Egedal for their hospitallity!
The above pictures are just a small selection of the many pictures from the trip. The rest can be seen in the gallery below: