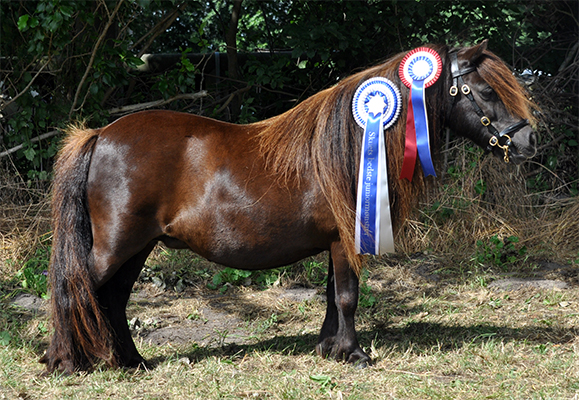 Mare
Born: 5/8 2008
Height: 89 cm
Colour: Black
Genotype: E/e a/a
I fell for Black Pearl on a trip to Holland. I was looking for a black mini mare and visitid Stal de Toom.
Unfortunately they didn't have any minis for sale, but Black Pearl, who was already preferent, at only 9 years old, ended up being mine.
With her was her lovely colt, Levani, and in her belly was another foal by the super stallion Winningmood v.d. Toom.
2 full siblings of this foal, have already gotten 1. premie in Holland. 1. premie approved stallion G´Shyrem v.d. Toom and 1. premie mare Florencé Nightingale v.d. Toom.
In 2018, Black Pearl had another daugther recieve a 1. premie. Evita-Black-Pearl v.d. Toom.


Results:
2008
Veulenspremie
2009
Enterpremie
2011
2. premie
2012
2. premie
2013
1. premie
KROON
2016
PREFERENT
2019
Gørlev Horse Show
Judges: OlePaarup Nielsen og Else Enemark
Nr. 4 of 9
23 points (out of 24)
Stamtavle

Hiroki v.d. Buske

S.803985

1. premie
Black, 84 cm

Branco v. Wegdam

2. premie IBOP-B
Chestnut, 85 cm

S.820885

1. premie
Black, 86 cm

Rita v.d. Weteringweg

2. premie PREF.
Black, 86 cm

Black Pearl v.d. Toom

S.113206

1. premie KR. PREF.
Bay, 86 cm


2. premie PREF.
Chestnut, 82 cm


Bonny v.d. Hexelhof

2. premie KR. PREF.
Bay, 84 cm

S.518949

1. premie
Chestnut, 84 cm




Ewald v. Stal Westerwolde

2. premie
Chestnut, 84 cm


S. 141889

1. premie KR. PREF.
Chestnut, 85 cm

Lady-Linn v.d. Ganzewinkel

2. premie KR.
Chestnut, 86 cm


Olivia v. Stal Haske

S.130129

2. premie
Chestnut, 89 cm


Fanster v.d. Gathe

S.800924

1. premie
Black, 90 cm


Jacinta v. Stal Haske

S.113250

1. premie, KR. PREF
Black, 91 cm
Some family: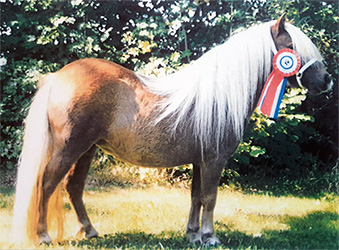 Tip-Top v.d. Toom
1. premie - Kroon - Preferent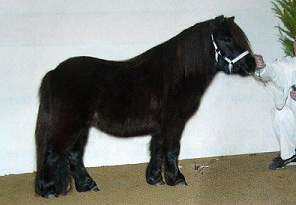 Suprise v.d. Toom
5 x 1. premie