________________________________________________________________________________

March 30th
So the new year is already well on its way. Unfortunately it has not been the best of years so far.
The year started with our annual trip to see the stallion show in Holland was cancelled, since they suddenly moved the date of the show, and we had already bought plane tickets, booked the hotel and rental car, and gotten the time off work, sitters to mind the ponies ect. So unfortunately ot was too short notice for us to change our plans.
Ofcourse I was really sad about this, since I always really enjoy these trips to Holland, with my good sweedish friends.
However my good friend Louise and I are now planning a trip to Holland this summer, to visit many lovely mini studs. We have been wanting to take this trip for the past 3 years, and this year it is finally happening.
In february-march we took a qick trip to Bali to visit my parents. The morning after we got home, I went to the stable to let out the mares, and I found Afroditte giving birth 70 days to early.
The foal was stuck, but I mannaged to correct it and get it out. A lovely little palomino and white colt foal, by one of my favorite stallions, Stjernens Mini-Pachal. Afroditte was sad for a couple of days, but very soon recovered and she is now healthy and happy again. The foal was sent off for a post motem exam, and was amongst other things, tested for herpes virus, but they did not find any explanation as to why the foal had been aborted.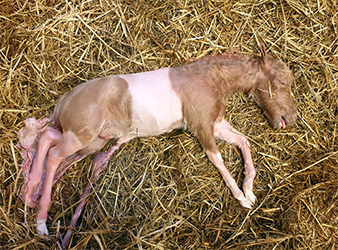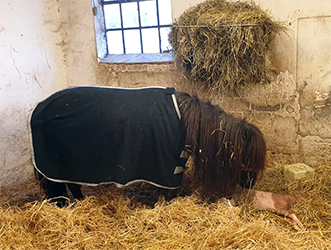 10 days later, misery struck again. I came out to ket the mares out, and found Zita was foaling. She was completely wet with sweat, and looked like she had been at it for a while already.
I quickly mannaged to find the 2 front legs, but the head was stuck completely down between the front legs. I tried to push the foal back, to be able to get the head up into position, but I simply did not have the strenght.
The vet was called out, and my friend Louise, who was luckily coming to visit just when all this happened, helped me hold little Zita while the vet slowly but surely nudged the head up into position. And to my huge relief she mannaged to get the foal out. Poor Zita looked a bit rough, but with some pain killers, a blanket to keep warm, some nice food and TLC, she was soon feling better. After a couple of days, she was also ready to leave to foal. A lovely mushroom and white colt foal. Zita had her foal 19 days prior to her due date, and just like the 2 previous years, she had shown no signs at all, and was not bagged up at all. But since she has already had 2 stillborn foals, I already had her stabled and I was planning on getting the foaling alarm on her. I am just kicking myself that I didn't get it on in time, but the last 2 years she has foaled right around her due date, so I thought I had more time.
Now I really can't decide wether to try and put her in foal again, maybe with a different stallion this time, or if she should be sold as a lovely childrens pony instead.
The first 2 times she foaled, she mannaged to get the foal out herself, without intervention and has done so right around her due date. Last year I was not sure wether the foal was stillborn or died after the birth. And this year the foal was stuck. and I was too late to save it. So I really don't know if there is a connection, and I have talked to several different vets, and none of them knows what might be going on. I just think it has to be one hell of a coincidence, if she was to loose her foal 3 years in a row, unless something was wrong.
I will try to talk to some reproduction specialists, and find out if there is something I could check out.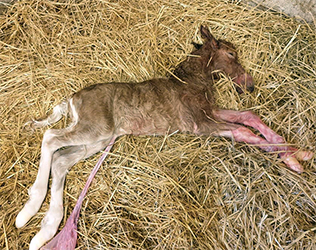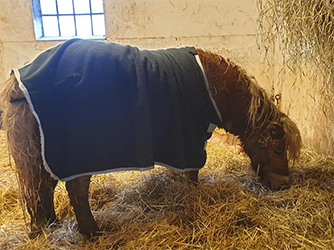 Right now I am just relieved that both mares are doing fine.
The pit in my stomach that developed in 2017, is definately starting to grow again, and I hope with all my heart, that I will soon have a live, happy and healthy foal on the ground.
Blondie, Jilly and Zilver have been installed in the foaling boxes and are being watched carefully.
None of them seem to be near foaling at the moment, but we know things can quickly change.
I have updated the pages of the Young Stock, Mares and Stallions, and I have also made a new list of all this years expected foals, on the Services page.
The Sales page has also been updated, and a few more ponies will probably join the sales page during the spring.
The first show for us this year, should have been last weekend, but because of an outbreak of herpes virus in sweeden, the show has been postponed until may.
Instead the first show of the year will be the Dorthealyst Youngstock Show.
We can't wait to get out showing again, and meeting up with all the other shetland pony fans.
Hopefully I will be back soon, with news of the first foal of the season.

________________________________________________________________________________________________

The past year
Luckily 2018 turned out a lot better than 2017.
We lost one foal, but were blessed with 14 lovely live foals.
Among these were my absolute dreamfoal, as Tamelone finally delivered me a little girl like I have wanted for many years now, and besides being absolutely gorgeous, she was also a lovely buckskin colour!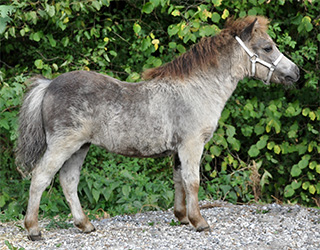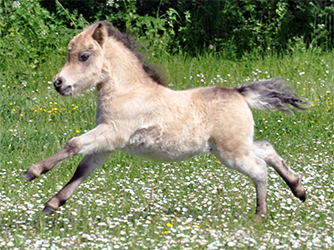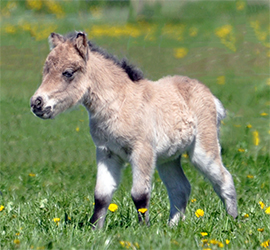 Showwise we also had a great year.
The biggest moment must have been when my lovely Alysha won Overall Mini Champion at the International Show in Herning.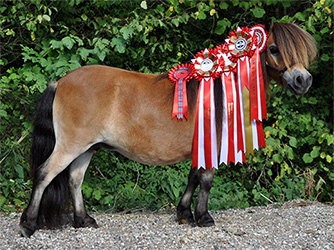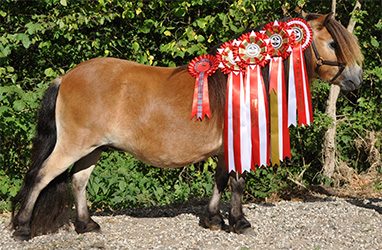 We also had lots of other great results, including several other champion titles, at the international show and at different shows in Sweeden.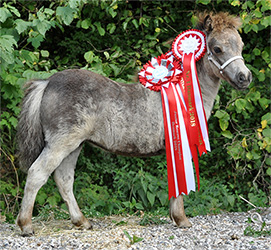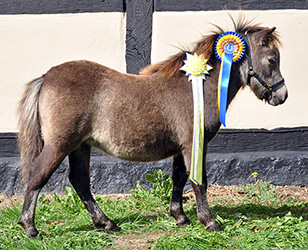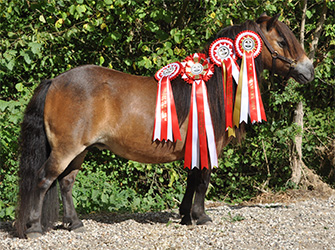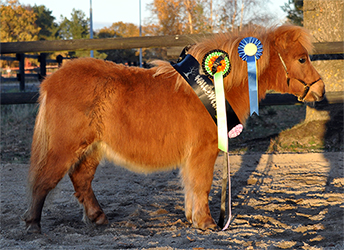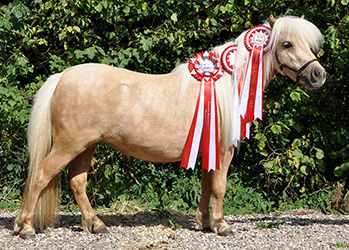 The summer was long and very dry, and we feared wether there would be enough grass for the ponies, and if we would be able to get enough winther feed for them.
But finally the rain came and then we could enjoy the rest of the summer.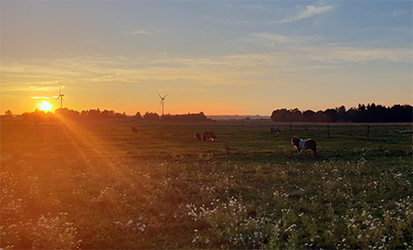 ____________________________________________________________________________________________________