____________________________________________________________________________________
As previous years, 2020 also started with a trip to Holland, to watch the big stallion show in january.
Anneli, Katarina, Annemette and I, left early thursday morning, and flew to Amsterdam.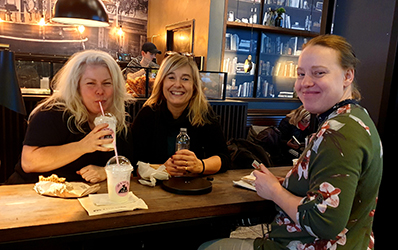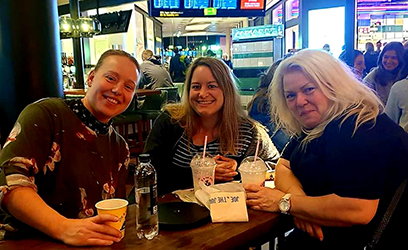 After arriving in Amstardam, we went to Stal Groenkamp to visit Reinanda. Its always great to see her beautiful ponies!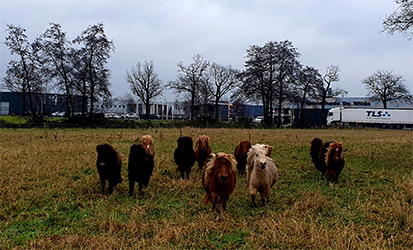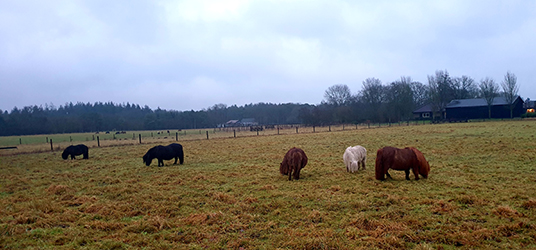 After the visit we went to Raalte, to check in to the hotel, and afterwards we have a very lovely night, with the other sweedish visitors.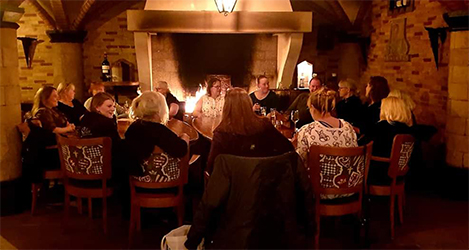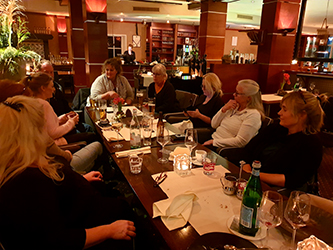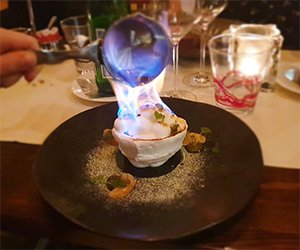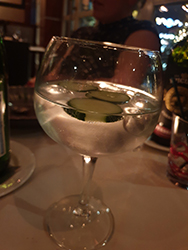 On friday we went to the preshow assesment, and afterwards we went to Deventer, a really cozy old town, for lunch and shopping.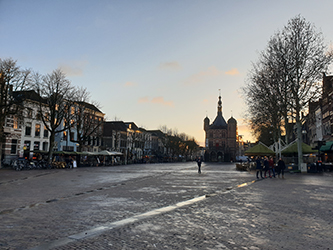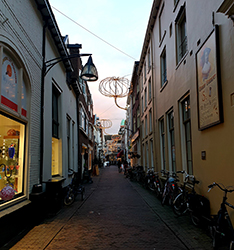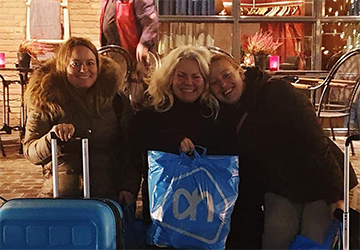 Saturday was the big stallion show, and we had a great day, with many amazing stallions, lots of socializing and a great show.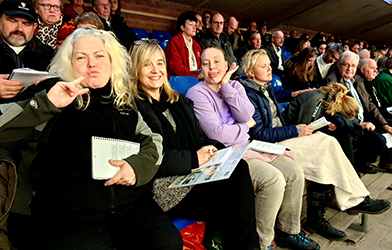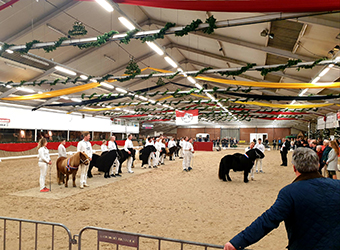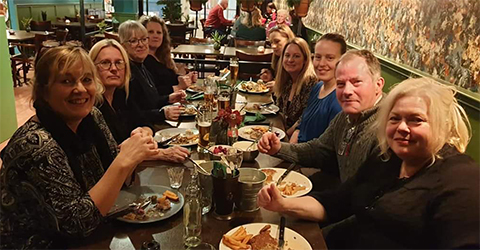 Sunday was our final day, and we went with some of the other sweedish guests to visit William at Stal Valkenhof. He showed us all the gorgeous ponies and the beautiful place, and then treated us all to lunch, before we headed towards the airport.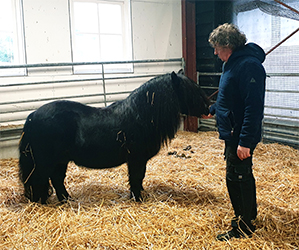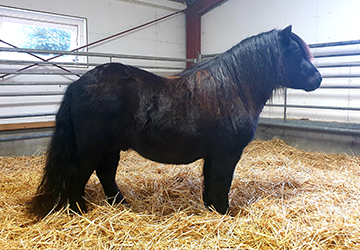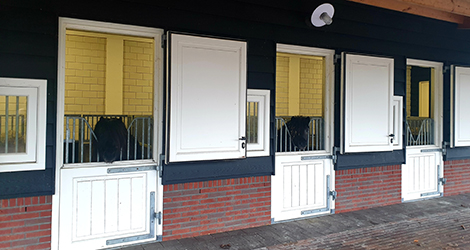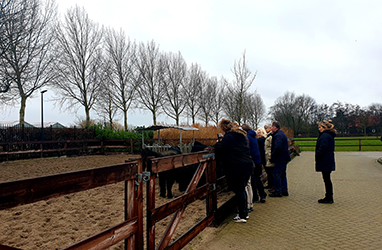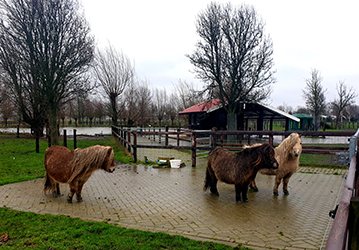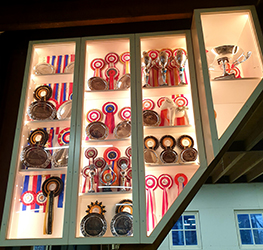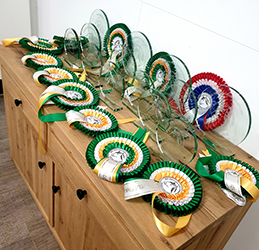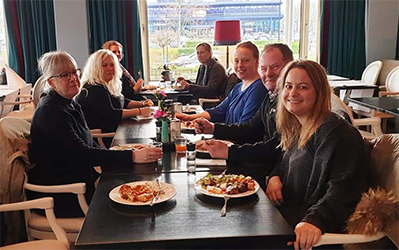 As always it was a super trip, with great company and many lovely ponies. Thank you Anneli, Kata and Annemette for a fantastic trip!
While I was in Holland, I recieved a very lovely present. A christmas present I had bought for myself.
Last summer, while touring Holland with my friend Louise, i completely fell for a lovely mushroom mare, Ginny Lou-Lou v.d. Biezenbeemd, and when I found out she was also by Kiliam v. Dennehove, like my beloved Tamelone, I just had to have her. Unfortunately she wasn't for sale, and it took me 6 months of begging, to finally be allowed to buy her.
Ida was home to recieve her for me, and I haven't regretted the purchase for a minute.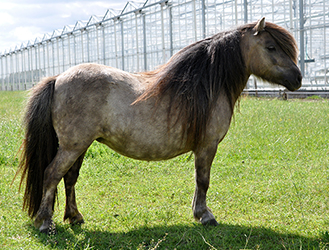 When new ponies arrive, we sometimes have to say goodbye to others. Thus the lovely little Pumpkin left us early in the year, to go to her new home, where she will be used for breeding and showing.
She also went to join Shady Acres Arenduil, who we have sold to the same home earlier. Pumpkin was in foal to our stallion Albert, and has since had a lovely little buckskin filly foal.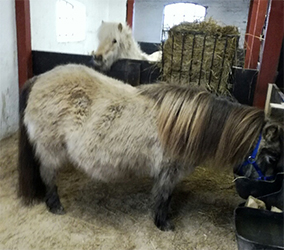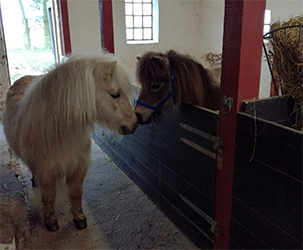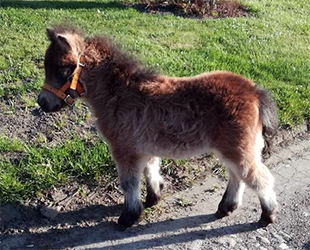 In January we were also blessed with the news that both Tamelone and Alysha had recieved their SUCH (Sweedish show champion) titles.
We are very proud of these 2 lovely ladies.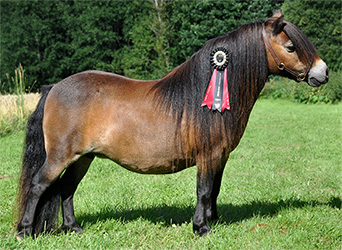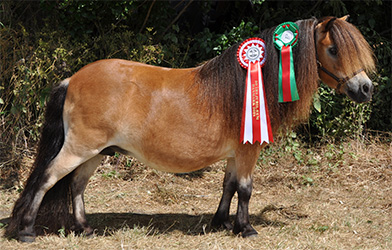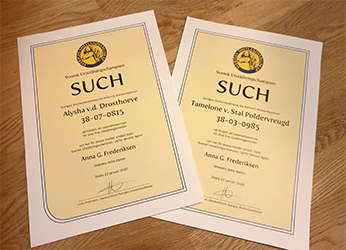 On the 21th of february, I came out in the morning, and found that Black Pearl, had unfortunately aborted her foal. A nice back colt foal.
Thankfully Pearl seemed fine, and not at all affected, by the situation.
When we reached march, the spring weather arrived, and the foal bellies had really started growing, and we were starting to get very exited about the years foal.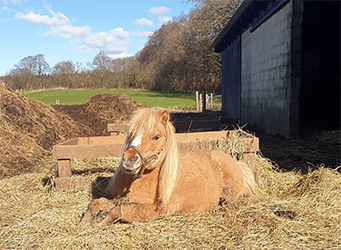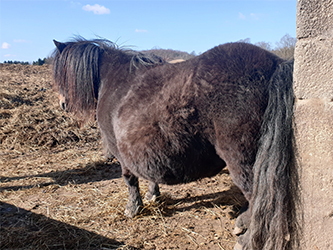 On march 17th I got up and went to let out the mares that had been stabled for the night.
I found a very restless Alysha, who turned out to have started foaling 45 days early.
I made a quick examination, and found that the foal presented with 2 front legs and a hind leg, plus the head pressed down below the edge of the pelvis.
I tried to correct it, but soon gave up and called for assistance.
After quite some time and lots of effort we managed to get the foal out.
THe foal was ofcourse dead, but I was thankful that at least Alysha seemed to be okay.
Physically she was fine, but she was still quite sad about the foal. A very lovely little buckskin and white colt foal.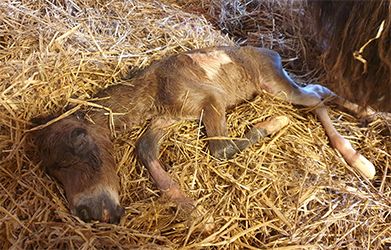 It definately wasn't the best start to the foaling season, but luckily we did not have to wait long, until sorrow was replaced with joy.
On march 21st, Ida and I spent the day in very lovely weather, doing chores around the ponies.
After lunch I went inside to take a shower, to get ready for a meeting.
As I exit the shower, I radomly loo out the window, and spot Esprit, Katie and Fluffy, sniffing something interesting on the ground.
Sudenly Esprit turns around, and I spot small dark bundle on the ground, and amniotic membranes hanging from behind Esprit.
She was now desperately trying to keep the other nosy mares away from the foal on the ground.
I quickly called Ida, who ran out and picked up the foal, just as the rest of the big flock of mares came running, to see what was going on.
Safely installed in the stable, we could now see that Esprit had a lovely little black daugther, born 16 days early.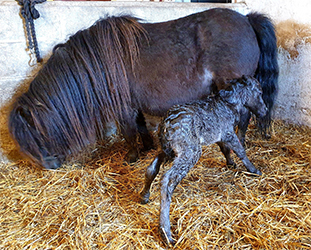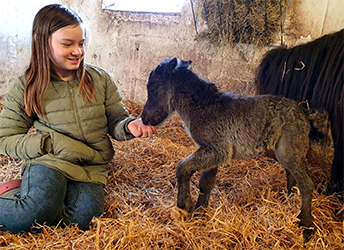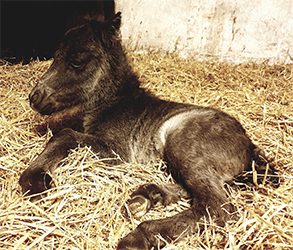 Since the year was 2020, her name ofcourse had to be: Shady Acres Epic Epidemic. She has since found a great new home at Hollandsbjerg Shetlandponies, where she will be a future show- and broodmare.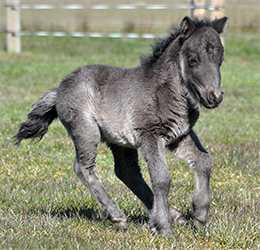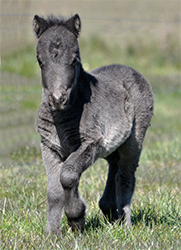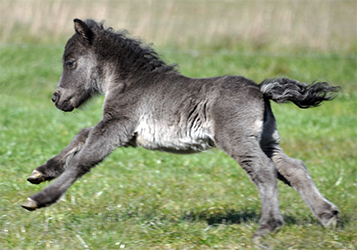 In the beginning of April, we could finally let the first mares run with the lovely Balmoral of Sportview, who we had rented for the 2020 and 2021 breeding seasons.
Balmoral thought that was pretty great!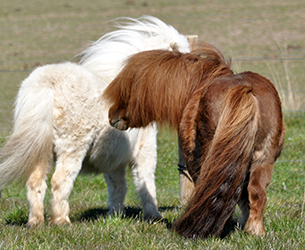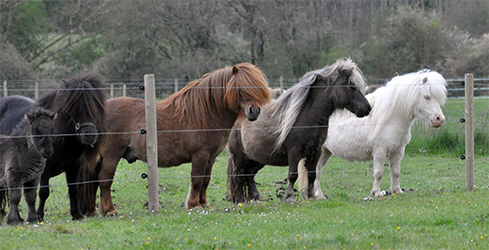 Zephyr also got to meet his very first mares, and acted like a seasoned pro. He got a couple of my own mares and a few visiting mares.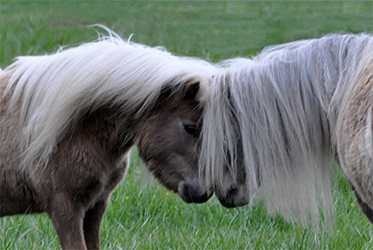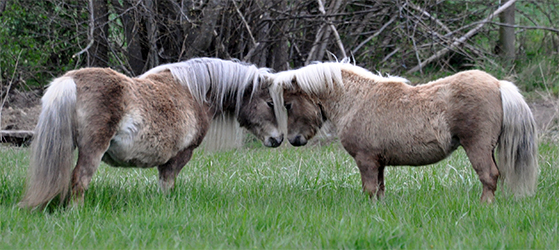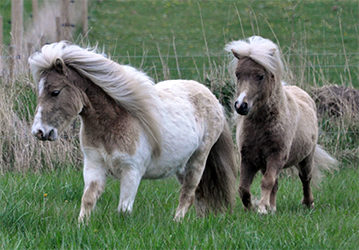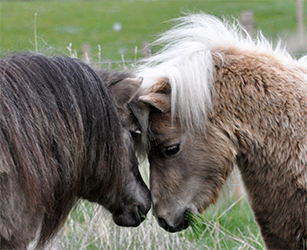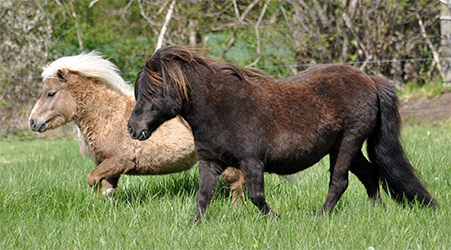 Finally, Albert wasn't being left out, and also got to meet his first few mares of the season.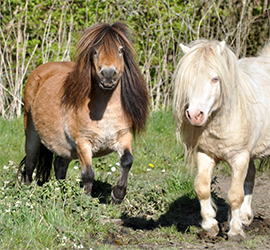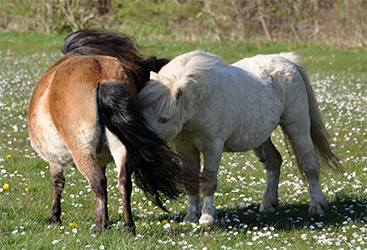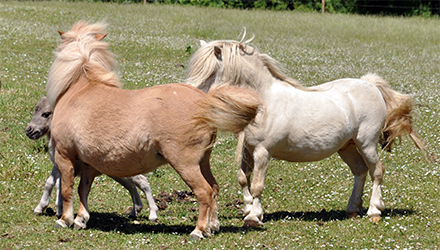 On April 11th I got home late, after beoing called out at work, and found Minnie had milk running. She had been waxed up the previous day, so I was hoping, she was getting ready to deliver.
I went inside for about an hour, and then went to chech again. She was now sweating a lot, so I knew she was close. At the stroke of midnight she lay down, and 4 minutes later, she had given birth to a lovely black filly foal!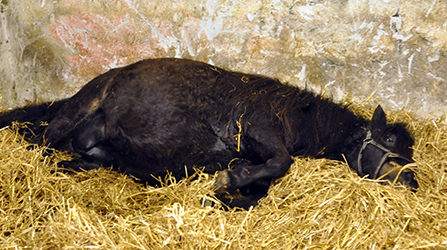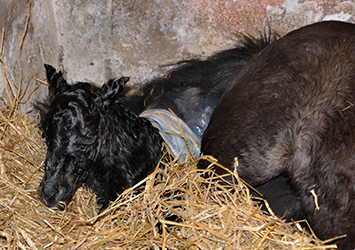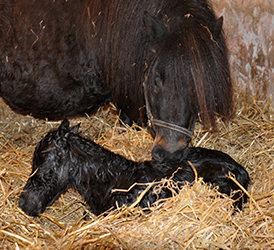 Her name is Shady Acres Midnight Monique, and she has since found a great new home.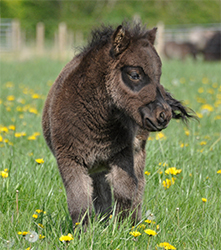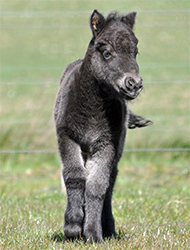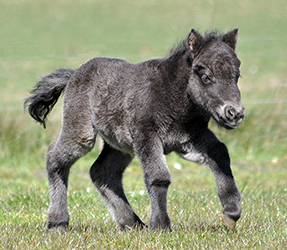 Springtime is also the time, when the ponies are let back onto the grass. We started by letting the fillies, and the mares that were not pregnant, out to pasture, and they loved it!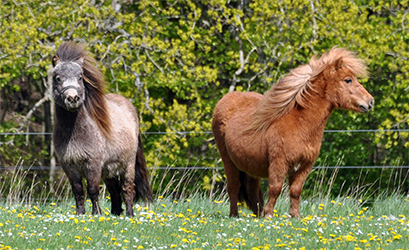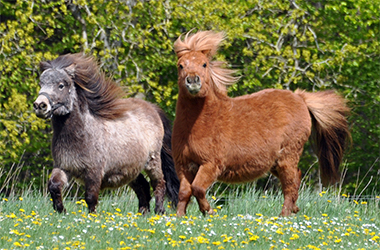 On April 22nd we thought Fanny was getting ready to deliver. She had a big full udder, was waxed up and the milk PH said it was time.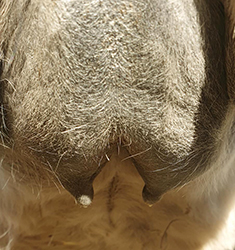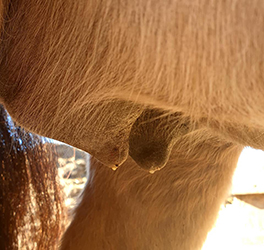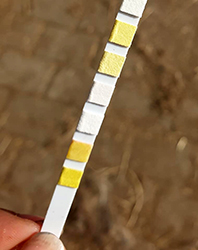 She did however leave us sleepless for 4 nights, until she finally decided to foal!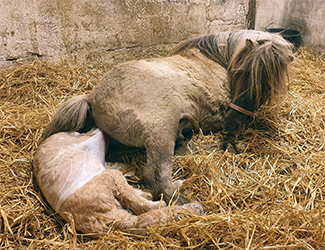 She had a lovely little dunalino colt foal, Shady Acres Dempsey, who has since found a great new home, together with his best friend Terminator.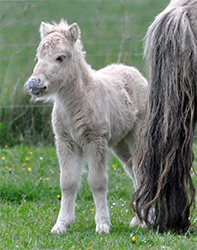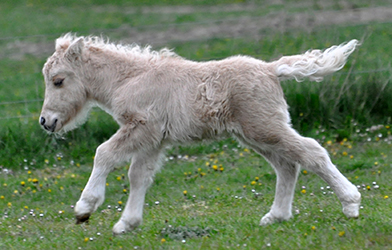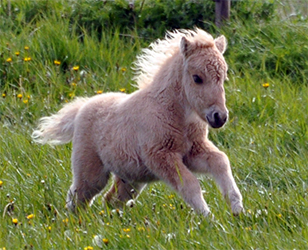 Several of our lovely ponies found new homes during the spring. Thus we also said goodbye to Gucci, Jellybean, Magic, Betty and Grace.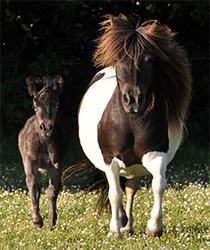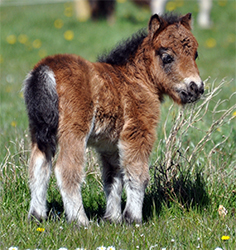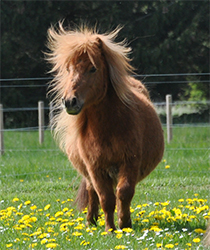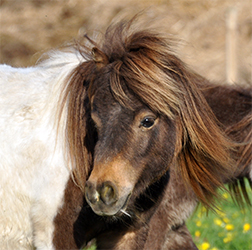 On May 3rd, 12 days past due, we could finally welcome Katie's very first foal to the world.
We were blessed with a gorgeous little mushroom filly foal!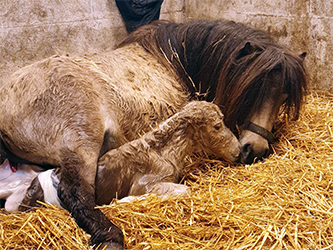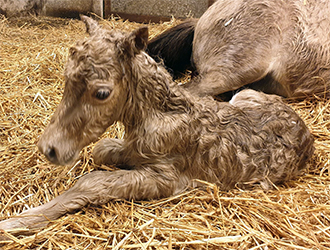 Her name is Shady Acres Khaleesi, and we decided to keep her.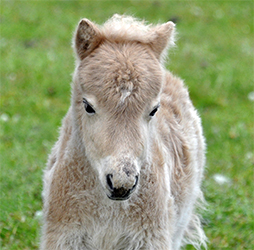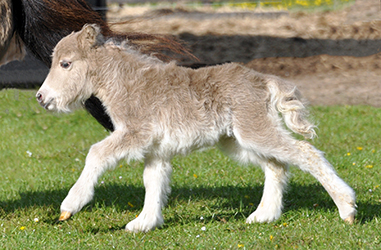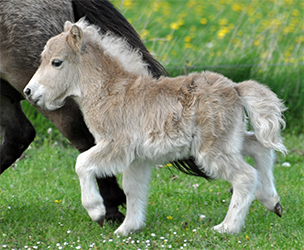 The following weekend we had quite a babyboom!
I was on call all weekend, and friday night, I was at the hospital with patients.
We were convinced Afroditte would be foaling any minute, since she was waxed up, and acting different. Therefore I had enlisted Ida to stay home and watch over the mares.
Suddenly Ida wrote to me, that she thought Amy, who was in the stable next to Afroditte, for company, was getting ready to foal.
5 minutes later, she sent me a picture of the most gorgeous little chestnut filly foal.
Shady Acres Amazing Arizona, was quickly deemed a keeper.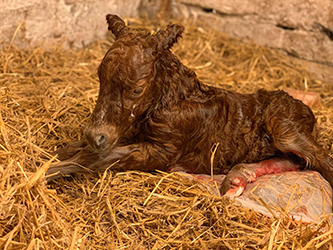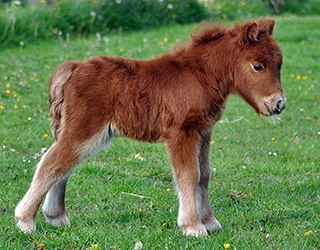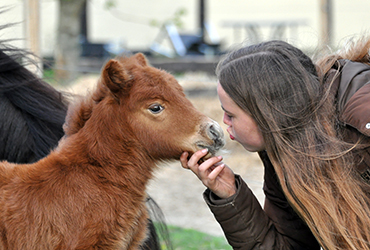 Saturday was another busy day at the hospital. Ida kept checkingthe mares regularly, and I didn't come home until 11 pm. When I finally got home, I went for a round to check on the mares.
Afroditte was still waxed up, and was wearing the alarm. I checked the other mares, and we did a few milk ph tests. No one seemed close to foaling except Afroditte.
At around 1 a.m. I checked the mares again, before going to bed. I found that Blondie has just given birth, and her daugther Blossom was keeping watch, and keeping the other mares away.
As soon as Blondie got back un her feet, we installed them in the stable for the night.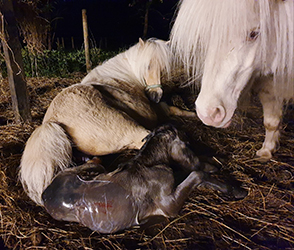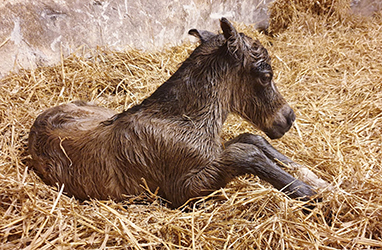 A lovely buckskin and white colt foal, named Shady Ares Baby Bacardi. We have decided to keep him for now, to see how he develops.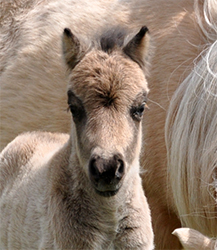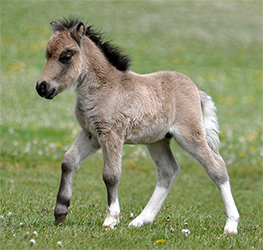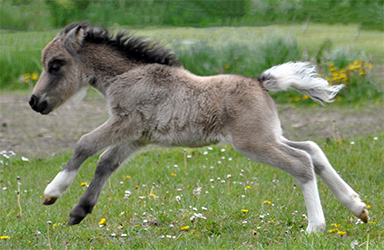 Sunday was yet another busy day at the hospital, and I didn't get home until 10.30 pm. When I got home, I found that Afroditte was now dripping milk.
I thought she must be very close to foaling now, so I stayed up, and kept checking her until 2.30 a.m., when I finally decided to go to sleep and have a couple hours sleep.
I did however, only mannage to get 30 minutes of sleep, until the alarm went off, and I got up and rushed to the stable, where Afroditte was finally ready to have her foal.
At 3.08 am. she delivered a lovely little black and white colt foal.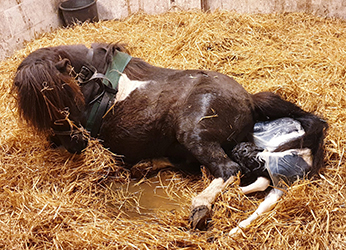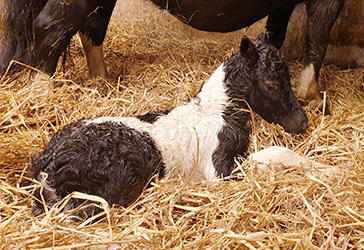 Shady Acres Apocalypse is his name, and he has since found a new loving home.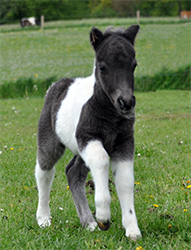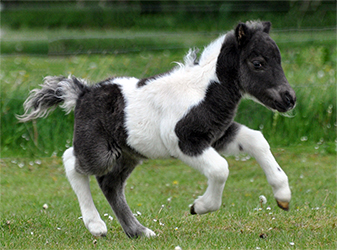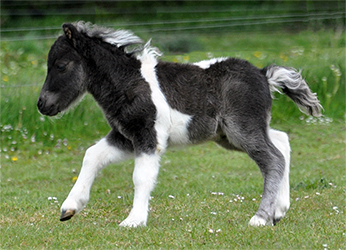 On wednesday night, Tamelone was wazed up. We stabled her and hoped she would foal soon, but she did as she always does, and waited to foal during daytime next day.
Ida and Papaya were there, to recieve the foal, while I was racing home from work.
A quick and easy delivery, and a nice strong chestnut colt foal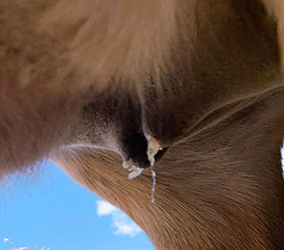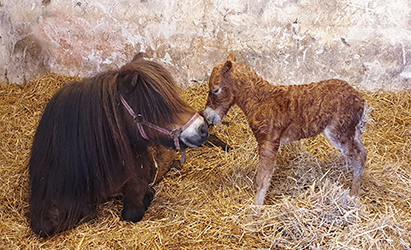 His name is Shady Acres Terminator, and he has since found a lovely new home, together with his best friend Dempsey.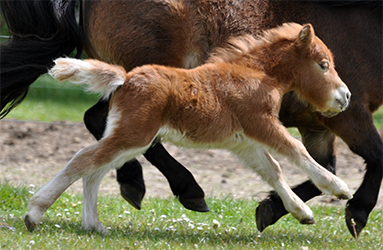 On may 17th, only 3 days after Tamelone foaling, I woke up to find Blossom had cheated us, for the 3rd year in a row, and foaled without any signs beforehand.
She was standing there in the open stable, with the most gorgeous little buckskin colt foal.
Lovely little Shady Acres Baby Breezer, has since found a very loving home, not far from here, with his good friend Falcon.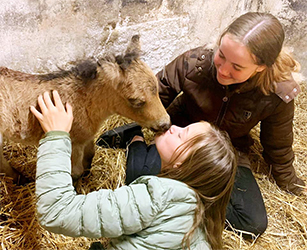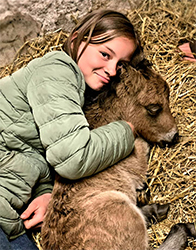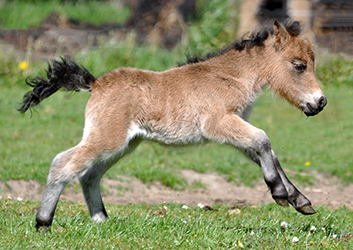 Already the following day, it was time again.
Like Blossom, Flora had cheated us the last 2 years and, foaled without any previous signs.
This year however, while I was letting mares out in the morning, I spotted Flora standing in the paddock, looking like she was having contractions standing up.
I ran out to her, and just as I got there, her water broke, while she was still standing.
I quickly got her into the nearest stable and she emediately lay down, and started foaling.
2 minutes later, the foal was born, and Flora got up and started eating. Like Blossom she had a gorgeous little buckskin colt foal.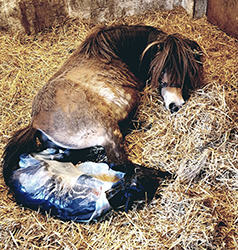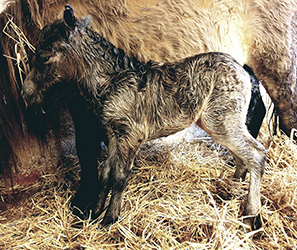 His name is Shady Acres Tiny Falcon, and found a loving home, together with good friend Breezer.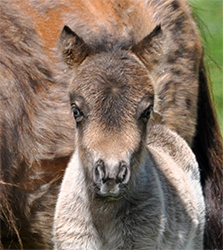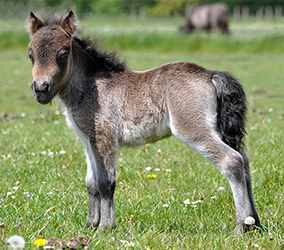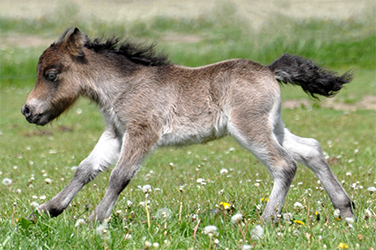 On May 23rd it was Sine's turn. I had checked on her regularly throughout the night, but it wasn't until morning, the alarm finally went off, and at 9.00 a.m. she had her foal.
A very gorgeous colt foal, with a very pretty little head and huge eyes. The colour is smoky black dun.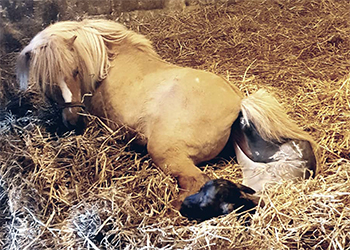 His name is Shady Acres Silent Storm, and I have decided to keep him for now, as a future stallions potential.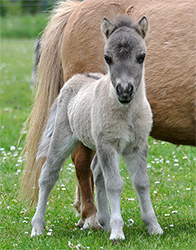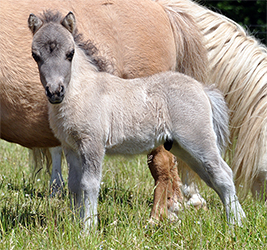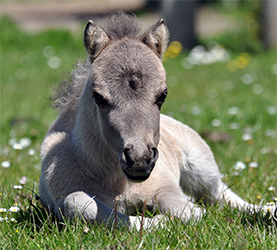 With the last 6 colt foals in a row, the score was now 7-4 to the boys, and we were hoping for a little girl now.
That wish was granted, when I got home from work 3 days later, to find a new little foal in the paddock.
I quickly realized that River was the one who had given birth, and that the foal had somehow gotten through a double electrified fence, and River and the foal were now caught on either side of it.
I quickly reunited them, and could now check to see that River had a gorgeous little mushroom filly foal.
Shady Acres Rainbow has since been sold to France, where she will be a future show- and broodmare.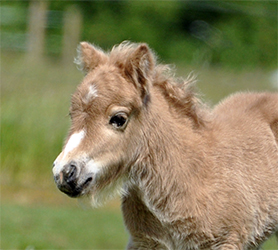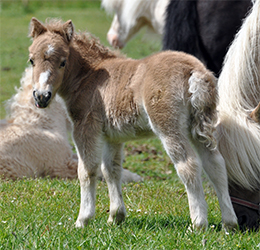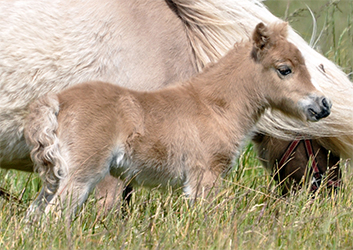 After this we had a little break in the foaling season, until Jilly, at 4.00 in the morning, on the 6th of june, bumped up the number of girls to 6.
She had a tiny bit of was at 11 p.m. when I checked her, so I put the foaling alarm on her, and when it went off at 4 a.m., I ran to the stable to find that Jilly had just given birth to a beautiful little black filly foal.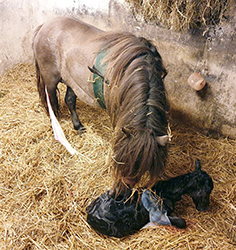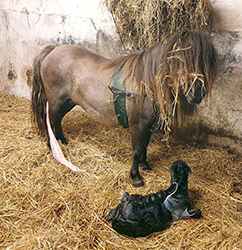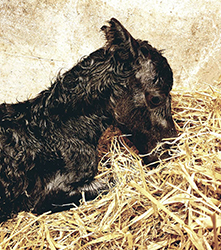 Half an hour later, the afterbirth had passed and the foal was on her feet and drinking, so I could go back to bed. Couldn't be easier.
The little princess is named Shady Acres Jezzebelle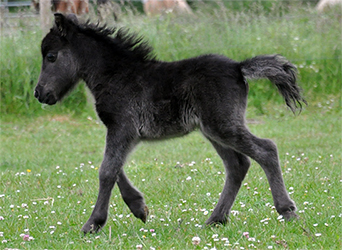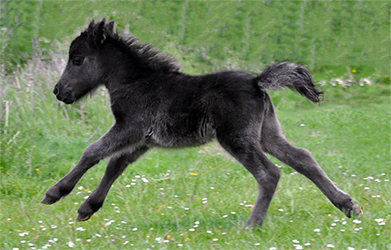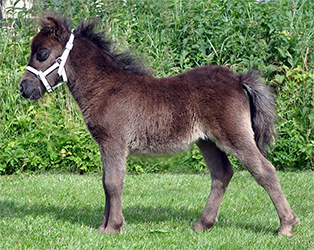 The last weekend of June brought us the first show of the season.
The weekend started early however, since on thursday night, while I was getting ready to go to bed, noticed the mares sounded a bit more active than usual.
I got a feeling I better check it out. I got dressed, and went down to investigae, and sure enough, I found that Diamora had only just given birth, and was now trying frantically, to keep the nosy young mares away from her newborn foal. Diamora had now shown any signs she was getting close to foaling, but luckily everything had gone perfectly.
I quickly stabled them, and after checking to see that everything was alright, I could finally go to bed.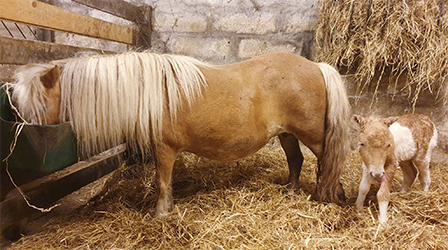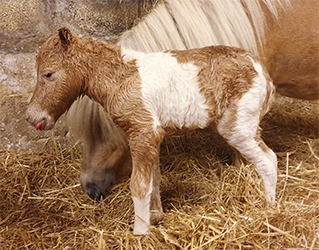 The following day, we got everything ready for the show, and then went to Sweeden, to stay the night with our god friends Anneli and Magnus.
It was so great to see them again, and to start the showing season.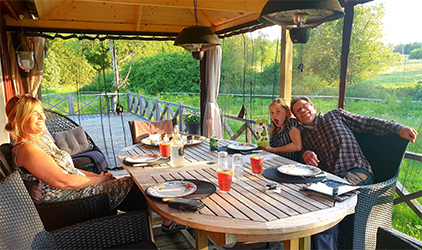 The show went really well, especially for our leased stallion, Balmoral, who won his class with gold, and was later Mini Stallion Champion.
Blondie unfortunately needed one more point for the gold, and her son Bacardi, got a nice silver medal as well.
We didn't really get any pictures from the day, because Ida wasn't with us this time, but we did mannage to snap one of Balmoral, while he was patiently waiting at the trailer.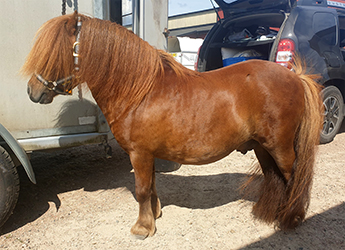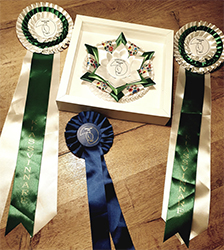 Back home in Denmark, we finally had time to enjoy Díamora's gorgeous palomino and white colt foal: Shady Acres Dragonfly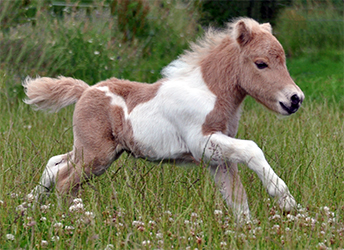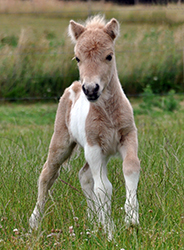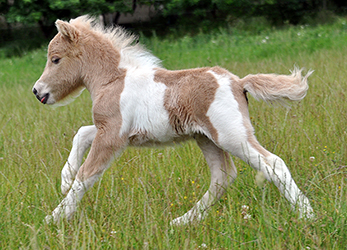 Only one more foal to go this year. Clover's belly was getting big and beautiful.
She was finally starting to show signs of imminent foaling. We were enjoying supper in the garden and waiting impatiently.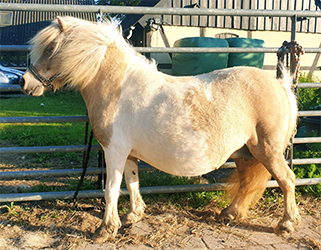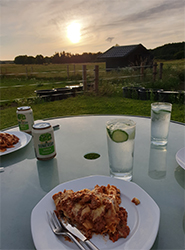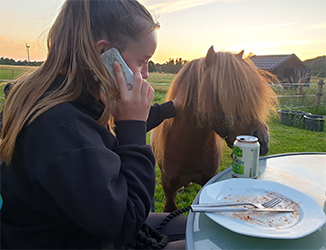 Finally at 1 a.m. she started foaling, and she had a very nice mushroom colt foal. He ofcourse had to be names: Shady Acres Cute Corona.
With this final foal, we could breathe a sigh of relief, and with the exception of the very beginning, when Alysha lost her foal, we had now had 15 problem free and successful foalings in a row.
We are so happy, and very proud of our 15 gorgeous and healthy foals.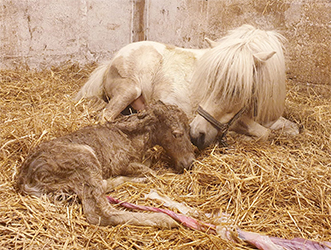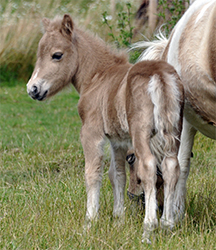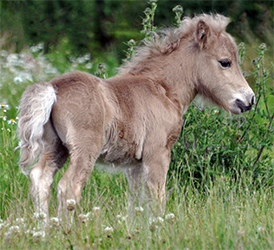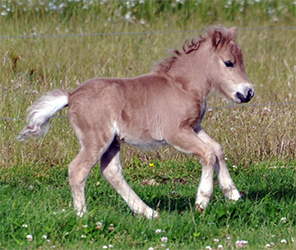 The following weekend, we went back to Sweeden, and back to our good friends at Hasselbo Stud.
On friday we washed the ponies, packed up and went to spend another great night with Anneli and Magnus.
Saturday we had plenty of time, since we weren't going to the mares assesment, until after lunch. We only brought one mare to show, our gorgeous little Jilly, who I have bought at the Select Sale in Holland.
She did really well, winning her class with 40 point, and thus awarded breed class G and class 1.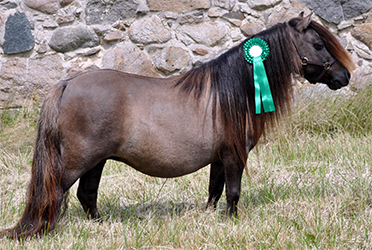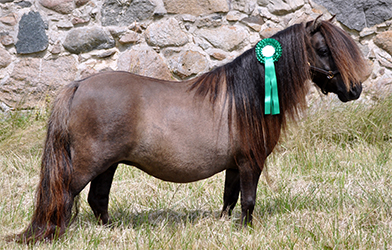 At night we celebrated at Hasselbo, where I made dinner and we all enjoyed the lovely summer night.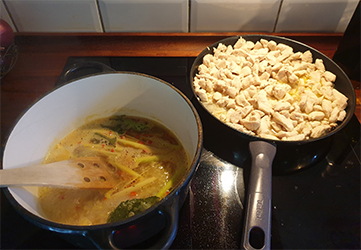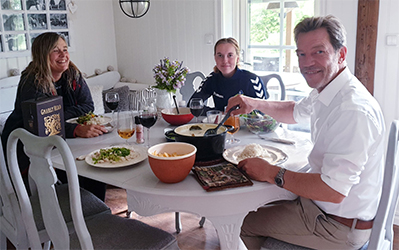 On sunday we went to the show i Kågerød. She judge, one of my favorites, was Torsten Jeppsson.
We started out a bit rocky, with Jilly's foal getting a bronze medal, but she was quite young and growing, so understandable. She would have to come back later.
Then it definately went up from there. Daisy won the class of 1 year old fillies, with 40 points and gold!
After this, it was Jilly's turn in the ring. And Torsten definately liked the mother a lot more than the daughter. He placed her as classwinner too, with amazing 42 points and gold. So proud winning a class with some very high quality mares, who have previously been at the very top in the showring.
Finally it was Balmoral's turn. He was also class winner, with incredible 43 points! Later, he was once again Mini Stallion Champion, and finally went all the way to win Res. Best in Show!
What an amazing day, and such a great weekend!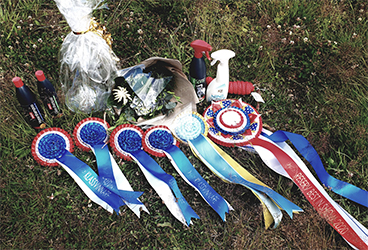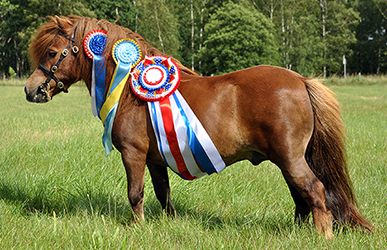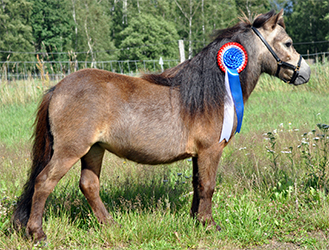 After this followed 3 weeks of summer holiday which was spent enjoying all our lovely ponies and all the cute foals.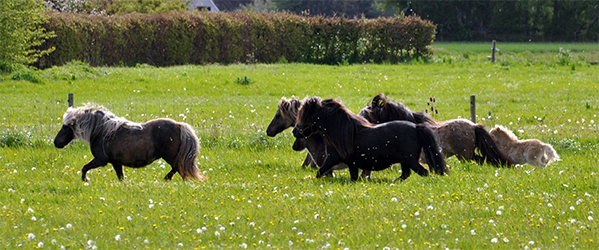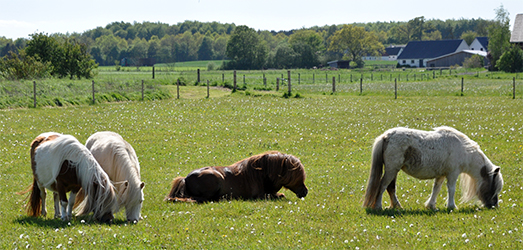 Second week of our Holiday ended with another visit to Sweeden.
On saturday we left for our friends at Hasselbo yet again, and this time my husband Steffen joined us, which was really nice.
We all had a really cosy saturday evening.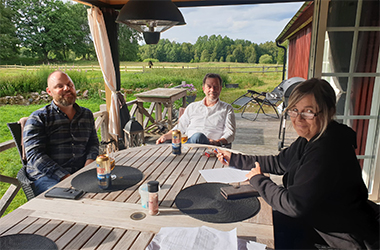 On sunday we all went together to the mares assesment in Bollerup.
We had brought Blondie and Ginny Lou-Lou. We were hoping Blondie would get the 40 points needed for her G and klass1, and despite her 19 year and a big strong foal at foot, she did it!
Ginny turned out to be a very pleasant surprise. She ended up winning the very big mares class with amazing 43 points! We were extatic!
Anneli took this great picture of all of "Team Shady Acres"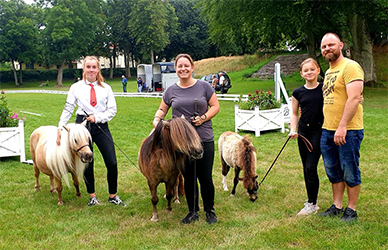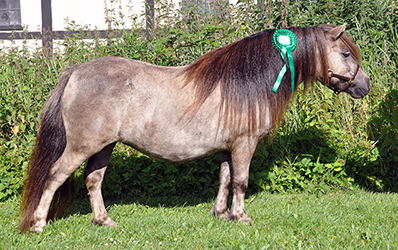 Back home in Denmark, we celebrated another great weekend, with great results.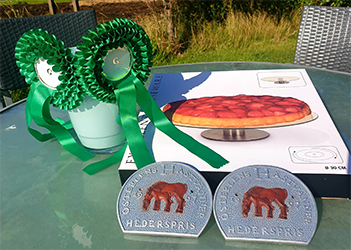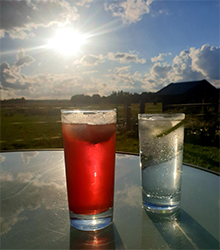 The last week of our summer holiday was spent cuddling foals, ultrasounding the mares and having all the ponies teeth done.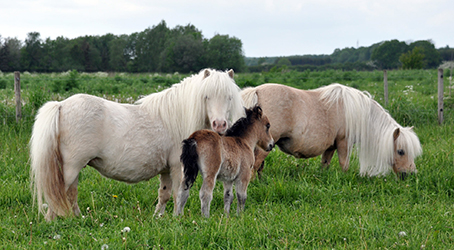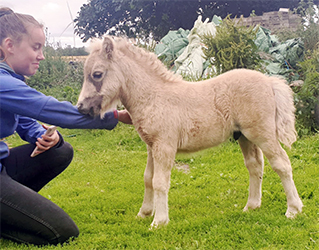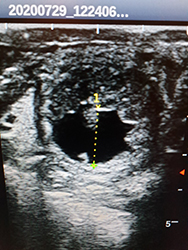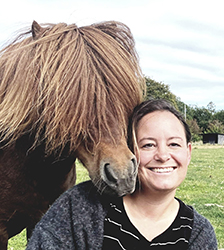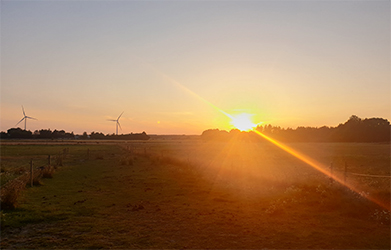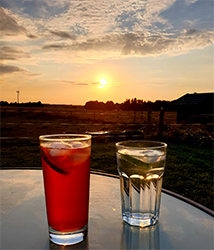 In the middle of Ausgust it was time for the yearly Golden Crown Shetland Show in Sweeden.
Our friends Anneli and Magnus at Hasselbo stud arrange the show, and as per tradition, we spend the night before the show at there place.
Our friends Martin and Kathrine also joined us, and we all had a very cozy night before the show.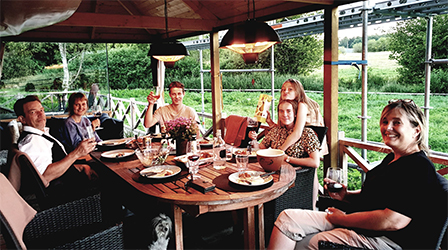 On saturday it was showtime, and we had brought Balmoral, Ginny, Jilly and Jezzebelle.
Jilly did it again and was classwinner with 42 points, and Jezzebella added 3 points since last time and got a nice silver medal.
Ginny got a bit dissapointing 39 points, but she was nervous and tense on the day, so hopefully she will do better another time.
Balmoral only got an 8 for his trot and a 7 for his legs, which was quite confusing, but he still mannaged to scrape toghether the important 41 points for his SUCH title!
All in all it was another great weekend, and the show was as also very well arranged!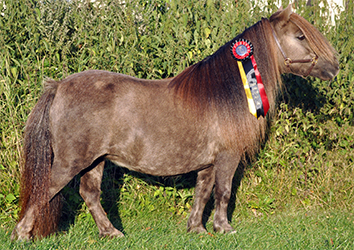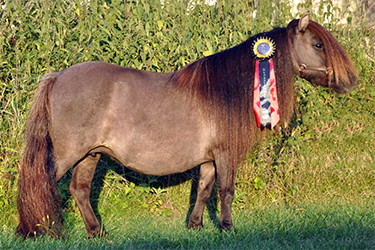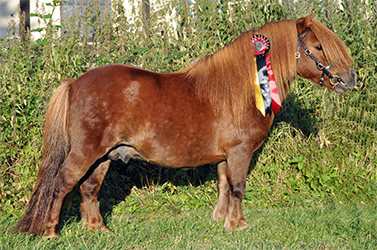 On the way home from the show, we had a visit with Torsten Jeppsson at Almnäs Stud, to see all his gorgeous ponies and his other interesting animals.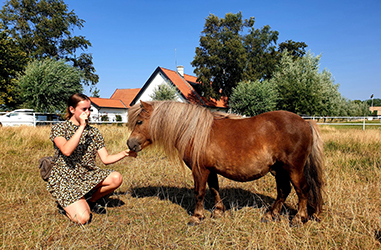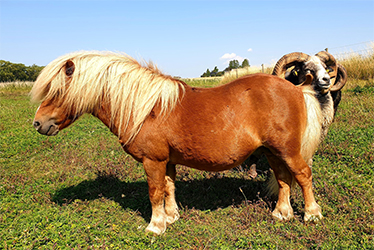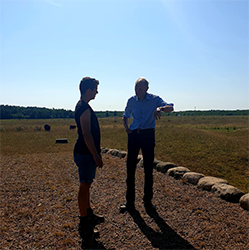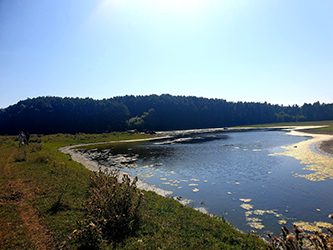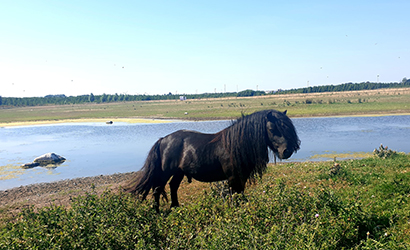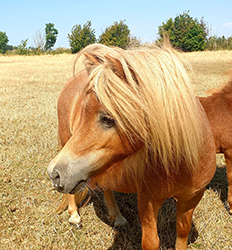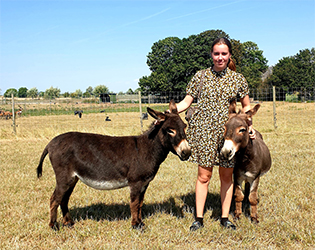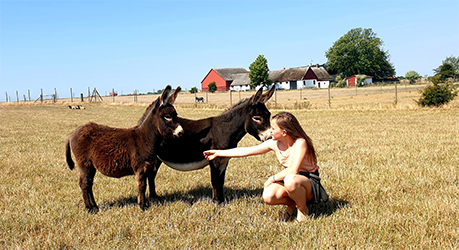 August was also the month where the stallions finished their respective breeding seasons, and therefore Albert and Zephyr got to join the young boys, to enjoy the rest of the summer playing.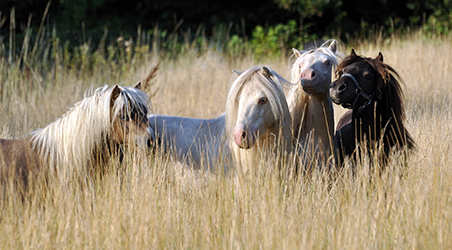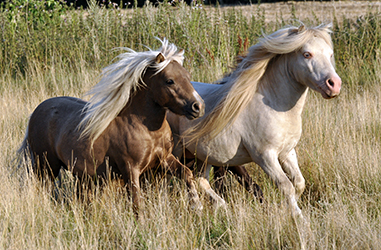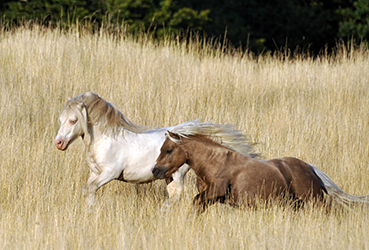 The summer flew by, and soon it was autum. The 2nd weekend in September, we went to the Youngstock Show in Osby, Sweeden.
We has brought Zehpyr, Daisy and then Rain, who had her showing debut.
It went really well. All 3 ponies got Gold medals, and Daisy and Rain where placed 1st and 2nd respectively in their class.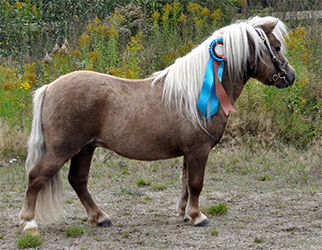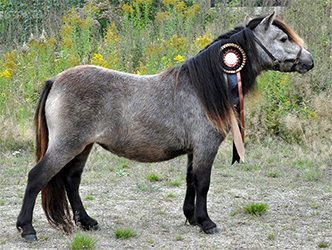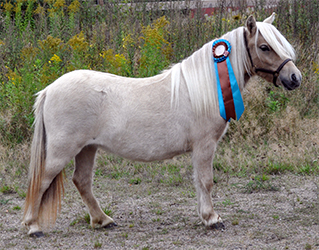 Autom was also the time to get ready for winther. That mean a lot of heavy lifting.
Carrying in 1½ tons of hard feed, to get through the first part of the winther, and also shoveling 5 tons of stable gravel, to make sure the ponies didn't get too muddy.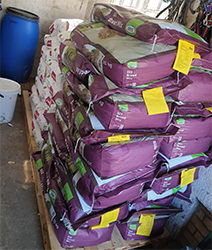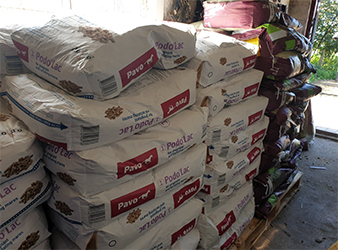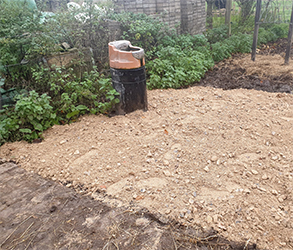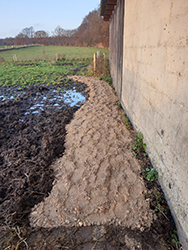 The first weekend of October, I took a little trip to Holland, with my good friends Steffen and Serina.
The purpose of the trip, was to pick up 3 new mares I had bought at Duke Stable.
Since Johan wasn't home that weekend, we had arranged pick up of the mares at Reinanda's place, at Stal Groenkamp. It was really nice, seeing her again, and seeing all her lovely ponies.
We drove straight down and back again in 24 hours, and came home to Denmark tired but happy, and with 3 gorgeous young mares. 1 year old Nightfall of Duke Stable, and the two 3 year old mares: Let It Go of Duke Stable and La Femme of Duke Stable. Both 3 year old mares are in foal to the recently liscenced palomino stallion: Limited Edition v. Stal Brammelo.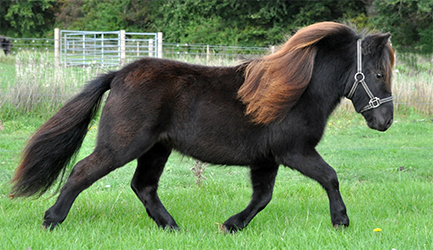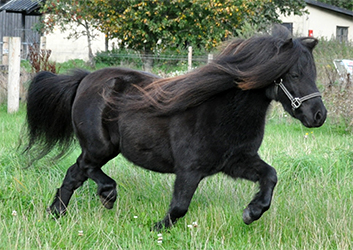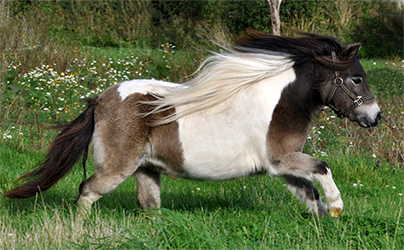 At the end of October it was time for the last show of the season. The big Halloween Show in Sölvesborg, Sweeden.
We started friday night, with a vitis from our good friends Steffen and Serina, who came to spend the night, before the show.
As per tadition we all went out for sushi, before settling at home for a few drinks and lots of pony talk.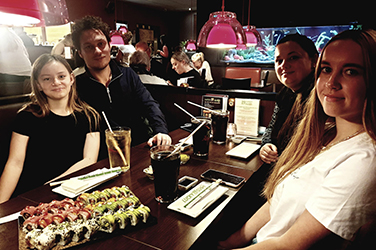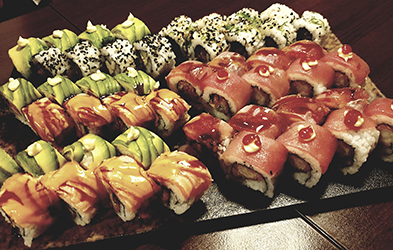 Saturday we got up really early, and went to the show.
We had brought Ginny, Amy, Arizona, Blondie and Bacardi.
All the ponies got a lot of praise from the judge, who though overall the ponies had really good movements, with the exception of old Blondie, who was unfortunately a little bit lame in the ring.
She still got a very respectable 39 points. Both the foals got really nice descriptions, and correct points in my opinion. Ginny did a little bit better this time round, and got the magical 40 points and gold.
The one who did the best, was little Amy. Even though not being in the best showing condition, her excellent movements still got her a class win with 42 points and gold, and later even the title of Mini Mare Champion! So pround, and what a showing debut for Amy!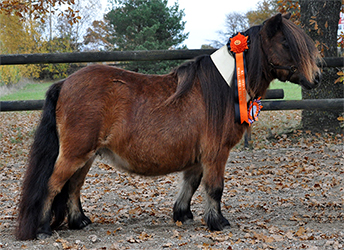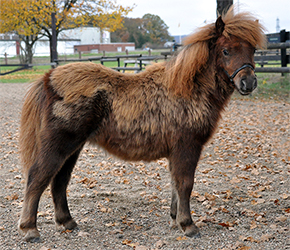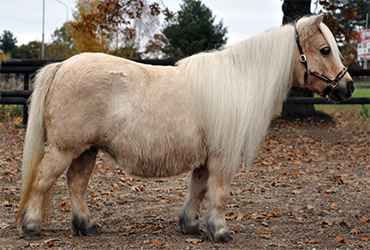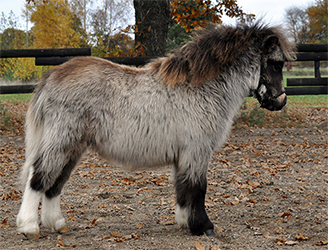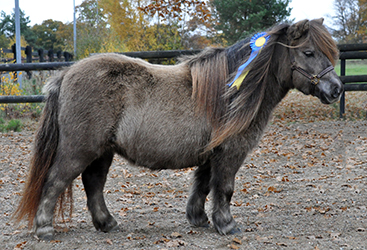 After the show we all went back to our place, where Martin and Kathrine also joined us. for a lovely evening and a sleepover till sunday.
Serina had made delicious food for all of us, and we all enjoyed it before celebrating with drinks and more pony talk.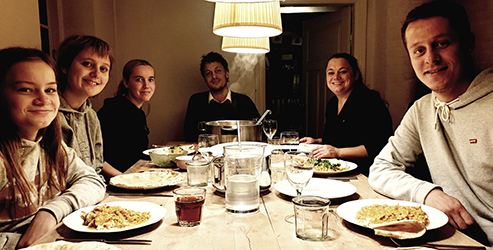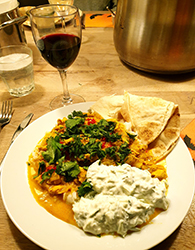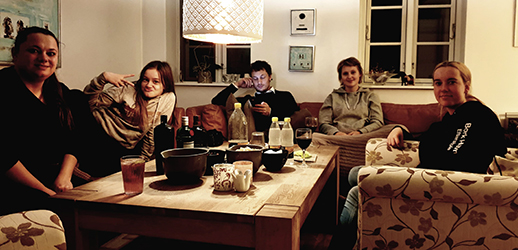 It was also time to start saying goodbye to all the foals that had been sold. Most were collected here at the stud, but Falcon and Breezer had found a home not very far from us, so we went to deliver them.
They seemed to settle in quickly, and its nice to be able to follow them.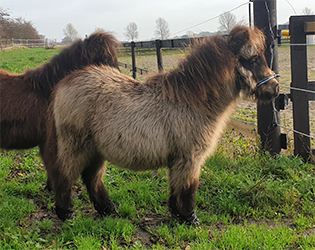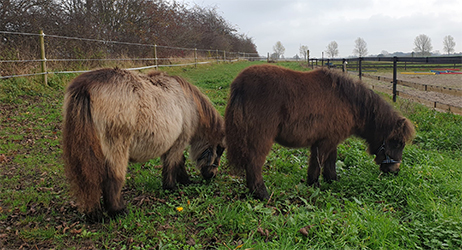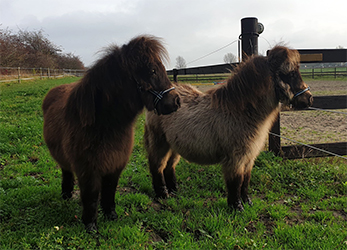 I have also updates the page with sold ponies, to include the once that have been sold this year.
This seems to conclude the update of 2020. The winther has just been spent taking care of the ponies, and looking foreward to a new season of foals and shows.
________________________________________________________________________________
The past year 2019
The foalingseason of 2019 didn't start out too well, with 2 dead foals, on top of the 2 that had been aborted during the winther.
After this everything fortunately went great and 12 happy and healthy foals were born.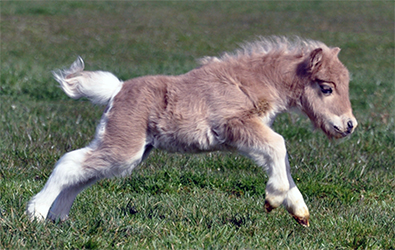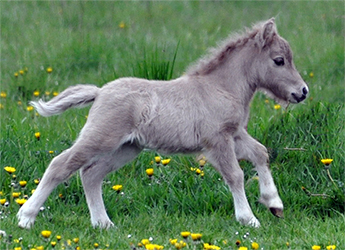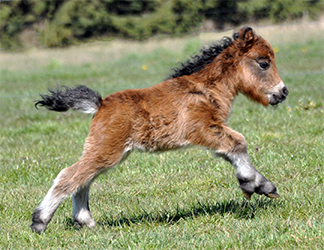 Showing we had a really good year.
Both Baby and Katie, recieved the sweedish breeding diplomas.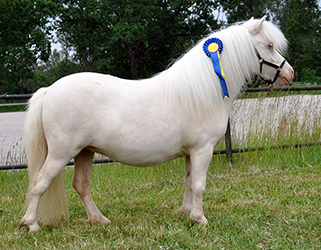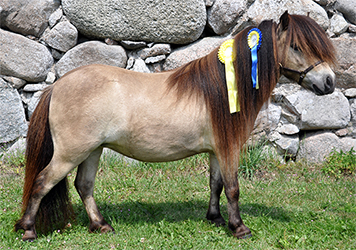 The biggest experience however, was at the stallions assesment in Sweeden, where I mannaged to get my first stallion, of my own breeding, liscenced!
I was so proud that little Zephyr mannaged to make it through!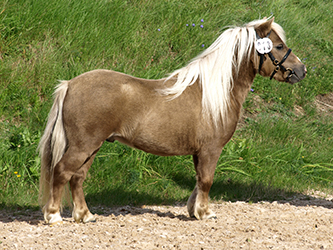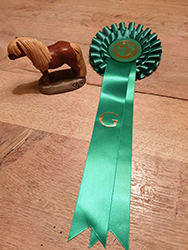 2019 was also the year that we brought home Balmoral, who we had leased from his breeder in Holland, to use in the following 2 breeding seasons. On the same trip we bought the lovely Amy, and we have never regretted that descision for a second.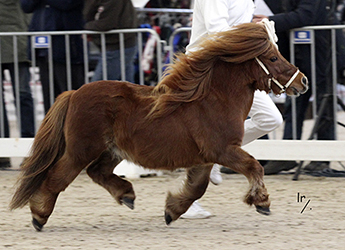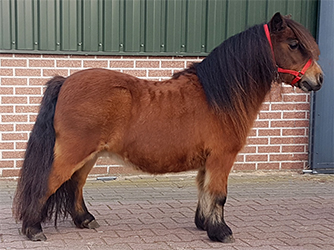 The biggest experience in 2019 however, must be mine and Louise's stud tour in the Netherlands. We had an amazing trip, and visited so many studs, we can't even remenber how many.
We met a bunch of lovely people, and saw some gorgeous ponies.
A trip we will never forget.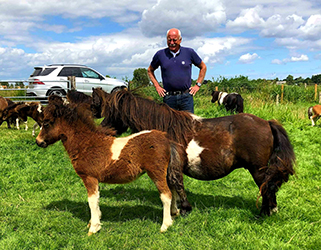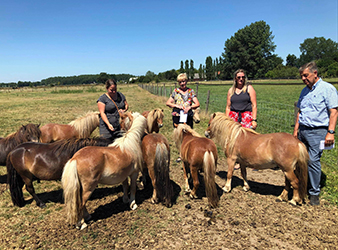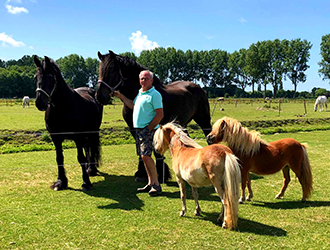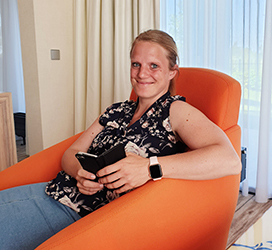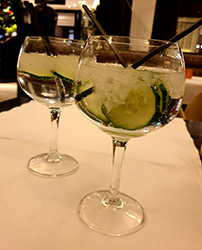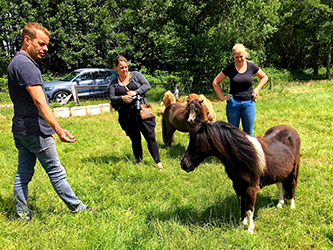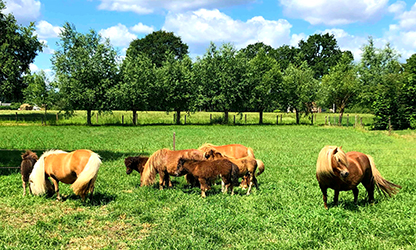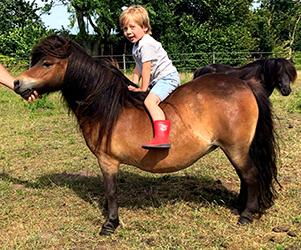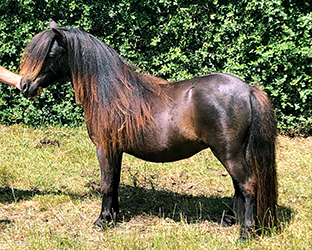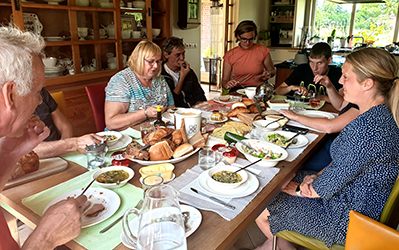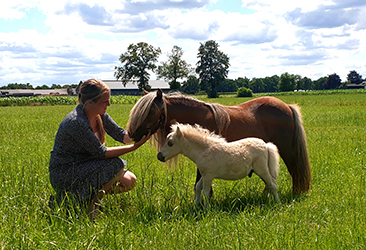 ____________________________________________________________________________________________________