I will now try to go though the news of 2018.
After this I can start on the news of 2019.
The first show of the year was the Mountain and Moorland Winther Show, which is in the beginning of march, but this show was unfortunately cancelled, due to the fect that the judges could not come.
Really sad, when you have been busy training and preparing the ponies for the show.
In the last days of march, the winther weather we had been hoping for finally arrived, instead of all the rain and mud we had gotten used to.
A little late, but the ponies loved it, and do so much better in this type of weather.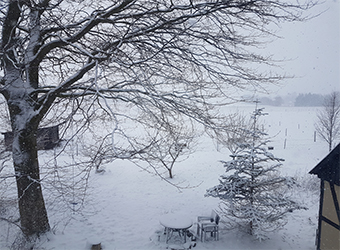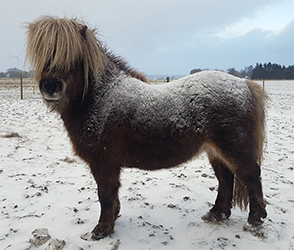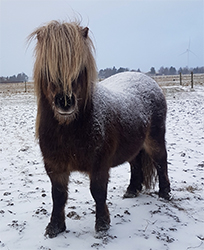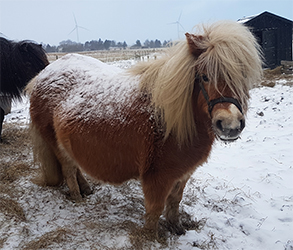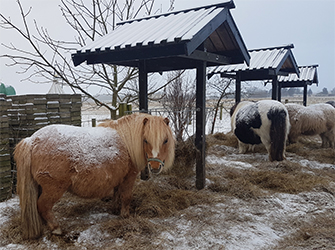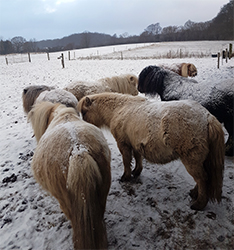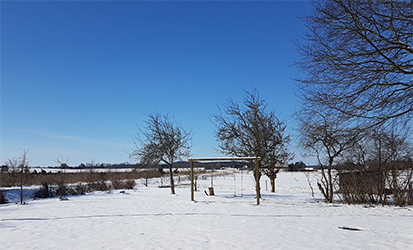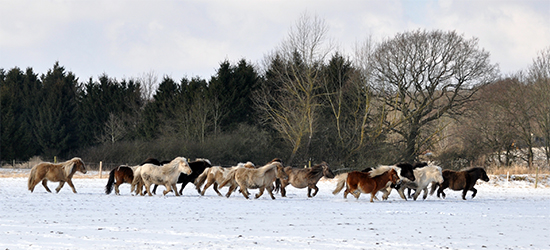 This was also the time we started preparing for the first foals to arrive.
Minnie was the first one to foal, after keeping us up for a week, like usual!
We started using milk ph testing for the first time last year, and on the 31th of march, Minnie's milk ph dropped to 6, and we were sure it had to be now. But then it rose back to 7, and she ended up foaling 4 days later!
Minnie is just impossible to figure out!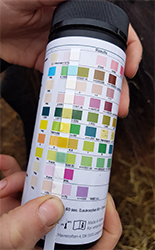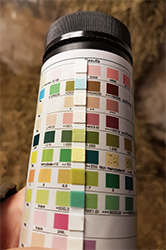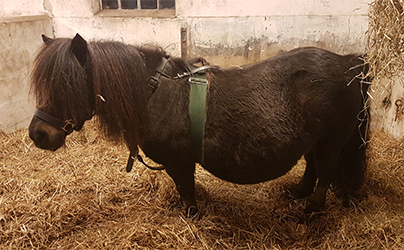 Finally the foaling alarm went off, and Minnie was well into labor when I got to the stable.
And on the 4th of April at 3.43 a.m., she had a lovely strong, just like last year.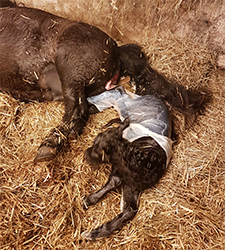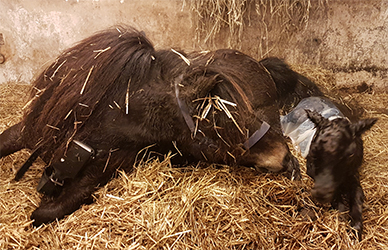 His name is Shady Acres Mighty Master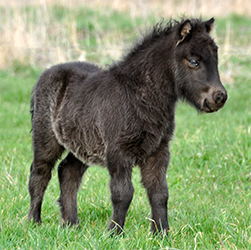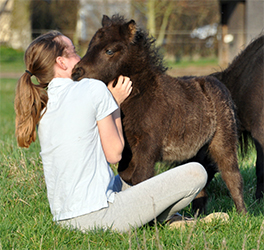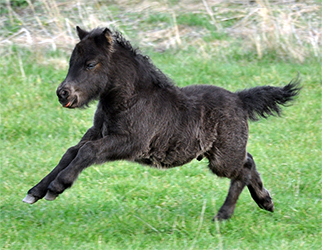 The same night that Minnie foaled, Zita also had her foal. Unfortunately, again this year she showed absolutely no signs of being about to foal, and again this year the foal was dead.
She didn't even have any milk in her udder to do the milk test.
I found her stading in the deepest mud of the paddock, with a small mushroom colt foal burried at her feet.
I am so sad for Zita that this had to happen to her again, and unlike last year, this year she was really upset about loosing the foal.
We have now covered her early, and she will be stabled 2-3 weeks prior to foaling and installed with a foaling alarm and everything. This time i HAVE to be there when she foals.
With the death of Zita's foal, it ripped up all of the emotions, fears and worries from last years horrible season, but luckily, this would turn out to be the only thing that wen't wrong this season.
The mares that were not in foal, and all the fillies were turned out to graze, to much delight as always.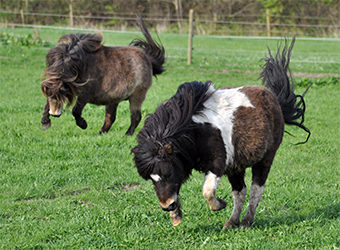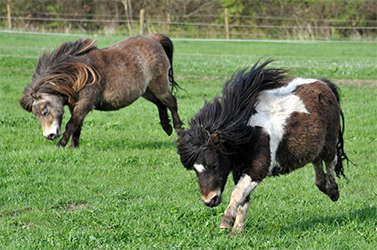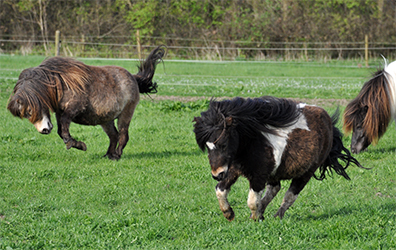 The next foal came on the 14th of april, in the middle of the day. I had tested little Blossom in the days before, and this morning the ph dropped to 6.
At 12.27 I find her lying in the paddock and the water has just broke. I get her on her feet, and into the stable, away from all the other curious ponies, and at 12.40 the most gorgeous little palomino filly has been born.
Blossom, who is a frist time mom, did it all like she has tried it 10 times before.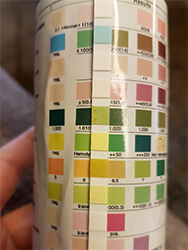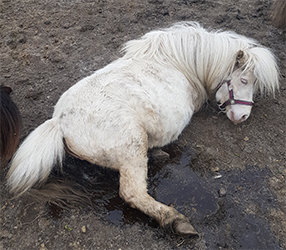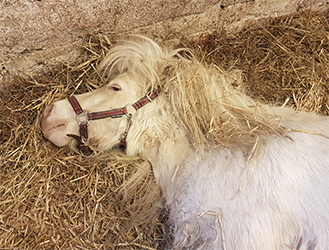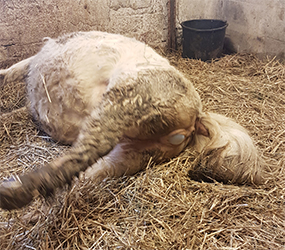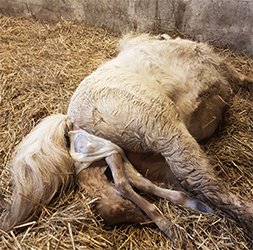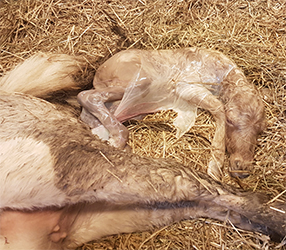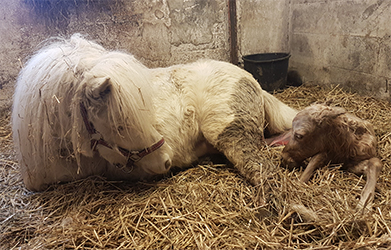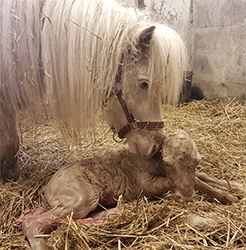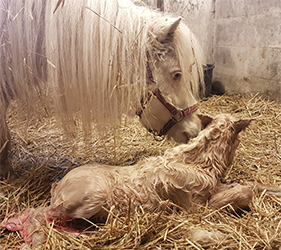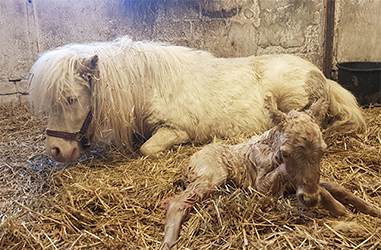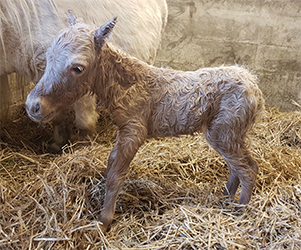 This gorgeous little girl is my first 2. generation foal, and her name is Shady Acres Baby Bubbles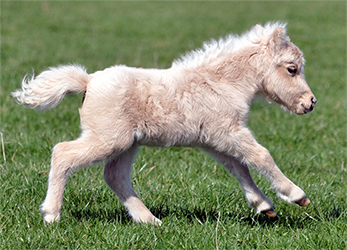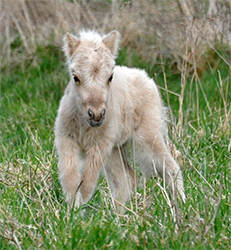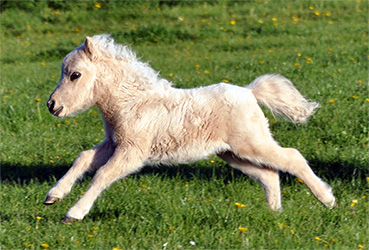 Already the next morning, Sine's milk ph had dropped to 6. So now she was installed in the stable with the foaling alarm, and we prepared ourselves for a long night.
While we were waiting we had some quality time with cute little Bublles.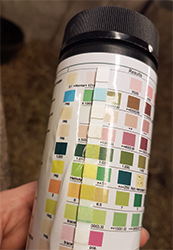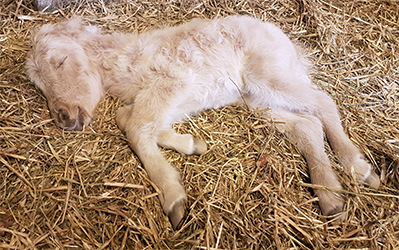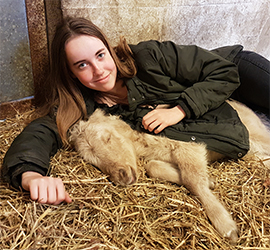 Just before midnight, the alarm wen't off and it didn't take long before Sine started laying down.
The foaling was easy and just by the book, and at 00.12 Sine had a cute little bay colt, under the watchful eyes of us, and Fergie the cat, who seemed just as interested in the event as we were.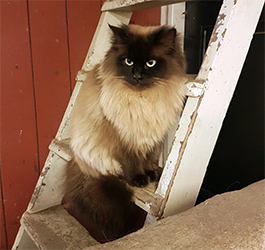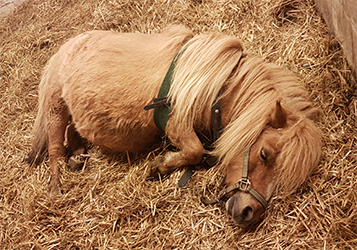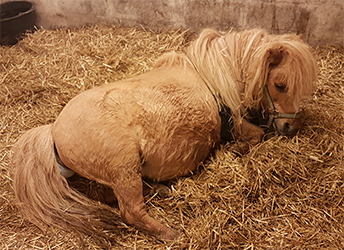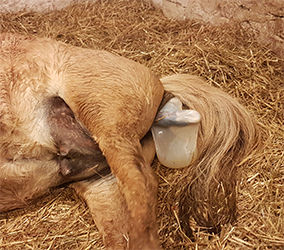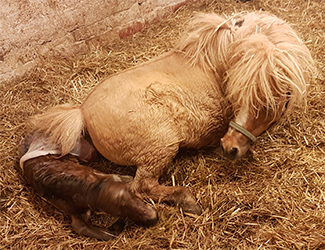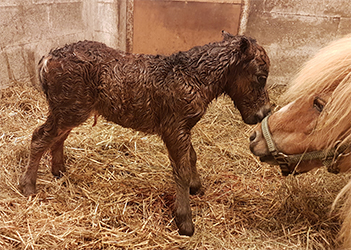 Barely had the foal been born, before Sine calmly started eating her midnight snack.
I was just so happy, she finally had a live foal to take care of. 3 year ago she aborted, then she didn't get in foal, and the last year, the foal was dead when it was born.
Finally she had a live and healthy son.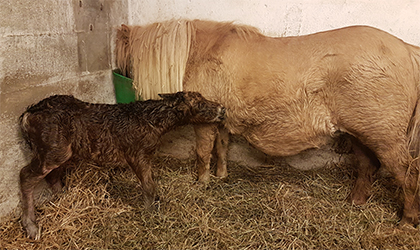 The little man has a very lovely head, and is a bit special with his one blue eye.
His name is Shady Acres Sunday Snickers.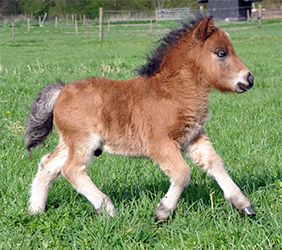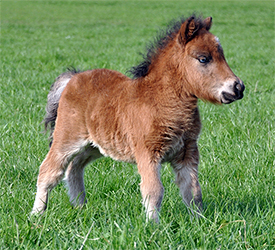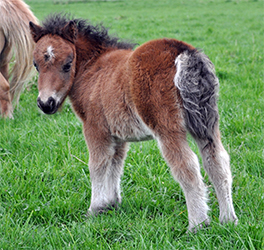 The following weekend it was finally time to dust of the trailer and go to the first show of the season.
Dorthealyst Youngstock show is usually no where we have out best results, but this year 3 out of 4 of our ponies did really well. Only Levani was not to the judges liking.
Both Phoenix, Wanilla and Yesirée mannaged to get an overall score of 8 and thus a red ribbon/first prize. Phoenix was classwinner and the judges loved his type, and his gorgeous little head, almost as much as I do.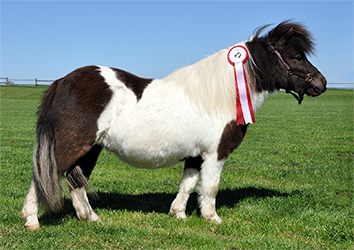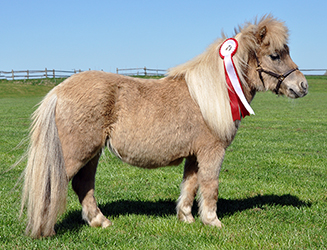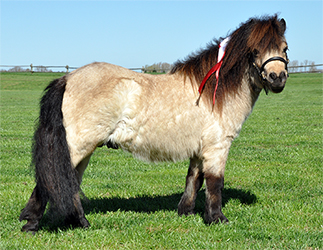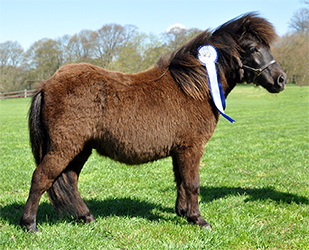 The following week was a hard packed work week for me, with 9-10 hours days all week, and on call all weekend, and the mares did not make the week any easier.
Already on sunday night, Blondie was showing signs of getting ready to foal, and her milk ph had dropped from that morning.
At around 3.00 a.m. she started sweating a bit and activated the alarm.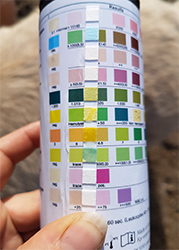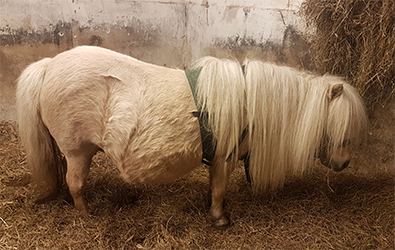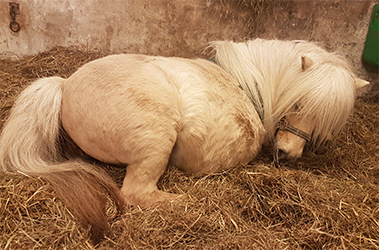 And at 3.39 monday morning, she had a gorgeous little chestnut filly foal. As per tradition. Blondie's old mom, Kate Grambo, was there to withness her delivery, and welcome the new foal into the world.
And while she was there, she might as well pass on some wisdom to a tired Papaya, who ofcourse didn't wan't to miss out on the birth either.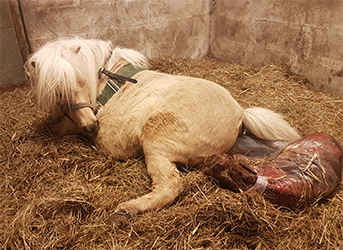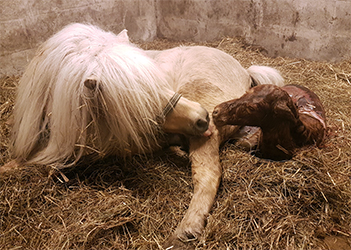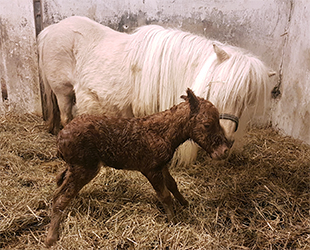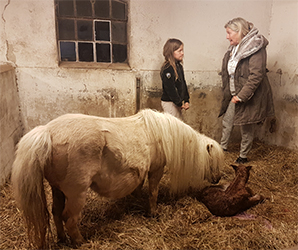 The little lady in red, had been named: Shady Acres Baby Betty Boop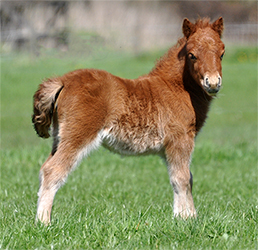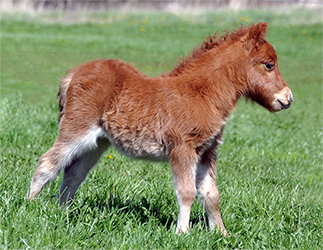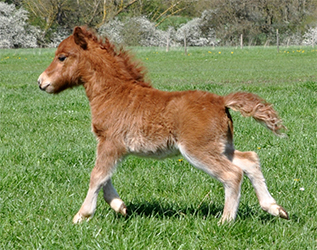 After Betty had found the milk bar, Blondie had passed the afterbirth and everyting was allright, I had to get a coiple of hours sleep, before my 9 hours shift at the clinic started in the morning.
Before I had to leave for work, I checked Alysha's milk ph, and now it had dropped too. I therefore let her stay in the stable with Blondie, and I got my neighbours to keep an eye on her during the day.
They checked her regularl. At lucnhtime there was nothing to see, and then a couple of hours later she had just foaled.
Now the rest of the day seemed really long, before I could get home to see the new foal.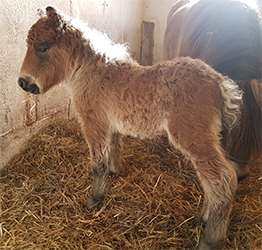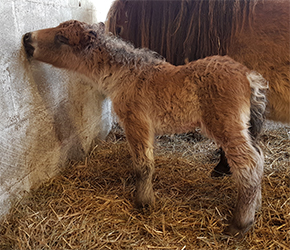 When I got home, I quickly realized that Alysha's little teddy bear, could not figure out how to drink from her. I quickly milked out Alysha and fed him the bottle, getting some of the colostrum in him, hoping it was not too late for him to absorb some of Alysh'a antibodies from her milk. The little guy's name is Shady Acres Golden Arrow by the way.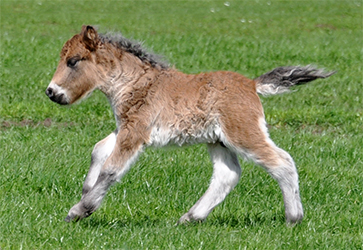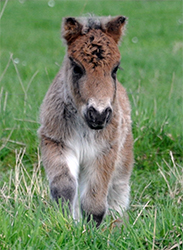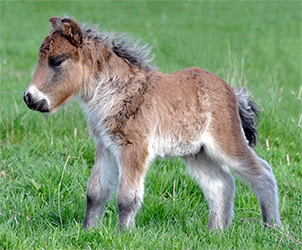 It was really hard having to bottle feed him every 2 hours for the next couple of days, while also working 9 hour shift at the clinic both wednesday and thursday.
Wednesday night I was also called out to a dog having puppies, and it ended up with an emergency C-section. I had left just before having to feed Arrow, so when the surgery was finished I rushed home to feed him.
And there he was at 1.00 a.m. drinking from Alysha like no problem at all.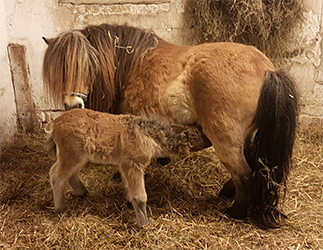 I was so relieved! I then took a tour to check on the mares. None of them had any changes to their udder, or anything like that, but when I got to Silke, I thought she was acting a bit weird.
I did the milk ph test on her, and certainly the ph had dropped, indocating she was getting colse to delivery.
I quickly moved Blondie and her foal, to make room for Silke, in the foaling table next to Alysha.
Very soon hereafter, Silke lay down, and soon started having contractions.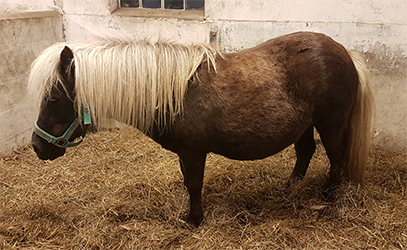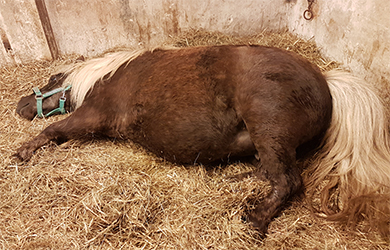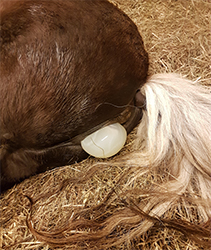 And at 01.49 Silke had a nice big, black filly foal.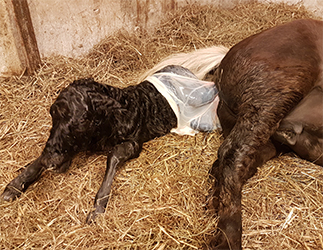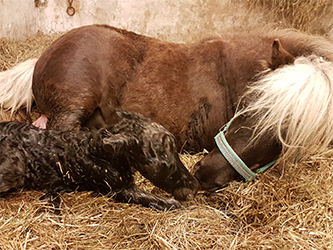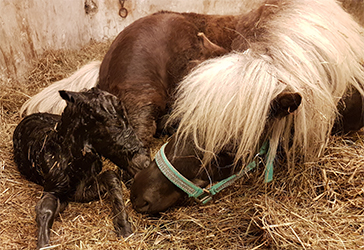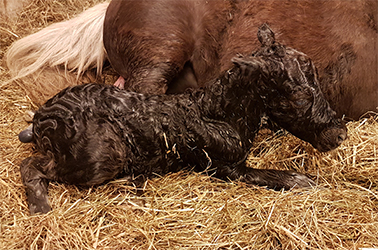 This lovely lady's name is Shady Acres Night Surprise
When everything was fine, I quickly jumped into bed, to get a couple of hours sleep, befoe the next 9 hours shift at the clinic started.
It was a very long day, but so nice to get home afterwards, to enjoy the 3 new foals.
We had now reached the weekend of the very long week, and I was on call all weekend.
The night between friday and saturday, I had been called out to another C-section, and just as I was about to operate, my husband calls me, telling me that the foaling alarm had just gone of.
I quickly call Kate and Ida, and have them come to the stable to check on River, who was installed with the foaling alarm.
While I am in surgery, Kate calls back and tells us that they can't get the foal out. I frantically have the veterinary nurse call around to try to find help, but just as I am about to get a hold of my equine vet, Kate calls back and tells me, they got the foal out!
I have never been more relieved in my life, and what has become a rather rutine surgery for me, was suddenly made a lot more pressure filled that night.
I am so happy about my foaling alarm in a situation like this.
Ofcourse I have no pictures of Rivers delivery, but here are some of his gorgeous little mushroom son. Shady Acres Regal Ranger.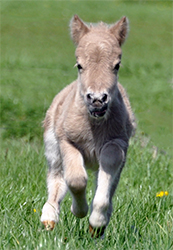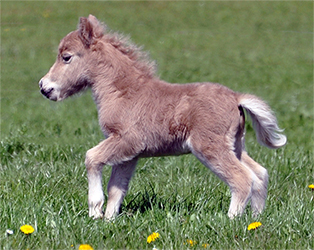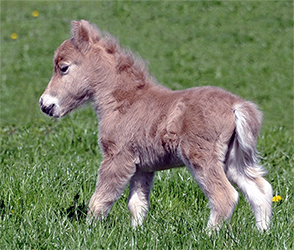 A very long hard week, ended happily!
I must admit, monday and tuesday at the clinic, were hard to get though, and I was so happy about my day off on wednesday.
On wednedsday I woke up to quite a surprise.
Clover had, unlike her sister River, not shown any signs, and not showed anything on the milk ph test, but that morning I woke up to a newborn little colt running around the paddock with Clover.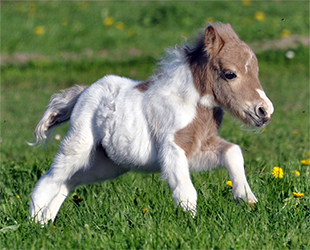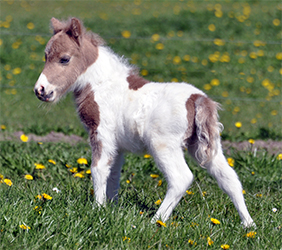 Luckily everything had gone perfectly, and Clover had welcomed the cutest little mushroom and white son. Shady Acres Cute Casino.
That wednedsday, my mother came to visit.
I was doing horsey stuff, I had not had time for in the previous week.
I notived Tamelone kept staying in the open stable, even when the others when out to graze in the paddocks.
Her udder was a bit harder, and her milk ph had dropped, so I was sure we were gonna have a foal that night.
I drove over to pick up Papaya from school, and I called Ida to come down and keep an eye on Tamelone while I was gone.
I only made it half way to Papaya's school, before my mother called me in a panic, saying Tamelone was having her foal! Ida hadn't made it down yet, and I turned the car around and raced back.
When I made it back, Ida and my mother were there, proudly presenting me with the foal of my dreams!!
Tamelone had finally had a filly foal!! And not just any filly foal, but the prettiest little thing, with the cutest head, and to top it off, she was buckskin!
I was so excited, and my mom was exhilarated. She had always wanted to witness a foaling, and now she had mannaged one all by herself. And luckily I had taught her a bit about foalings, so she instantly knew to break the membranes, that did not break during delivery.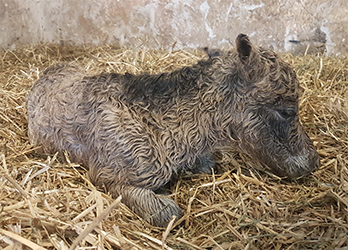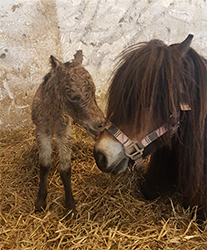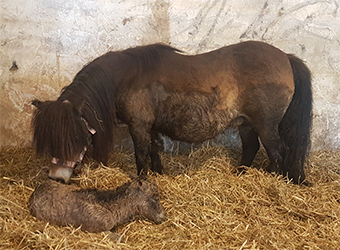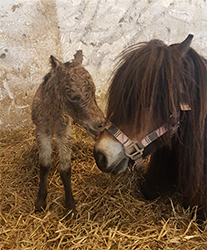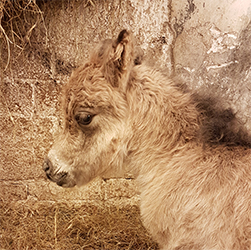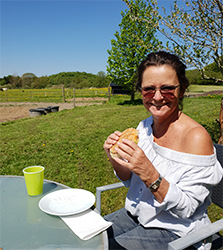 It was just all together such a great day, and I quickly fell completely in love with the foal of my dreams.
Shady Acres Trinity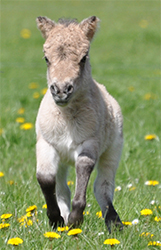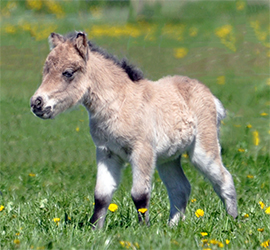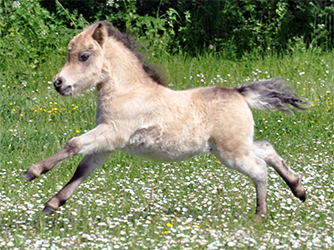 The week ended sunday, when we woke up to realize that once again Fanny had fooled us, and she was standing there with a lovely red dun colt. Thankfully she had mannaged everything perfectly by herself.
The little guy has been named: Shady Acres Dancing Dynamo.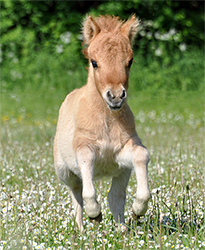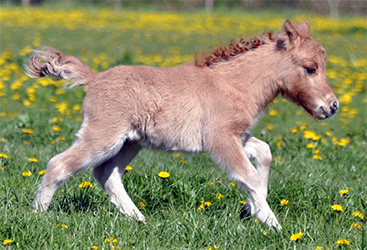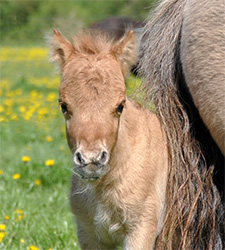 After this another long week at work followed.
Diamora had started bagging up, so she was installed in the foaling stable.
I woke up wednesday morning to a cute little girl in Diamora's stable.
I had checked the girl for the last time at 2.30 a.m. before putting the foaling alarm on Diamora and going to bed. No sweating, no was, no signs.
Next morning, Diamora is standing there, with her foaling alarm that didn't go off, because she is still completel dry. Nice work giving birth without breaking a sweat.
This little filly is by the very well moving dutch stallion, Concorde of Sportview, and her name is Shady Acres Darling Dreamer.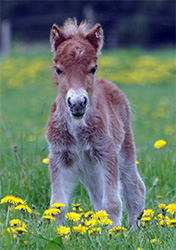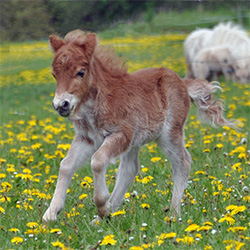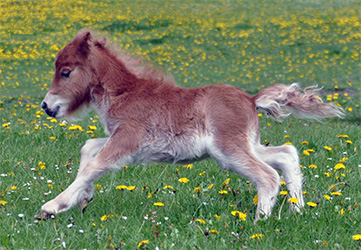 The rest of the week was quiet with regards to the foalings, but already next week, Gucci was gearing up to deliver this years 12th foal.
At 04:45 thursday morning, the foaling alarm went off, and I hurried to the stable. It didn't take long until Gucci laid down and started pushing, and at 04:56 the most beautiful little bay and white filly foal was born.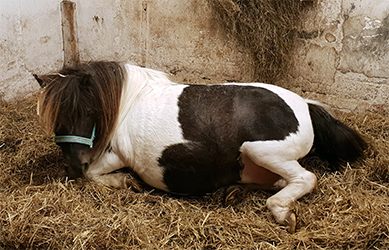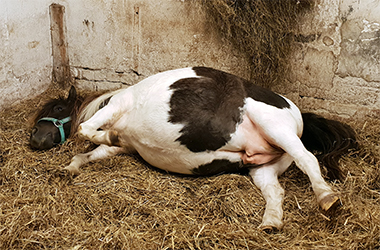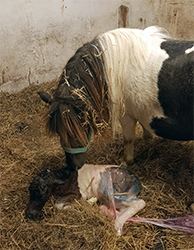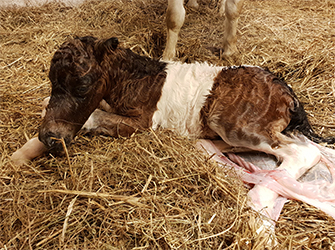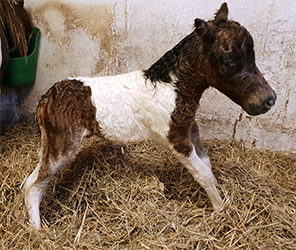 I mannaged to capture it all on video, which can be seen on our Youtube channel.
I mannaged to chech that the foal was dringking, the afterbirth had passed and everything was in order, before I had to leave for week 2 hours later.
When I got home that night, and the foal had streched out a bit more, I could quickly see that the flexor tendons in both front feet were way too tight.
I tried doing streching exercises all night loong, but I didn't see much improvement.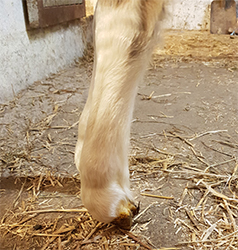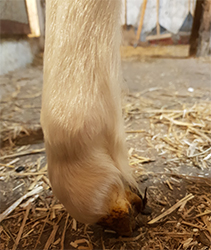 I therefore had my great vet Anders come out and give her tetracykline, in the hopes that it would relax the tendons enought for her to stand properly on her feet.
Already the following day, she was much better, but still a bit too tight in Anders opinion, so he came out to give her a bit more medication.
We were away at a show, so my lovely husbond had to help Anders hold the foal.
On sunday she was pretty much perfect on both front feet. Lovely! The little lady has been named: Shady Acres Gorgeous Grace.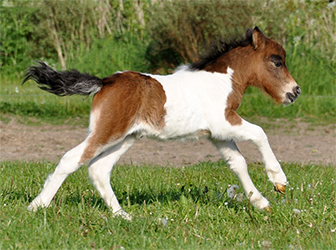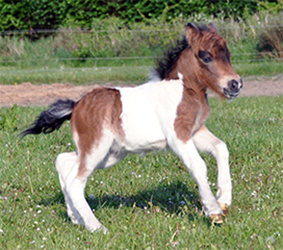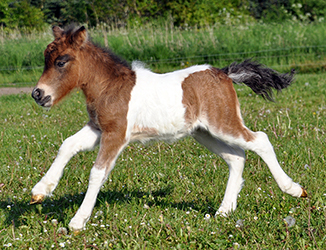 As I said we were at a show on saturday. It was the yearly May show in Ringsted. With us we had Albert, Brightlynn and Yesirée.
The ponies did okay. Albert was a bit tense, which didn't do anything good for his movements, but otherwise he looked good.
Yesirée got a 9 for type, chich was great, but was docked a bit for her movements. She was unfortunately also very fat, but still did quite good.
I was quite interested in how Brightlynn would do. She needed vindication from the year before, but one of the judges was the same as last year, when she only got 68667 = 33 points and was told her head was not a typical shetland head, and her movments were not typical shetland movements.
Well luckily a lot had apparantly happened in the last year, because this year she got 88778 = 38 points, and a description that mentioned her "Good type with a pretty and typical shetland head".
I am curious what would happen if I brought her there again in 2019.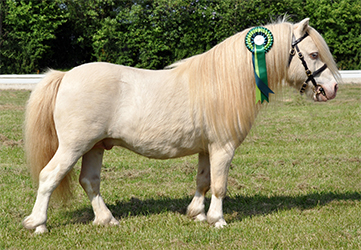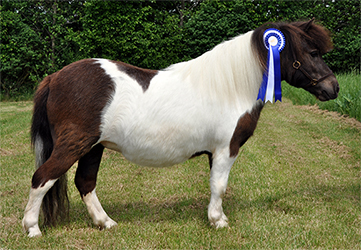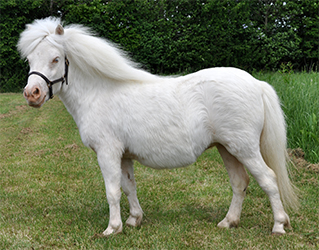 The summer started already in may, and by then we didn't know yet, that this would be the start of a long drought that lasted all summer, so we enjoyed the warm weather immensely.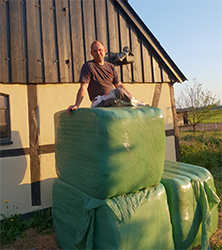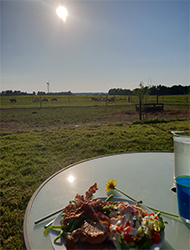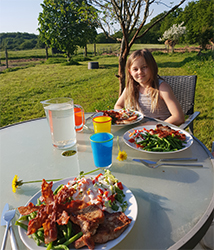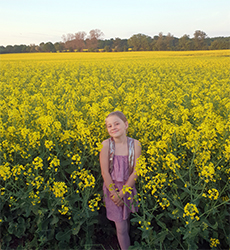 It was also in may we started ultrasounding the first of our own and visiting mares in foal. So exiting to see the results in 2019.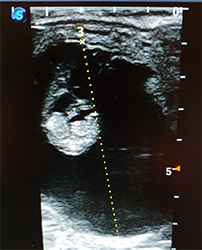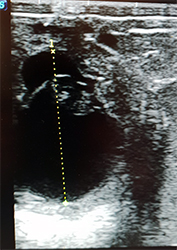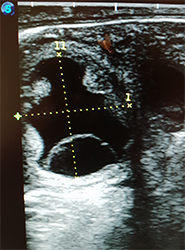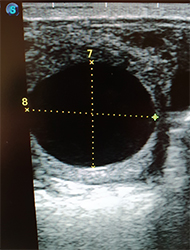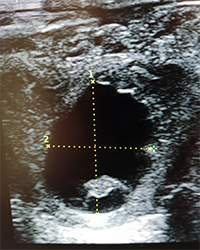 In early june it was time for the Roskilde Animal Fair. Again this year we had not entered any ponies, as we just wanted to have fun and enjoy the company of all the other shetland pony friends.
It was a few lovely, hot, dry and dusty days at the show. Same as other year, we had helped arrange for a party tent, a shetland party on friday night. ect. But this year my husbond Steffen had also arranged for at bouncing castle for the children, and it was a big hit, and attracted children from all over the campsite.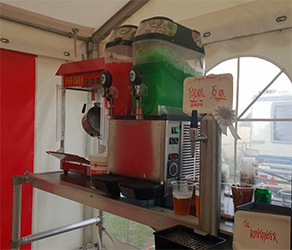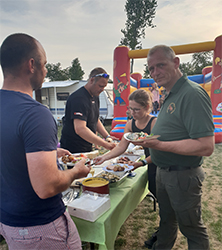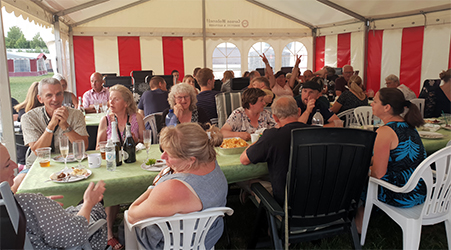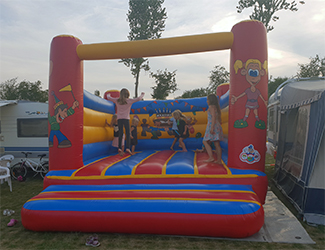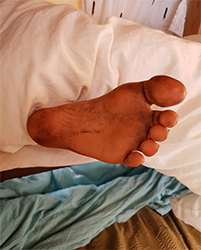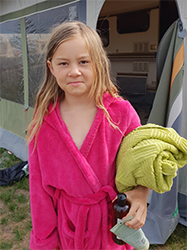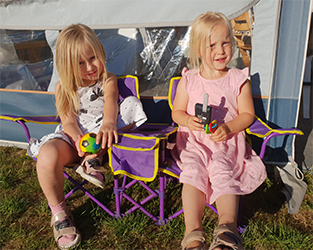 Sunday june 17th I woke up and wen't into the fields to check up on the ponies, and there was Pearl with a lovely little black filly foal at her feet. There hadn't been any signs beforehand, but luckily everything had happened smoothly, and the little foal was already completely dry and very sure on her feet. Her name is Shady Acres Black Princess, and she was this years 2nd to last foal.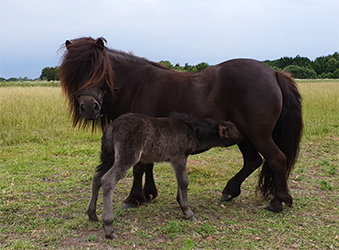 The 3rd show of the year of the year took us to Sweeden, to Huseby. A super show in beautiful surroundings.
We went up there the day before, and after settling in the ponies, we settled ourselves in a cozy little cabin just a small walk from the showground, together with some of our great sweedish friends.
We had agreat afternoon and night, with barbeque and pony talk. Papaya tried to teach the others the floss dance, Magnus sang and played the guitar for us, and after dinner we took a beautiful little walk down to the stables to check on the ponies, in the setting sun.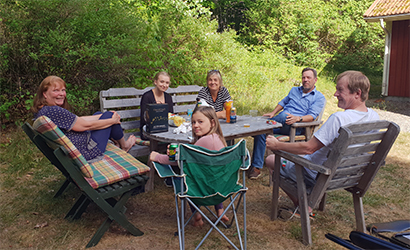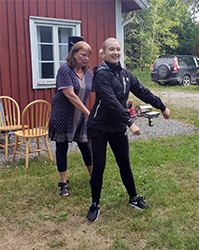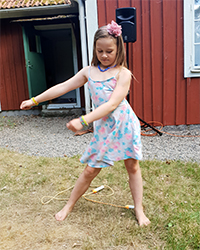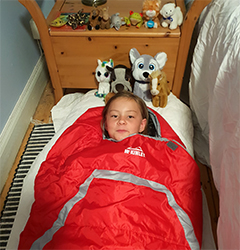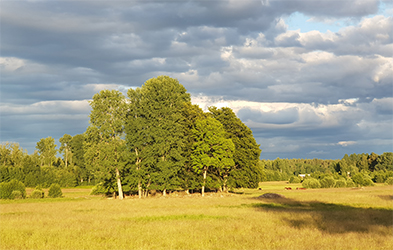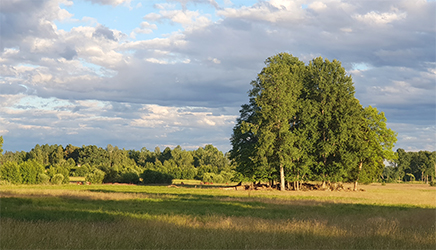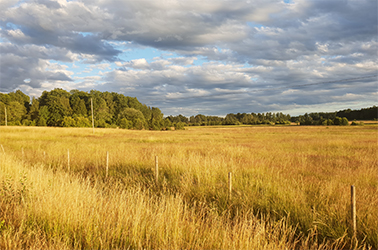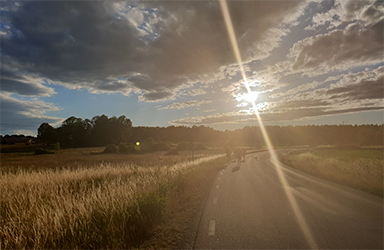 The following day it was time for the show. We had brought with us Alysha, Arrow and Zilver. Ida unfortunately couldn't make it this time, so Papaya had to help with the ponies, and Magnus was sweet enough to help me show them, when both Alysha and Arrow were going in the ring at once.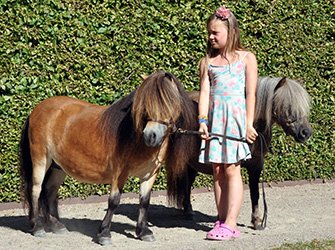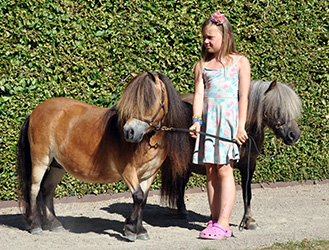 All the ponies did really well. Zilver got a very repectable 39 points, which I am quite happy with, seeing as she was quite fat. Only 1 point shy of the much sought after gold.
Arrow got a very nice 38 points, with 88 for movements.
Alysha got a great 2nd plave with 41 points and a 9 for type.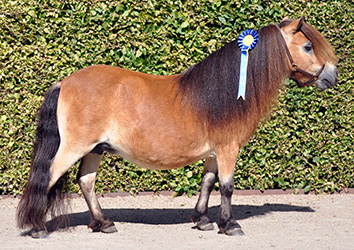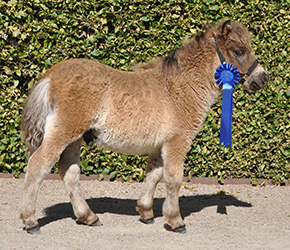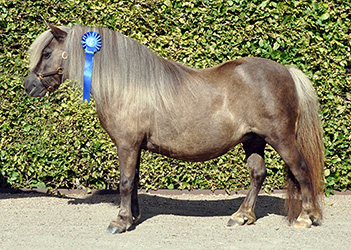 On the wednesday after the show in Huseby, I had a day off, and was going to a meeting in the bank. I was driving down the road, when I see a tiny little thing next to Flora. I stop the car and run into the paddock, and sure enough, the last foaling of the year had also excaped my attention. Flora had delivered a very tiny and very cute little bay colt foal. With this the foaling season was suddenly over and, with the exception of Zita who lost her foal right at the beginning, everything seemed to have gone by the book this year.
Flora's little guy is called Shady Acres Flopsy Flash.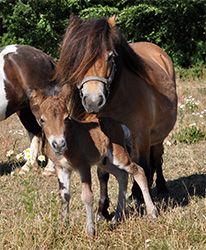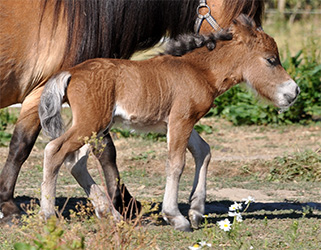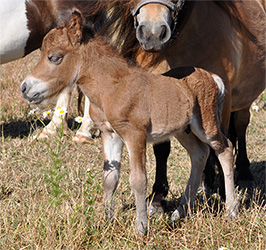 Our next show was Gørlev Horse Show. It is such a great show, with a lovely atmosphere, and again this year we had a lovely day with nice weather and good results.
Zita got 22 points out of 24 like she usually does, and Alysha got 23 points, and was 2nd in her class. They both recieved great descriptions.
Zita is such a nice pony, so we decided Ida and Papaya should enter the handler class with her. The girls did brilliantly and took 1st and 2nd place in a very large group of junior handlers.
I am so proud of them, and of Zita.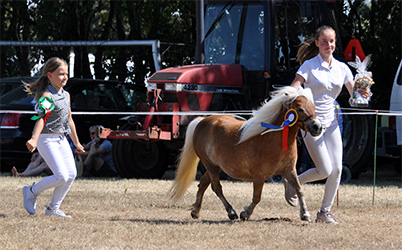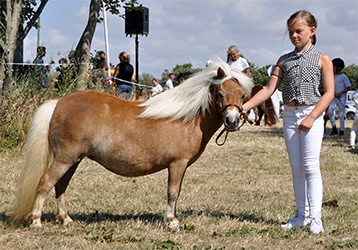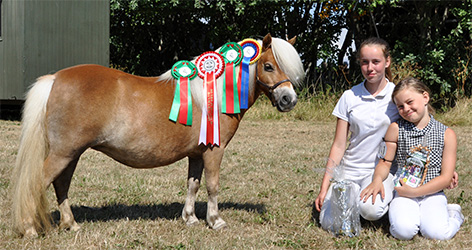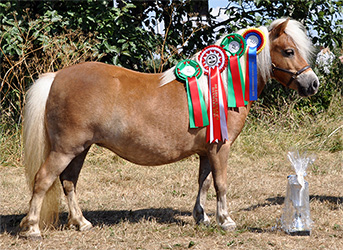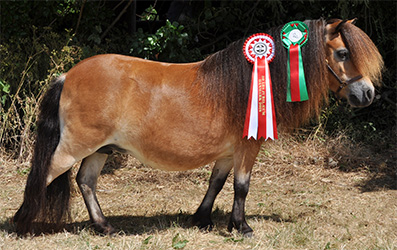 After the show, the girls took a well deserved ride, to celebrate their results.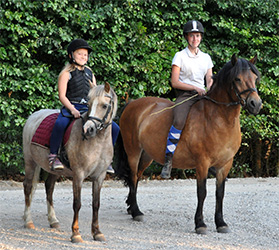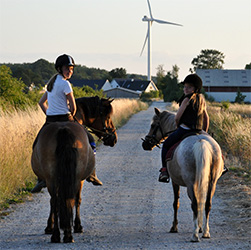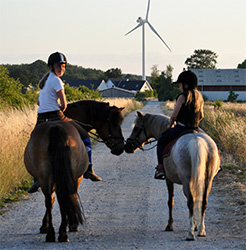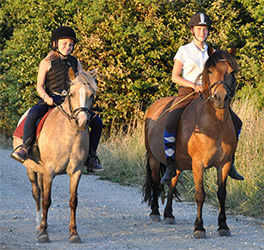 While Albert and Waldo spent their summer servicing the ladies...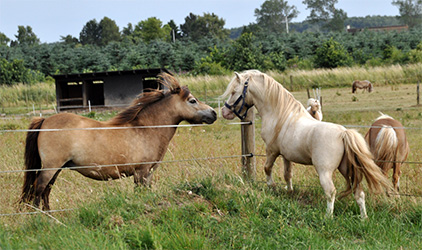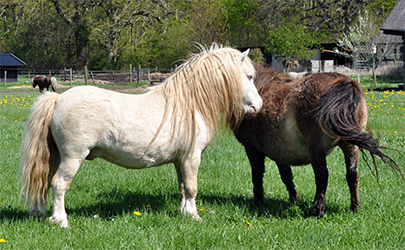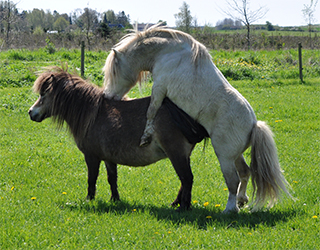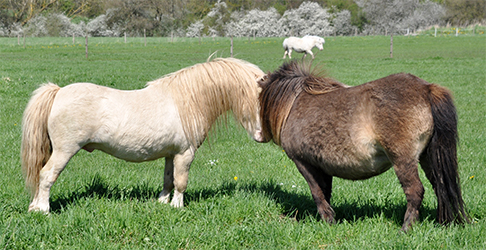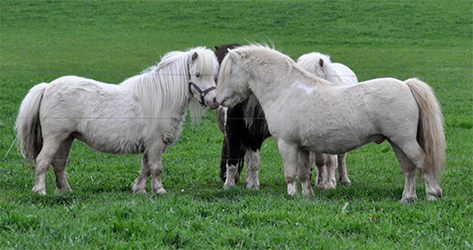 The colts have been enjoying life, playing in the bachelor groups at my friend Lena's place and in the paddock we are renting from our neighbours.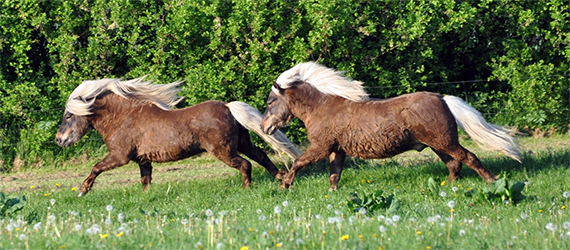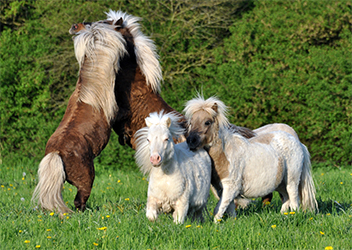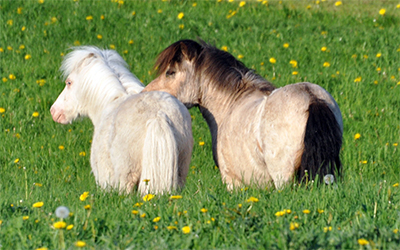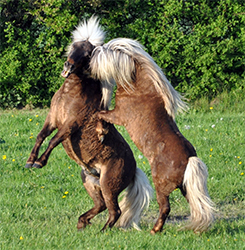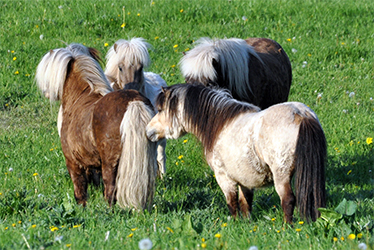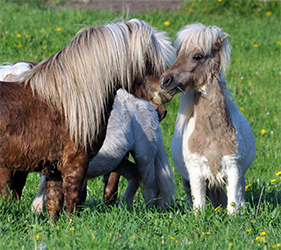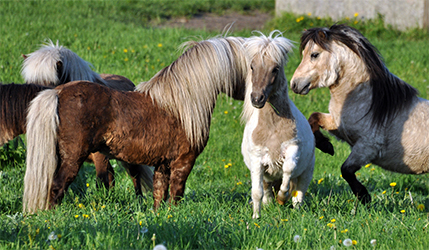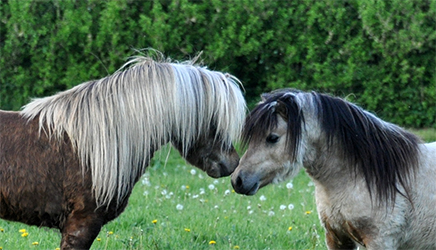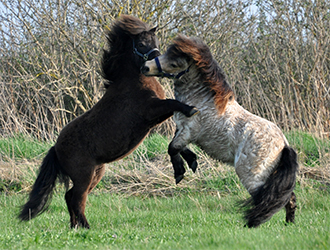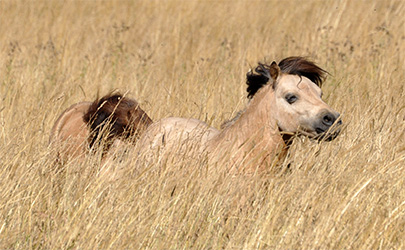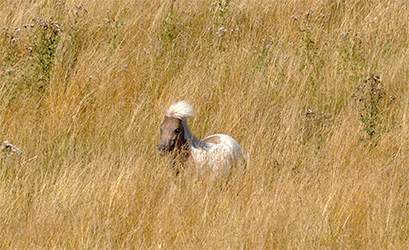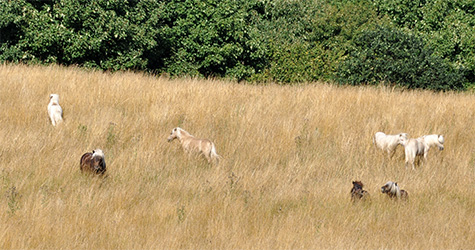 The first week of my summer holiday was dedicated to one thing. The International Show in Herning.
The first 4 days of the week, we were washing, preening, packing ect. and then on friday we left for the show, with the trailer full of ponies.
We had a very busy, but amazing weekend!
We brought our mini brood mare: Alysha v.d. Drosthoeve and her colt foal: Shady Acres Golden Arrow, our medium veteran brood mare: Tamelone v. stal Poldervreugd and her mini filly foal: Shady Acres Trinity, our medium 2 year old filly: Shady Acres Arenduil and finally our mini yeld mare: Zilver Sun v.d. Nijkamphoeve.
They all had results we can only be proud of.
Both foals were alone in their class and were awarded silver. They both went on to the championships, to compete against the best 0-4 year old minis in each gender. They both mannaged to win Reserve Junior Champion!
We then unfortunately completely missed Arrows next championship. 
Arenduil a.k.a. Goldie won her class with silver and also went on to the championships in the coloured ring. She also won Reserve Junior Champion! Later we had to pull her from the next championship, since we just had to many ponies to handle in the championships on sunday.
Goldie also participated in the agility classes with me, Papaya and Ida, and in the handlers classes with Papaya and Ida (I didn't have time to participate in my handlers class). 
Ida got a 3rd in the junior agility championship. Papaya got a 2nd in the mini agility championship and a 1st place in her handlers class! 
I actually won the seniors agility championship with Goldie and later became Overall Agility Champion. So proud of this only 2 year old filly!
On sunday it was time for the "grown-ups". Zilver was very fat still, despite my efforts to make her loose weight, but still got a very respectably 3rd place and silver award!
Tamelone was alone in her class, but got a very good description and a gold medal! She then went on to win Veteran Champion!!
Finally we had Alysha. She started by winning her class, with a gold medal, and then went on to winning the following championships:
Senior Coloured Mini Mares Champion, Coloured Mini Mares Champion, Coloured Mini Champion and finally was Overall Mini Champion!! So proud of my gorgeous little girl, who just kept trotting her little heart out!
We were running around from morning to night all weekend, and it took almost a week to recover from this show, but this is a weekend we will never forget, where we luckily also had time to sicialize a bit woth all our fantastic shetland pony friends!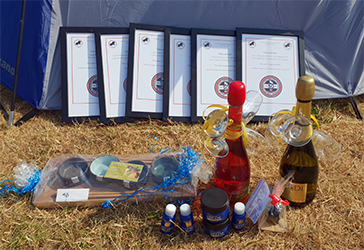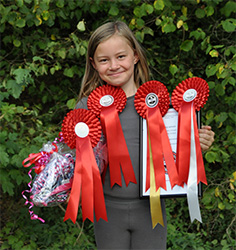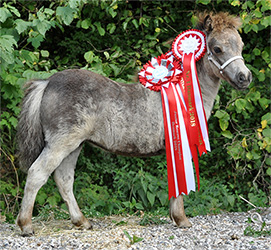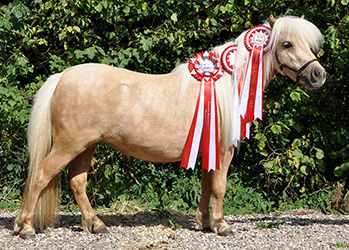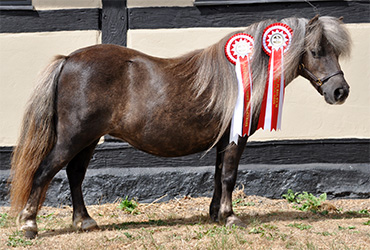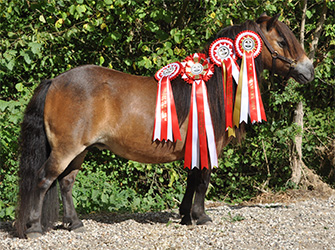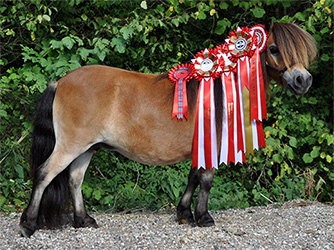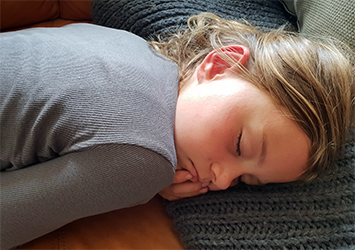 The summer holiday was also used for cuddling with the foals, getting the next group of mares ultrasounded and having all the ponies teeth done.
And last but not least, waiting for the rain that never came!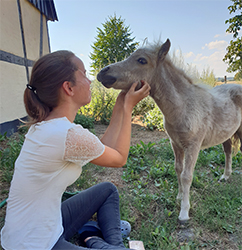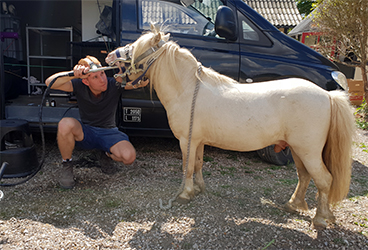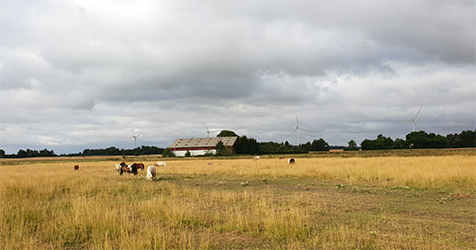 The next show on the calender was the Golden Crown show in Sweeden. This was the 3rd time we participated in this show, and it is such a great and very well organized show.
2 dutch judges are judging seperately giving their scores simultaniously, which makes it quite special.
We had chosen to bring Alysha and her foal Arrow, plus Zilver and Arenduil.
The ponies did really well. Zilver got 40 points, and thus secured her very first gold!
Alysha also got gold, and was class winner, and Arenduil was ½ point shy of the gold.
Arrow was classwinner with silver award.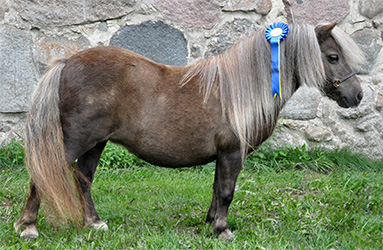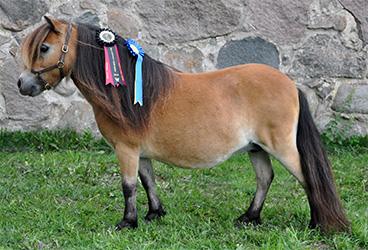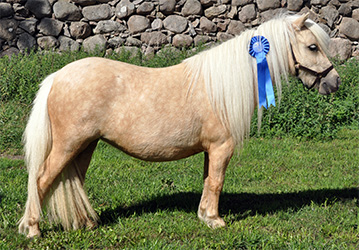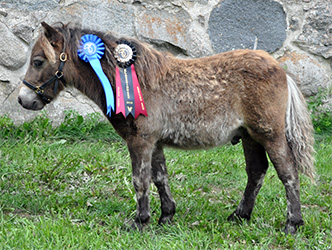 It is always great to have good results at the shows, but the main reason I love showing in Sweeden is the fantastic company!
Again this year, we stayed with our great friends, Anneli and Magnus, from Hasselbo stud. I cannot thank them enough for their hospitality and great friendship.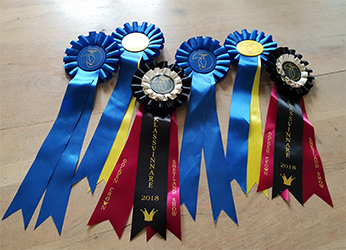 After we got home to Denmark, it was time for Arenduil to leave for her new home.
She had been sold just after the International Show, but had to finish up her showing career with us, by going for a last trip to Sweeden.
Luckily she can continue her promizing show career with her new owners.
Already the following weekend, we were back at Magnus and Anneli's place, since we were going to the show in Laholm. Torsten Jeppson was judging so I was very excited to see how my ponies would do, since he is a judge and breeder I have a lot of respect for. I don't think there are many shetland pony breeders who do not know who Torsten Jeppson and the Almnäs stud is.
This time we had brought Alysha, Arrow, Tamelone and Trinity.
Arrow was 2nd in his class with 37 points. He was docked for his movements, fully deserved, since he had become a bit unstable behind at that time.
Trinny did better and won her class with 40 points and gold. Later she was even Champion Foal!
Her mother Tamelone also mannaged to become class winner, with gold in the veteran class, ang got a super 42 points.
Finally there was Alysha. She was classwinner and got a lot of praise for her lovely movements. She got gold and went on to the Mini Mares Championship, which she also won!
Finally it was time for the BIS ring, which she ended up leaving 3rd last, with amazing 43 points! Same points ans the Best in Show and Reserve BIS.
She was even the best mini of the day.
So happy and proud!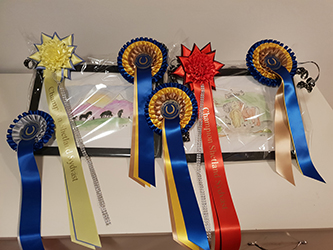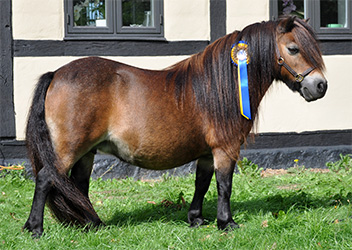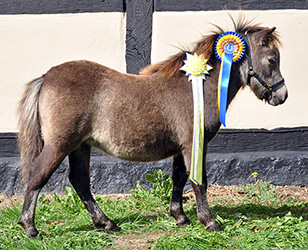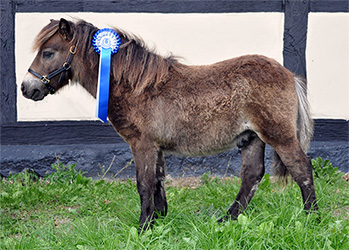 Already the following weekend, it was showtime again. This time the Horse Days show in Roskilde.
I had chosen to bring along Blondie and her foal Betty.
Betty got 39 points and thus only needed 1 more point to make it to the finals, but I am very happy about her 9 for type.
Blondie, being the only mini in the group, had to fight for her place in a very big group of standard mares, many of whom had 1st class assesments like her, and most of them much younger than her.
She ended up as nr. 4 of 9 with 23 out of 24 points and a great description!
In the final she placed very well, got an honorary price and even beat out a few 24 point mares.
All in all it was a great day with time for socializing and shopping horse stuff in the many shops.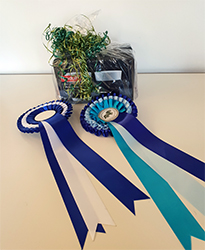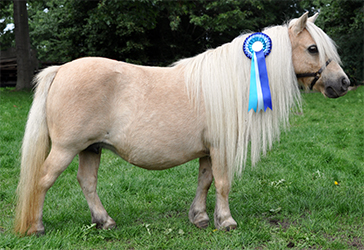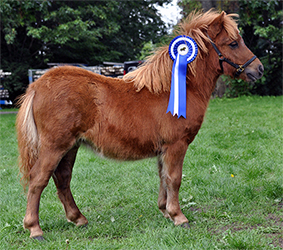 The following weekend the ponies got to stay at home and instead we went to Sweeden with Steffen and Serina Juel from Aarupgaard Stud, to whitness the sweedish stallions assesment.
They had brough 2 stallions with them, so we were cheering from the sidelines.
A big congratulations to Serina and Steffen with their new approved stallion!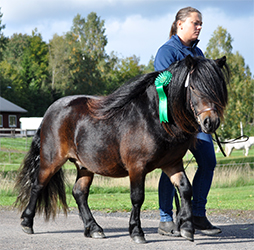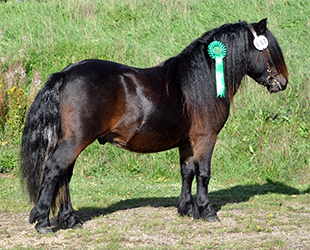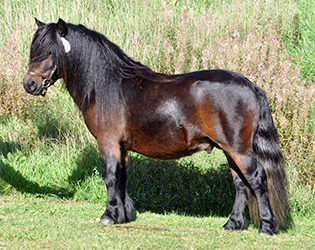 After the stallions assesment, we wen't to Hasselbo once again, to stey the night. We had such a great night, and a great day on sunday, where we wen't around with Steffen and Serina, to see all of Anneli and Magnus lovely ponies.
Another amazing weekend in Sweeden with our good shetty friends!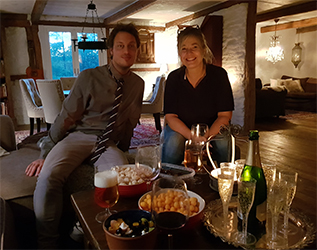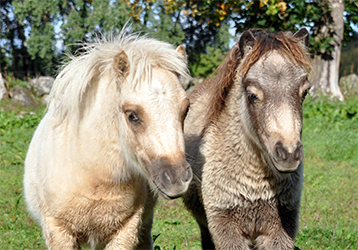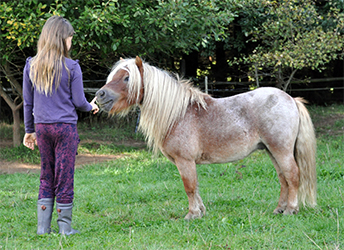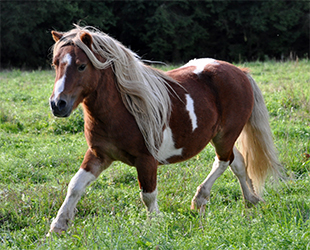 In the fall we also said goodbye to Silke and her foal Surprice, and also lovely Ghost. They were going the long way to Belgium, where they will hopefully enter the breeding of Elevage de Kalyma.
They have taken some lovely photos of Silke and Ghost after their arrival to Belgium.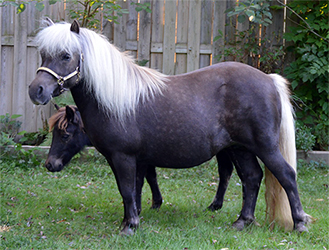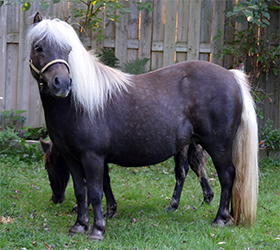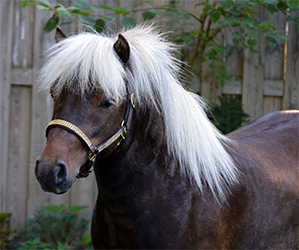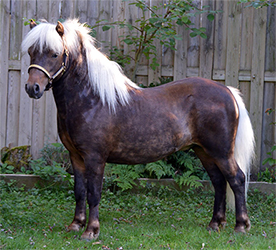 On october 20th it was time for the annual stallions assesment in Denmark.
I had chosen not to enter any stallions this year, as it was the same judges, who were judging the assesment last year.
But it is always interesting to follow the judging from the sidelines, and to meet up with all my shetland pony friends, from all over Denmark.
Again this year, I had to realize, that I definately did not have the same taste in type, and that a lot of the movement grades were quite confusing.
The Overlla Champion this year was: Rothenstandens Balou, and this was fully deserved. Although he only got 88 for movements, even though he was one of the best moving stallions of the day.
I am curious to see what this new year brings and if their will be any changes to the assesments, or the judging team.
The following weekend we were meeting up with our good friends Serina and Steffen again, since I had lured them into driving with me all the way to Holland, to visit the annual Select Sale again.
We left early in the morning and picked up Steffen and Serina in Jutland, and then we were off to Holland. A great road trip with lots of pony talk.
At the hotel we met up with Anneli and Magnus, who had also come to see the Select Sale for the first time.
We stayed at a really nice hotal and after a lovely dinner, we went for a walk around the town of Deurne, where a major halloween celebration was going on.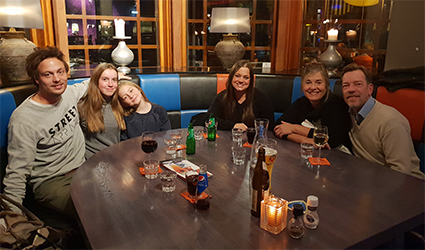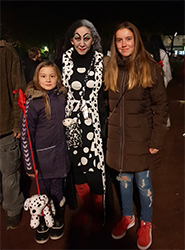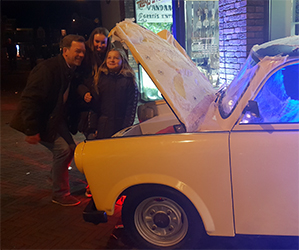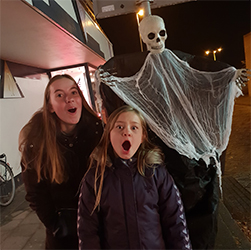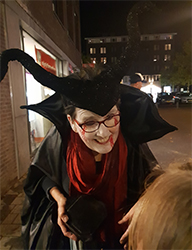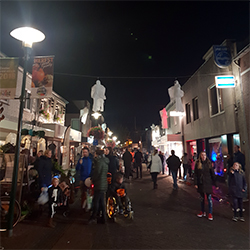 We must admit they certainly went all out, with a haunted house, scary deamons and such, running around after the children in the streets ect., and all the shops had decorated the windows for halloween as well.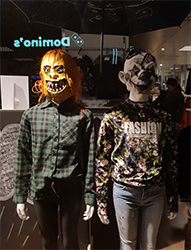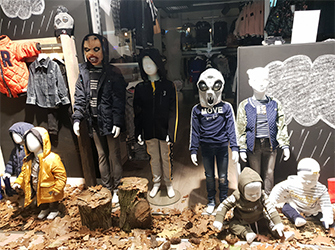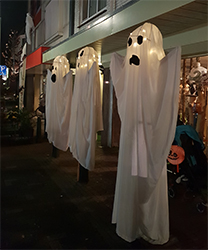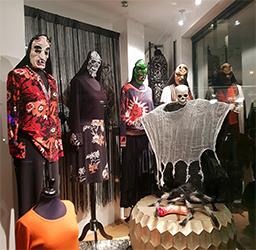 After a lovely night in Deurne we went to bed, to get a good nights sleep before a long day at the auction.
We got up early and went to get a look at the ponies in the stables, before the auction. There were a record number of ponies and not much time, but I mannaged to get a look at most of the ponies that had caught my interest.
And sure enough, 3 ponies snuck into the trailer on the way home to Denmark. Actually it was 4 ponies, since I also mannaged to buy a mare for my friend Louise.
The long trip home went smoothly with good company in the car, and early the next morning we could unload these 3 beauties.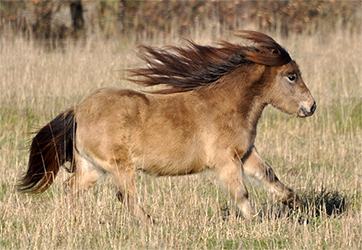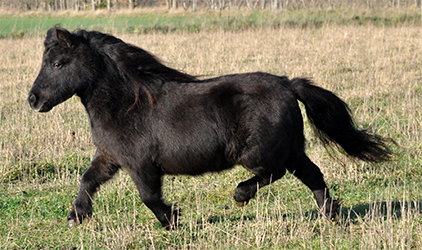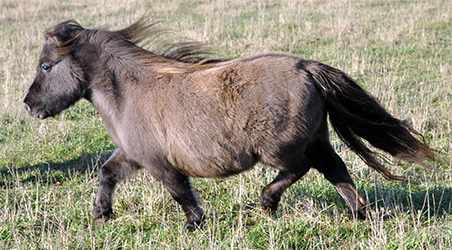 From left to right they are: Kaitlynn of Duke Stable, Esprit v.d. Sleutel and Jilly v.d. Rakkertjes.
To avoid the troubles of last year, the 3 ladies were put in quarantine for 3 weeks, before joining the other ponies.
Once the girls were settled in, I got 4 hours sleep, before getting up to go to a christening at my friend Louise's, and here I could also deliver her new pony.
It was a very nice day, but great to get home and to bed early that night.
Already the following weekend we were lucky enough to be meeting up with our pony friends Serine, Steffen, Anneli and Magnus once again. And this time we were also joined by our friends Martin and Kathrine Skov.
This weekend was the annual Haloween show at Sölvesborg in Sweeden.
We all met up at Hasselbo, the night before the show, and had a great night with good food, wine and lots of pony talk.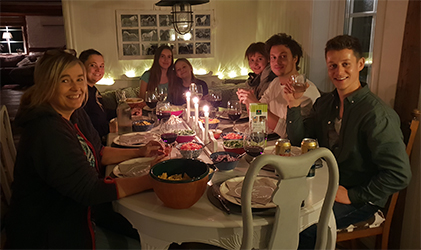 The following morning we were off to the show.
We had brought Blondie, Betty and Zephyr.
Zehpyr was alone in his class, and got a very respectable 39 points, like last year.
Blondie was also the only veteran mini mare with foal, and she collected 41 points and gold!
Finally Betty won her class, with 40 points and gold, and was Mini Foal Champion!
Ida and Papaya both participated in agility and jumping by hand, with good old Blondie, and even if they hadn't had time to train at all, and Blondie had never tried anything like this before, they all did great and finished their courses.
Our friends also got some great results, but especially Steffen and Serina's beautiful mare Rihannon shined, as she collected 43 points and the Res. Best in Show title!
Huge congratulations!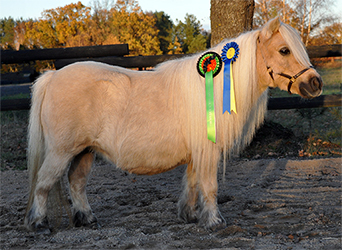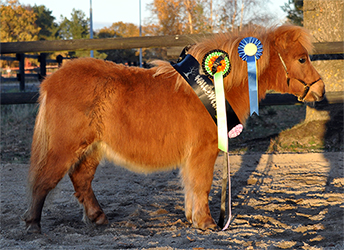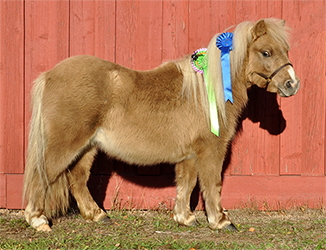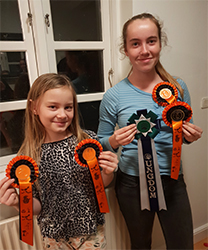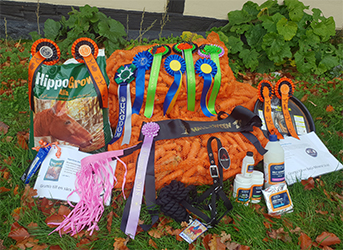 After the show, Ida, Papaya and I went back home to Hasselbo with Magnus and Anneli, to have our dinner there and to collect Afroditte, who were going back to Denmark with us.
Anneli had asked me in the summer, if I might be interested in Afroditte, and I jumped at the chance, since I have always fancied her.
Afroditte has done very well in Sweeden, where she has been shown with up to 43 points and Best in Show! She is also SUCH - sweedisk show champion.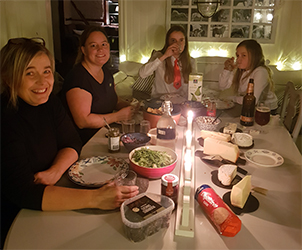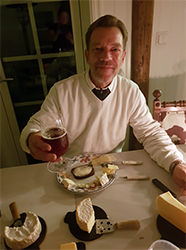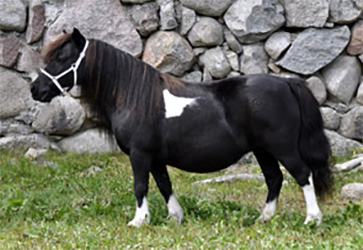 Despite the long dry summer, my silage supplier had been sweet enough to reserve my usual load for me.
And with the rain that finally came at the end of summer, and made the grass grow again, I no longer had to worry about winther feeding.
The late summer was so beautiful, and we enjoyed all the green after the rain.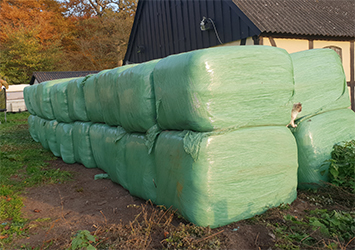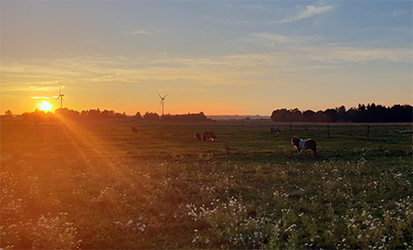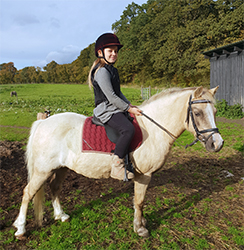 In november it was time to say goodbye to Casino and Ranger, who were both going all the way to England.
It was a bit difficult to make everything happen, with the export check, transport pick up ect. while also having a full work week, but we finally mannaged to send to two guys on their way.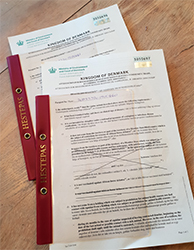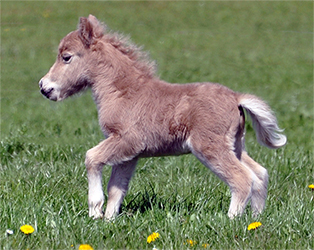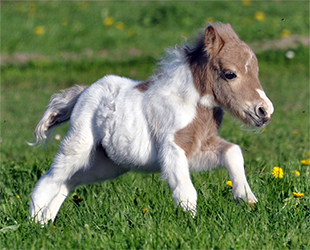 In november it was also time to start weaning the foals, and settling them in with uncle Waldo, and then Steffen built me a little shed for Tristar and Levani, so they would also have some shelter from the wind and the rain.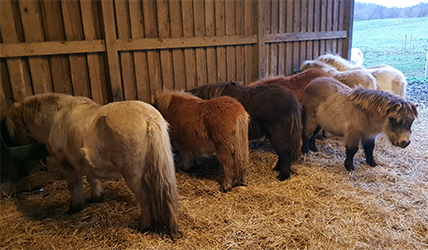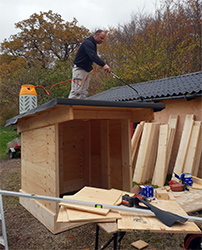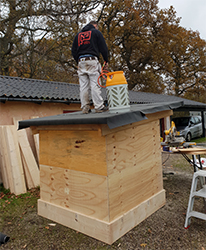 The first weekedn of december it, was time for the annual Mountain and Moorland Christmas show.
We had entered Zephyr, Betty and Grace.
Unfortunately it was not a shetland pony judge this year, so it was interesting to see how the ponies did.
Zehpyr was not to the judges liking, and Betty was growing, and therefore a bit to straight in the back. But little Grace, who had mainly been entered to work a bit with her, since she had been away with her mom for covering all summer, she exceeded all our expectations, and charmed the judge. She got amazing 41 points, and a lovely 9 for type.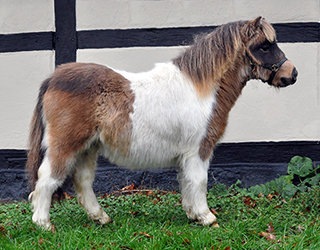 The day after the Christmas Show, we had to say goodbye to another pony. Little Dreamer was picked up by her new owner, Malene, who had fallen in love with Dreamer's mother, when we wen't to the Select Sale the year before.
Malene was sad when I bought Diamora, so I had promised her that if Dreamer was going to be for sale, then she would have first dibs.
It was such a great feeling, handing Dreamer over, to a very happy Malene.
I can't wait to meet her again at the shows.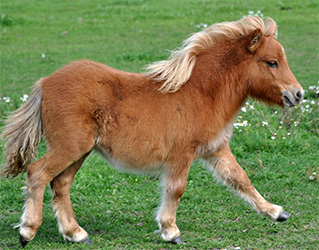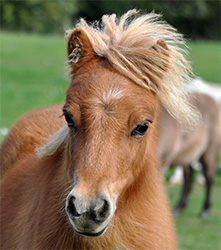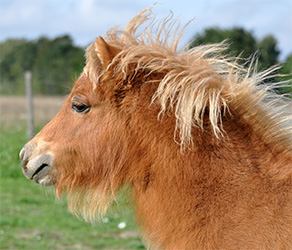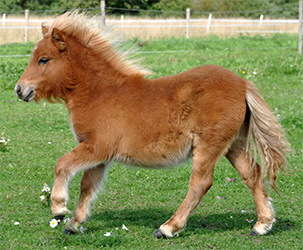 And with this, I wan't to thank everyone for a fantastic 2018.
I hope to be back with the first news from 2019 as soon as possible.
________________________________________________________________________________

January 2nd - 2019
Okay so a whole year went by, and I didn't mannage to update my website.
I am now working hard to remedy that.
Firstly I have updated the foal page with all of this years lovely foals.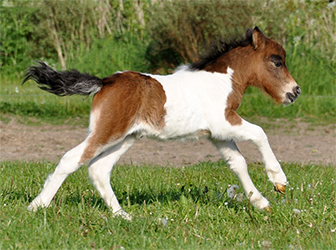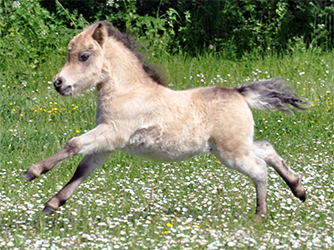 Next I am going to update all our showing results, new picutres of many of the ponies ect.
I will hopefully be back soon.
_______________________________________________________________________________________________
February 28th
Time flies and foaling season is approaching fast. I am both excoted and very apprehensive.
I hope from the bottom of my heart, that everything will be okay this year.
I have finally updated the page with last years breeding plan and expetcted foal.
Next weekend it is time for this years first show.
Thankfully all the ponies are doing well and enjoying the great weather we have had the last week or so.
I am still working on doing pages for the new girls, and hopefully I will mannage to do them before foaling starts.
2018 started with a great trip to Holland with my good sweedish friends, Anneli, Mia and Katarina.
We saw some amazing stallions at the stallions show, and also went on a couple of stud visits and saw many lovely mini shetlands at De Toom and Sportsview!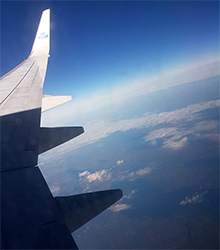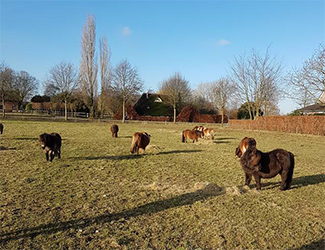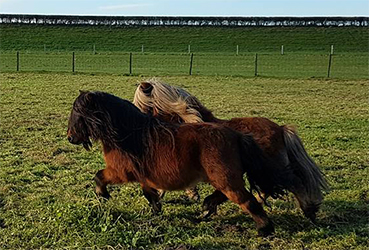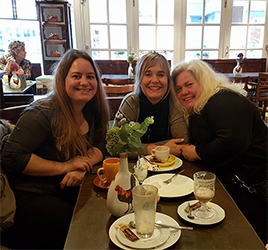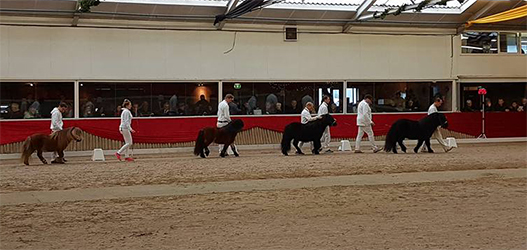 This weekend I took some new pictures of Ghost, who is for sale. He is turning 2 years old this year, and I think he is shaping up to be a very nice looking stallion.
Current height is 96 cm, so will likely mature around 98-100 cm is my guess.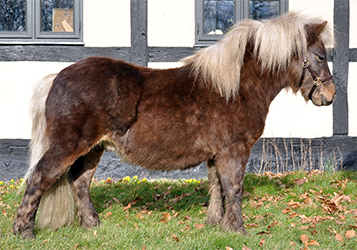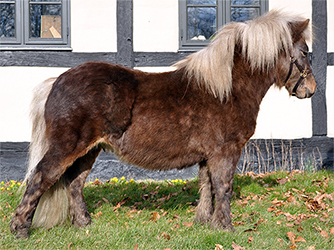 ________________________________________________________________________________________________

The past year
2017 turned put to be the worst year in my breeding career.
I lost 2 mares, 5 foals and a stallion.
And I ended the year with all the ponies getting strangles.
Luckily no one else died as a result of this.
R.I.P. Arwen, Regina, Patron and the 5 poor foals who never got to experience life.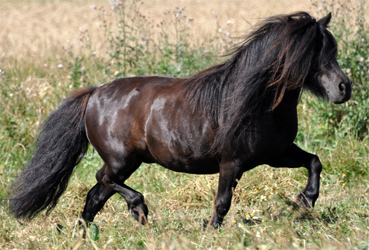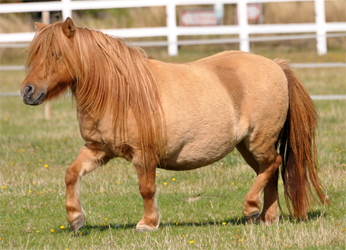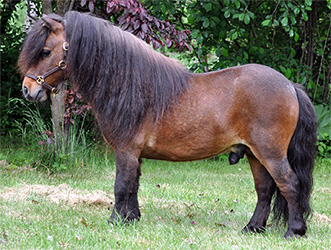 I did however have some good show results though, with several gold awards in Sweeden, champion titles ect.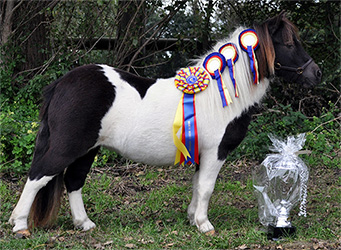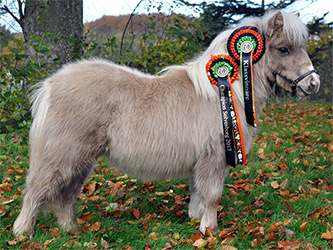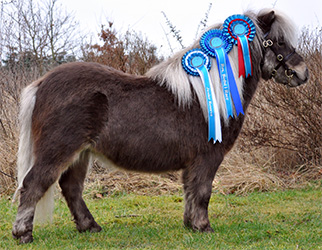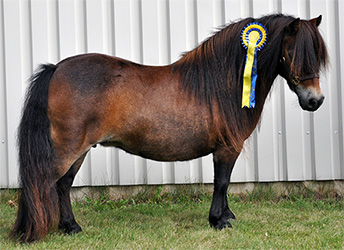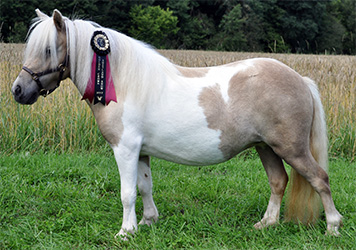 I was also lucky enough that Albert made it through the assesment, but even though Tristar had done really well at several shows all season, he did unfortunately not pass..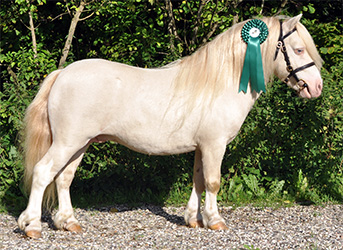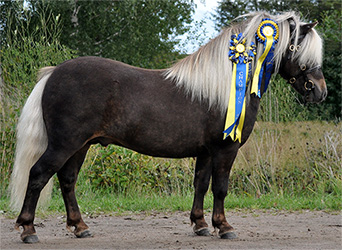 I truly hope this year will be better with regards to the foaling season, and that we continue with our good results.

____________________________________________________________________________________________________