________________________________________________________________________________________________
December 31st
A belated rounding up, of the year, with the results of the 3 last shows.
After the show in Roskilde, it was time for the Gørlev Youngstock show. I had entered River and Yesterday.
Papaya helped me get the girls ready.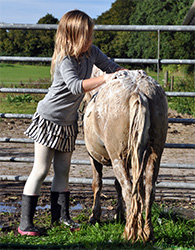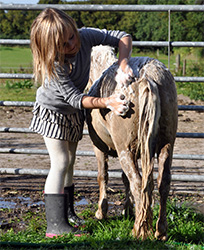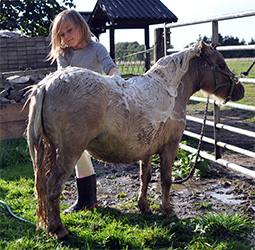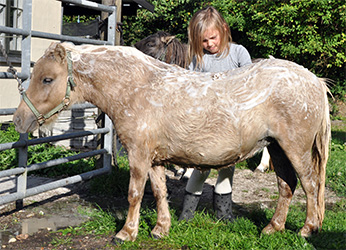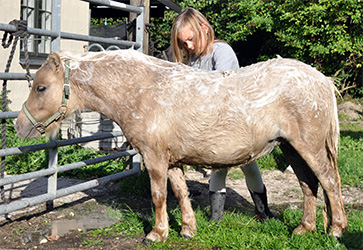 I didn't have huge expectations, but i was very pleasantly surprised.
My ugly duckling, Yesterday, came 2nd in a group of 5 lovely yearling fillies. She got amazing 23 out of 24 points!
Then it was River's turn, and she WON a very strong group of 5 2 year old filles. She also got 23 points, and a wonderful description.
She then had to compete for best 2 and 3 year old mares across breeds.
She got all 9s from all the judges making her first in the final. A 3 year old danish sportspony got the same points, and the two of them had to compete for 1. and 2. place.
By now, River was tired of being in the ring and started acting up a bit, so we had to settle for 2nd place, but I am so proud of my little darling. I have belived in her from day 1.
So proud of both my young ladies.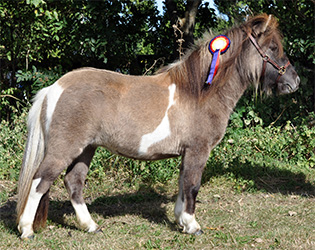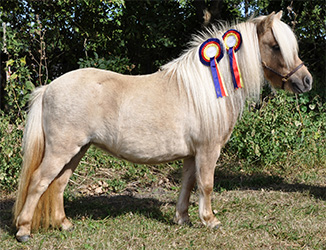 We had a perfect day, with amazing weather, great results and lovely company. As usual we celebrated with a huge bag of candy!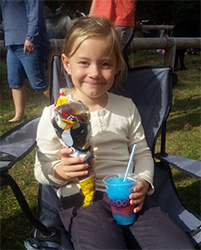 Next up was the Halloween Show in Sweeden.
We brought Zilver, Tristar and River.
I was quite a troublesome trip. On our way to Anneli and Magnus, from Stuteri Hasselbo, I accidentally filled the car with petrol instead of diesel.
So there I was, half way out on the seedish highway, with my daugther in the car and a load of ponies in the trailer.
Thanks to Magnus, who came to the rescue, and helped drain the tank, and start the car again, we mannaged to get back on the road, after being stranded for 4 hours.
Finally we could procede to Hasselbo, where we were going to spend the night.
After a nice meal, I put Papaya to bed, and went to get the ponies ready. It was past midnight before I could finally go to sleep, and then we had an early start for going to the show next morning.
Ponies did really well at the show.
River unfortunately had to settle for 37 points this time. It was mostly her movements dragging her down, so I don't know if the long trip had affected her somewhat. She seemed like she had a bit of a colic just before we went in the ring, and she was a bit anxious, but luckily she seemed fine afterwards.
Zilver was still a bit fat, but has defintaly lost some weight since last time we were in Sweeden. She did very well, and the judge was very impressed with her movements.
She got an amazing 9 for her walk, which I am very proud of. She got 39 points all in all.
Funny thing was that both mares we descriped as being a more heavy type, but back home in Denmark, they would be considered more light of type.
The type definately varies from country to country. I do very much enjoy showing in Sweeden, so this was definately not the last time.
Finally it was little Tristar's turn. The judge liked him a lot and was very impressed with how developed he was for his age, and on the way out of the ring, he got a lot of praise for his movements.
He ended up with 38 points and a very nice description.
Unfortunately I only mannaged to get pictures of Tristar, since I was quite busy with the 3 ponies. I prioritized getting pictures of him, since I had already gotten recent pictures of the two girls.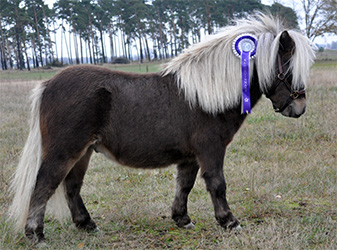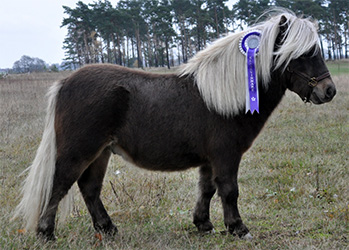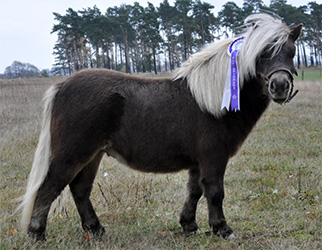 Despite the troublesome start we had a great trip to Sweeden, and I would like to thank Magnus and Anneli for room and borad, and especially for the rescue mission!
We also brought back a new little resident for the farm, as Papaya got the cutest little bunny from Anneli. Thank you so much for little Sebastian.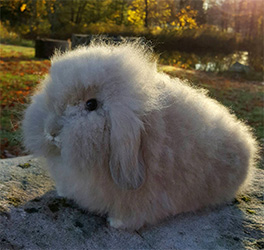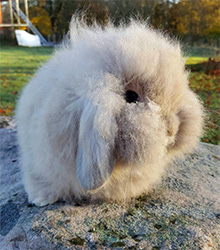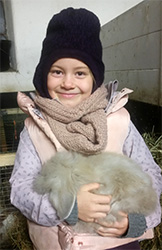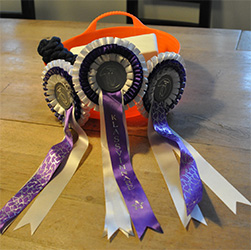 The final show of the year, was the Mountain and Moorland Christmas Show. I had entered Fanny, Thunderstorm and Fanny.
Fanny got a disappointing 35 points, despite a mostly positive description. It wasn't a shetland judge, judging that ring, and a lot of the judging in that ring was quite confusing.
The two foals were judged by Jane Barry, who is one of my favorite judges.
I had entered Thunderstorm mainly because of his nice movements, but unfortunately he turned out to be a bit lame in the ring, so ofcourse his points for movement was not teriffic. He did surprise me though and got 8 for type and conformation, even though I was affraid he had lost a bit of the topline since weaning.
I will have to show him again, when he is completely sound. At least it did him good to have a day out.
Next in the ring was Yesirée, who did very well, placing 2nd in a strong group of filly foals.
She got amazing 41 point, with a 9 for both type and movement, which I am so happy about.
She was getting a bit tired when it cane to walking for the judge, so had to settle for a 7 in walk, but she had a very nice description overall. So happy about her results.
It was too dark and too late for pictures at the show, so my friend Lena came the following day and helped me take some.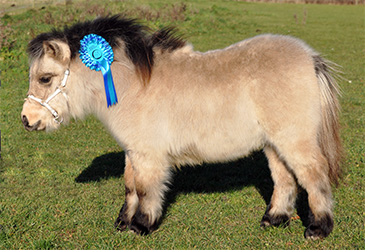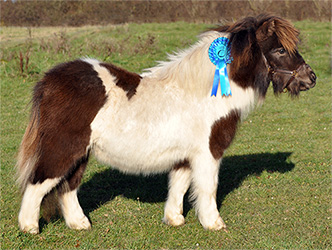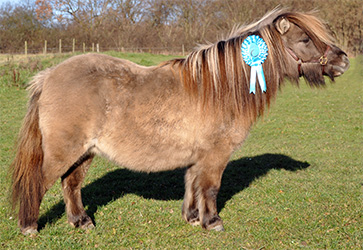 It has been a great pony year, and I will end by hoping everyone has entered the new year well.
I will be back soon with an update on the past year, and later some news on the stallion situation!


________________________________________________________________________________________________
November 19th
Time flies as usual, and I just don't have enough time for updating the website.
Therefore I have made the update in little chunks. First the foals, then the sales page.
Now I wanøt to try and recap what has happened in the last six months.
Springtime was mainly spent with the girls, having fun and wathing their baby belleies grow.
Papaya and I had many lovely ours with the ponies.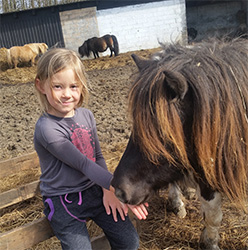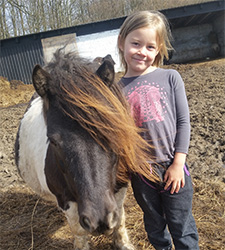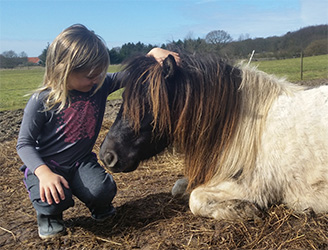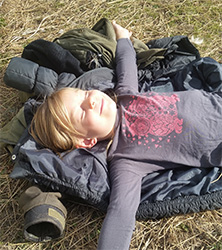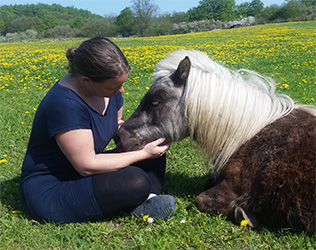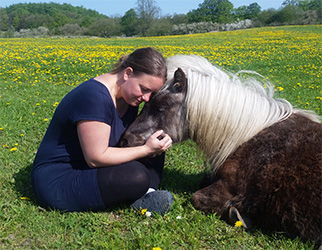 In the spring we also said goodbye to Rupert Bear, who will continue his stallion career with Dina from Stutteri Farmen.
Instead, Zita and Arwen moved in. Dina had originally bought these two girls from us, so it was a lovely reunion.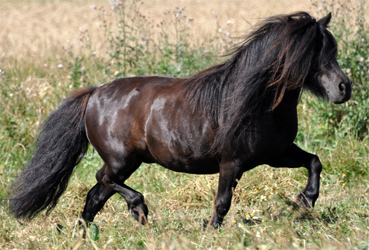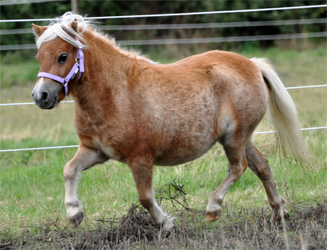 Besides Rupert, we have also said goodbye to Silver Moon, who has gone all the way to England to live with Justine Darvil at Ithillien Shetlands.
We are sure he will be spoilt rotten by Justine, who is already very much in love with this little man.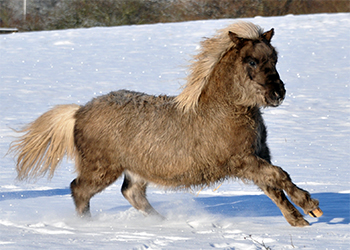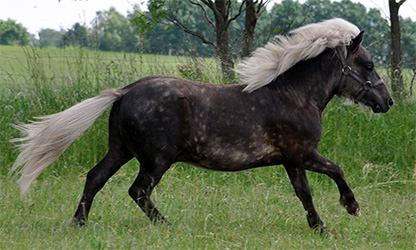 Finally we have also said goodbye to little Cyselle. I wasn't actually meant to sell her now, but Louise from Stutteri Grønkjær, has been in love with her for a long time and since I have gotten so many lovely foals in the last couple of years, I have to make a cut somewhere. I know I could not have found a better home for Cyselle, which makes it a bit easier to see her go. Also I know I will keep seing her at the different shows in the future.
I got Cyselle from Holland when she was just a foal, and still by her mother side. She has given me some wonderful years and some lovely foals. One of them is Clover, who I have decided to keep. Besides Clover, I also have Cyselle's sister, River, and their mother, Regina. Therefore Cyselle definately lives on in the stud.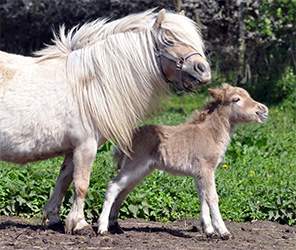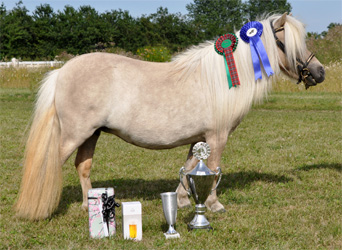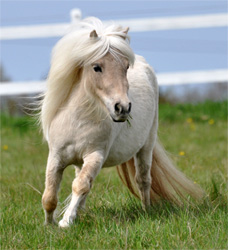 The foaling season this year, was actually opened by Cyselle, whi delivered the cutest little mushroom dun colt, on april 11th.
The birth went perfectly. She foaled early in the morning, right before I had to go to work, so my good friend Kate came over to make sure mum and baby where both doing fine, while I was at work.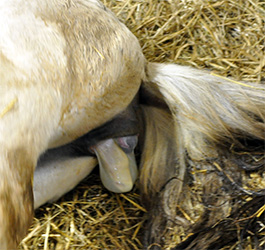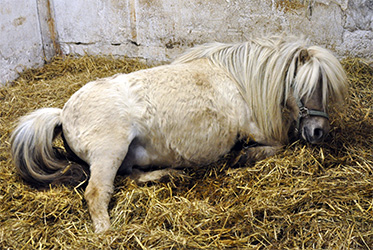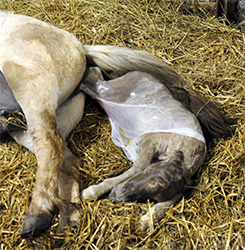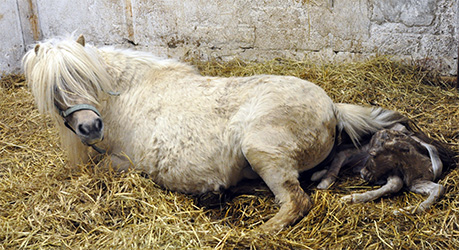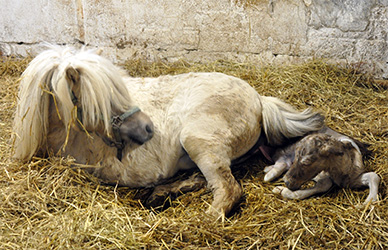 Little Shady Acres Cute Comanche is probably one of the cutest foals I have seen to date.
Unfortunately most of my mushroom mares are related to him, so I had to put him up for sale, and in less than 24 hours he had found a new home, and he will soon be leaving for Austria.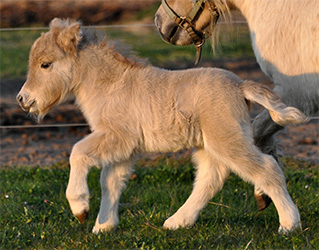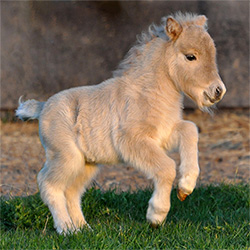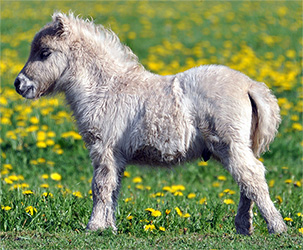 On april 17th the fillies moved to their summer pasture, and they enjoyed it immensely.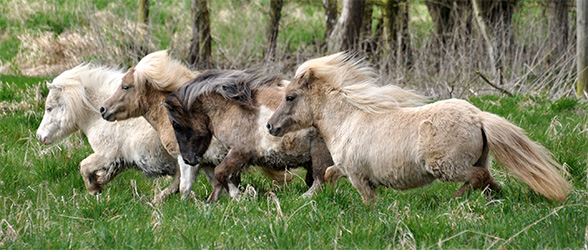 The colts moved in on a pasture next to them, with plenty of room to play.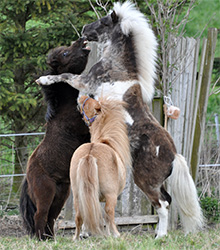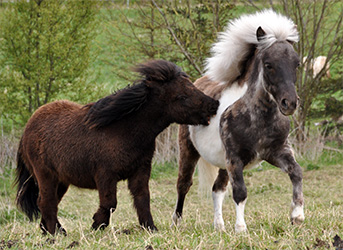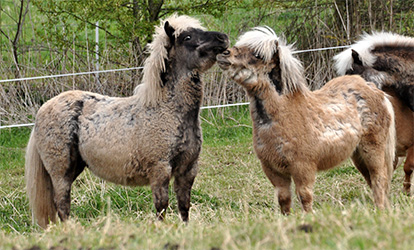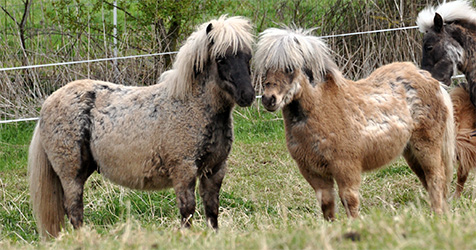 A few days ago I brought the last of the youngstock back home.
They have all had an amazing summer and I thank Peter for letting me use his amazing summer pasture.
On april 19th it was Yesmine's time to foal.
She had wax when I got home from work, so I took her into the foaling stable. I called my friend from work, who wanted to whitness a foaling, and told her it would probably be tonight.
She was going to make dinner, and then come right over. It didn't take long however, before the milk started running, so I phoned and told her to hurry. She dropped the dinnr on the table for her husband, and drove right over. Just as she arrives, Yesmine lays down and start foaling. Another lovely foaling by the book. Below are a few pictures, but I have also put some videos up on our Facebook page.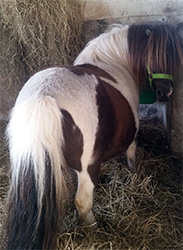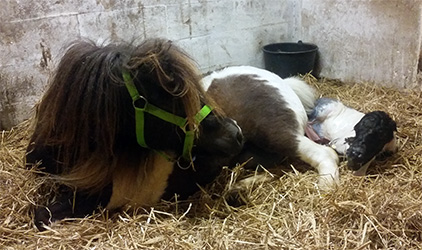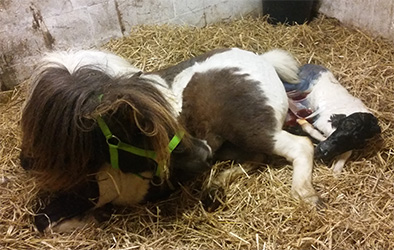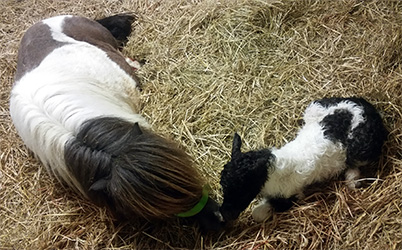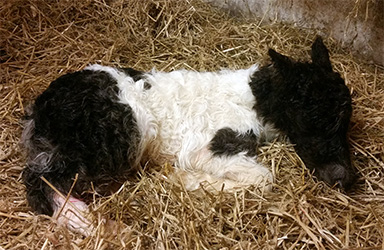 Yesmine had another lovely broken coloured filly this year. This time a smoky black tobiano girl.
Her name is Shady Acres Yesirée, and I have chosen to keep her.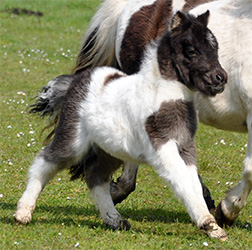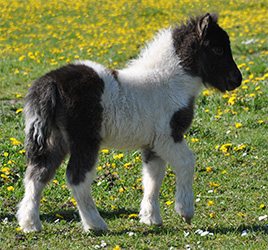 Now that I have two lovely daugther from Yesmine, I have decided to put her up for sale, if the right home should reveal itself.
She is a very nice mare, who delivers some lovely high quality foals.
On April 23rd I went to the Dorthealyst Young Stock Show.
I was meant to bring both Galaxy and Yesterday, but I didn't think Yesterday was quite ready yet, so she stayed at home.
I rarely do well at this show, but Galaxy actually did quite well, coming 3rd out of 7 yearling colts, with a nice description and an overall score of 7.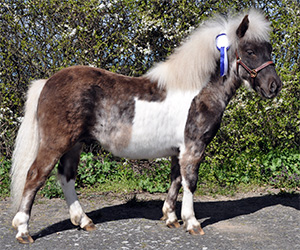 Afther the first two very successfull foalings, it went all wrong.
My worst nightmare came true, when I got home from work on the 25th of April, to find poor Pumpkin staggering around with a foal on the way out.
She had not bagged up at all, or had any other signs that she was getting ready to deliver, so I was actually mostly waiting for Regina to foal, as she was bagging up nicely.
Pumpkin was however 6 weeks past due, and the foal was therefore way too big. It was dead and had been for some time.
Pumpkin had obviously had some nerves pinched in her pelvis, as she was very wobbly in the hind quarters, and she seemed absolutely exauhsted.
I started helping her to get the foal out. She dropped to the ground, and I dragged and dragged, until Pumpking started dragging across the floor. I had to put my foot on her and then continue to drag. I was almost ready to give up, when the foal finally moved a bit. I had to drag it all the way out as it was completely stuck, but I finally mannaged to get it out.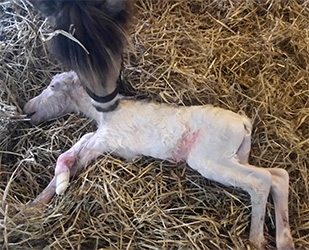 A big cremello colt foal!
Pumpkin was completely worn out. I flushed her uterus, treated her and luckily she got better quickly and after a few days, she was ready to give up on the foal.
She was still very unstable in her hind quarters, and it slowly got better over the summer, but for a long time it lokked like this when she galloped: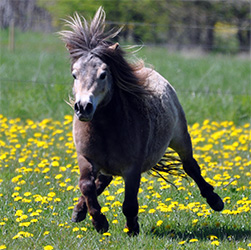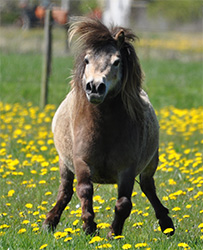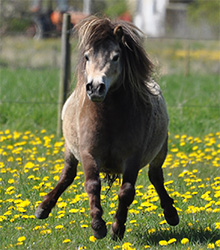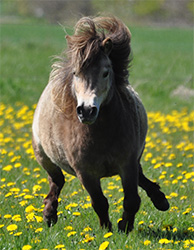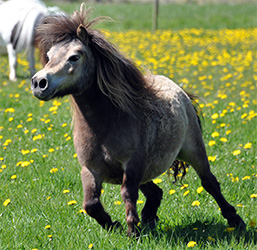 She is now almost 100% back to normal, but I do have plans to have a chiropractor, have a look at her, to make sure she isn't locked up anywhere after this ordeal.
Two days later the next foal arrived, since Regina who had been keeping me up all night, finally delivered a lovely little chestnut tobiano colt, in the early morning hours.
After cheking her every hour on the hour all night long, I get out at 5.30 a.m. to find she has just finnished foaling.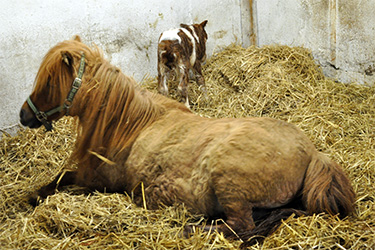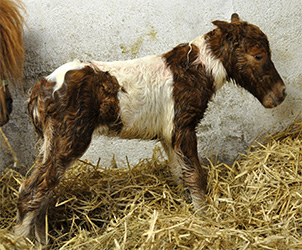 I have named him Shady Acres Red Rover, due to his striking bold red colour.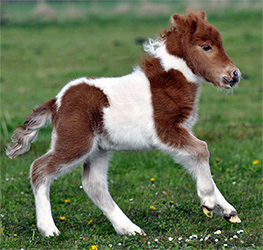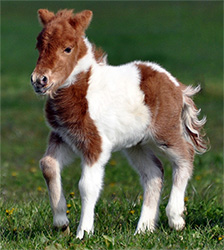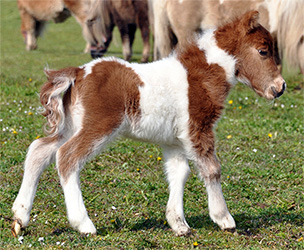 After a short break, Blondie delivered the next foal, on the 10th of may. A lovely little cremello filly.
She was waiting in the garden, with the little beauty, when I got home from work.
For a minute I dreaded what could have happened, if things hadn't gone by the book, but I was soon overcome with joy, over this gorgeous little girl.
A lovely full sister to Blossom, and in the same amazing colour.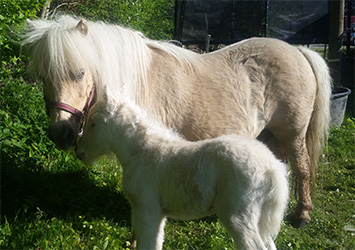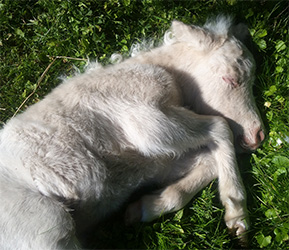 Shady Acres Baby Brightlyn is her name, and she is just as cheeky and cuddly as her sister.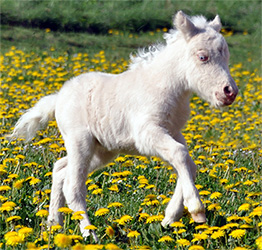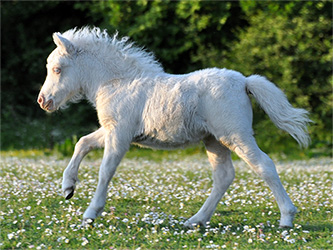 I was happy Blondie mannaged to foal, before May 14th, so I could go to the annual stallions assesment without having to worry.
I hadn't entered any stallions this year, so I could just relax and enjoy the judging.
The judges were very tough this year, and the overall quality wasn't as high as it has been other years. Also there weren't very many stallions entered, so very few actualy passed the assesment.
Only 3 out of 11 young stallions made it through, and none of them with 1st prize.
5 out of 13 adult stallions made the cut, and only one of them with a 1st prize.
Finally there was the lovely veteran stallion, Skattens Creol, who got a 1st prize and was later Overall Champion.
So again this year, a very short/quick championship, with only 2 participants.
Will be interesting to see how many stallions are entered next year, when the assesment is moved to september, or if they have been scared of by the very tough judging at this years assesments.
At May 20th it was already time for the next foal. Arwen foaled very early in the morning, and it was not without drama, as she almost suffocated herself trying to eat the afterbirth.
I mannaged to pull it out of her mouth at the last minute, the froth went away, and soon everything was fine, with her and her lovely little filly.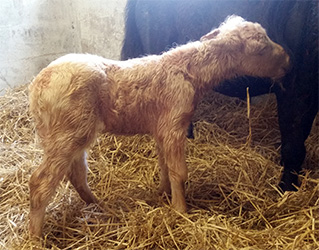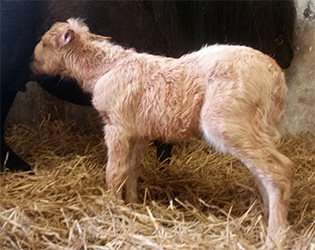 A gorgeous little palomino filly foal named Shady Acres Arenduil.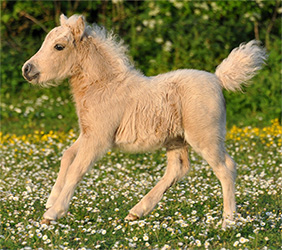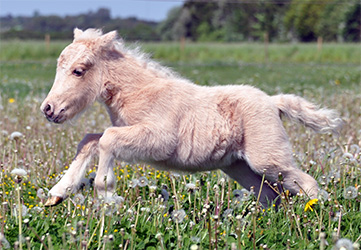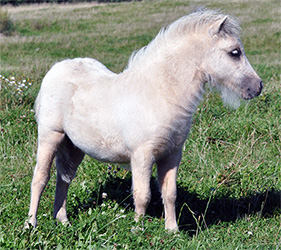 9 days later, Pamela was suddenly getting ready to foal, 3½ weeks before her due date. Last year she foaled 2 weeks early, after keeping me up all night with milk dripping, only to stop and then drop the baby the following evening when I got home from work. This year she also kept me up half the night with milk dripping, but finally has the foal at 2.35 am.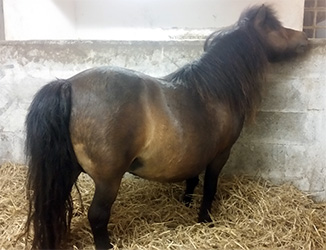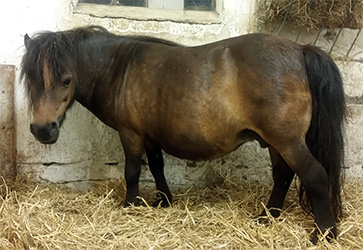 Like last year, the foaling went by the book, and again this year she had a colt foal. The cutest little buckskin colt, with the most amazing little perfect pony head.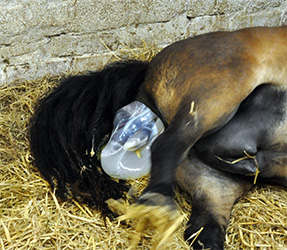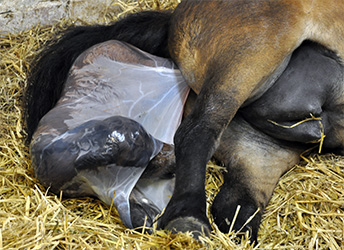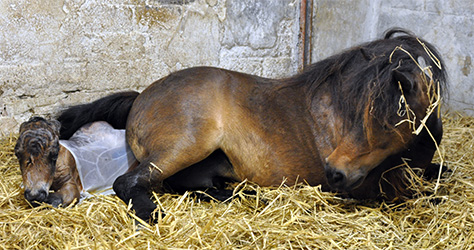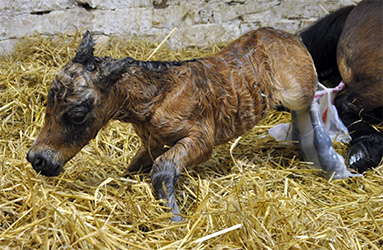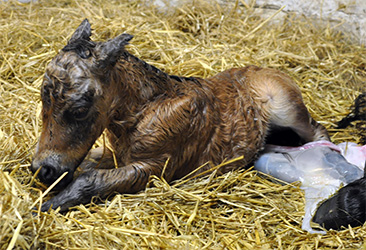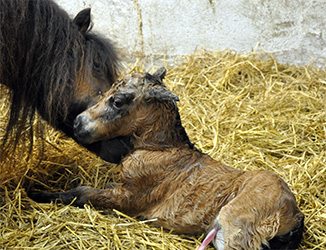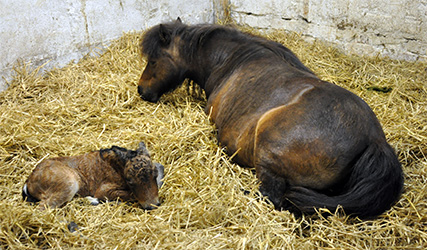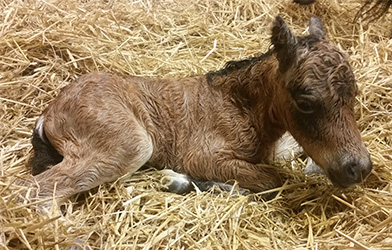 His name is Shady Acres Perfect Phoenix.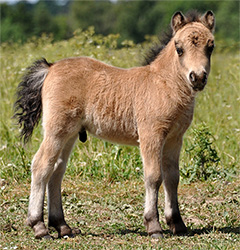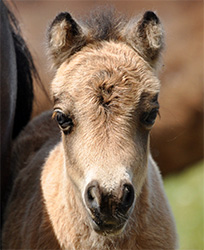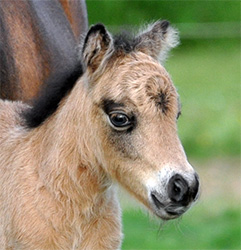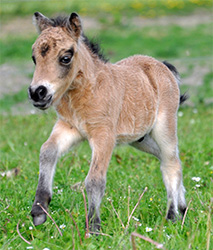 Last year, I came home 2 days after Pamela's foal was born, to find Tamelone running around the paddock with a little colt foal of her own. Like Pamela she had foal 2 weeks early, but she hadn't had any signs of imminent birth.
This year, 2 days after Pamela had her foal, I come home to... yes you guessed it: Tamelone running around the paddock with a lovely little colt foal of her own. And like Pamela's foal, he was also 3½ weeks early.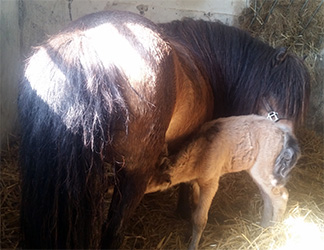 He is absolutely gorgeous, his name is Shady Acres Thunderstorm and he is also buckskin!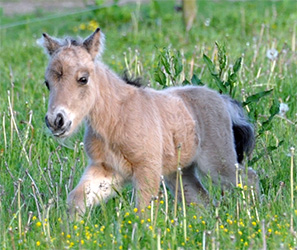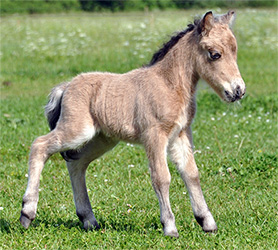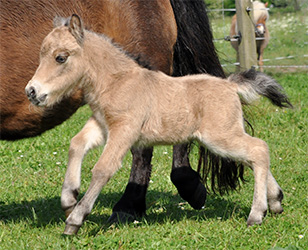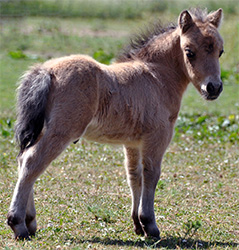 It has been a great summer, and this year we have had plenty of grass, since we didnæt make our own hay like last year.
Ponies have been hard to find in the tall grass and it has been almost impossible to take good pictures of them.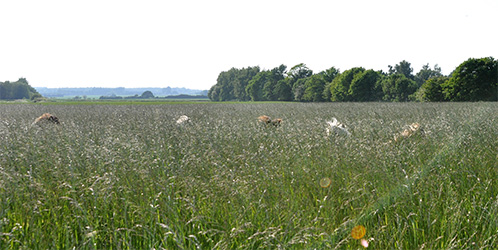 Luckily some of the paddocks, have been better grazed, so did mannage to get a few nice snapshots over the summer.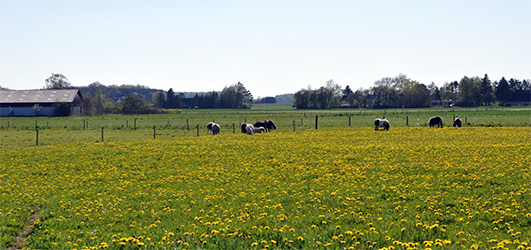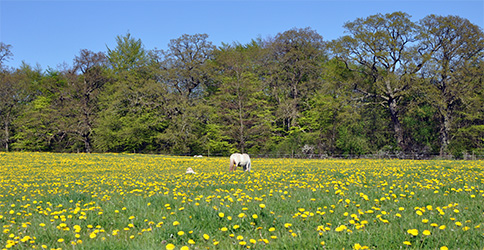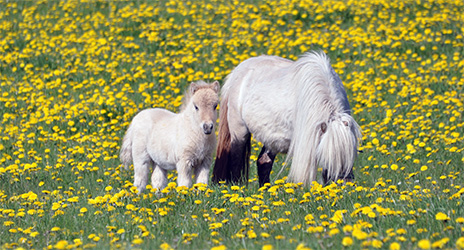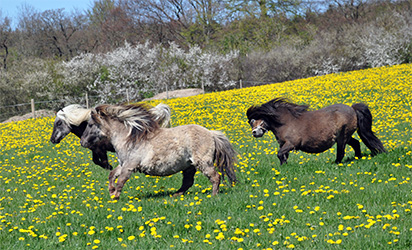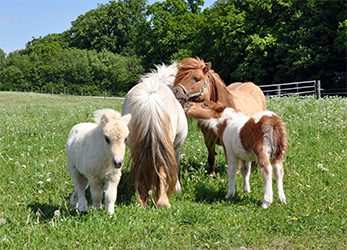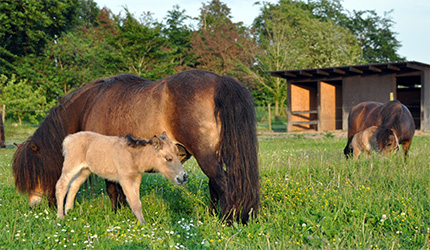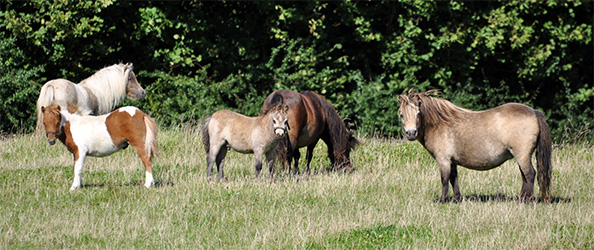 After the two buckskin brothers had been born, only Gucci was left who still needed to foal.
However before that, it was time for the annual Roskilde Show. This year I had brought Silke, and she did very well.
She got 22 out of 24 points and a very nive and correct description. One of the judges commented, that she would be interesting to follow.
I think she is turning into a very lovely young lady.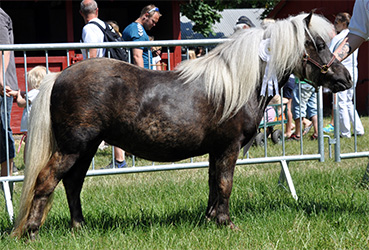 Lile last year, we camped on site and had a lovely time with all our shetland pony friends.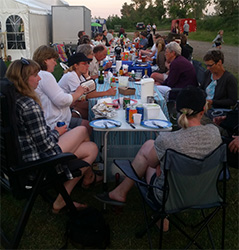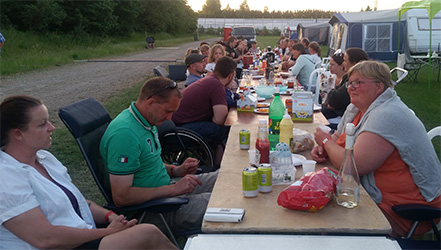 On June 18th it was finally Gucci's turn to have her baby. After 2 slightly problematic foaling, I was a bit worried to say the least, as Gucci was getting ready.
3rd times a charm though, and Gucci popped the foal out like the easiest thing in the world, putting my worrying to shame. She has a gorgeous silver brown colt foal.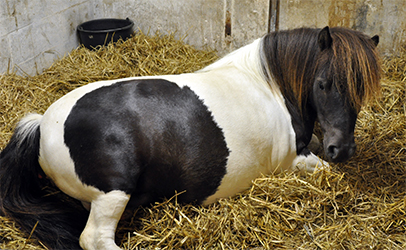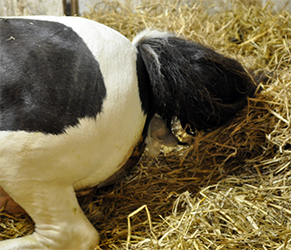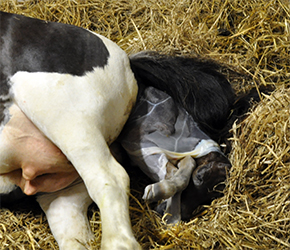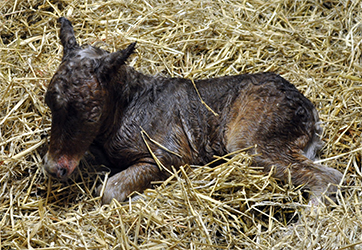 His name is Shady Acres Silver Ghost, and he is very well built and the same gorgeous colour as his father.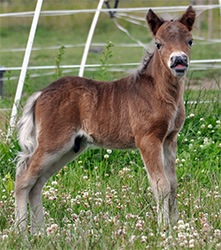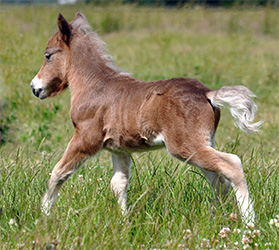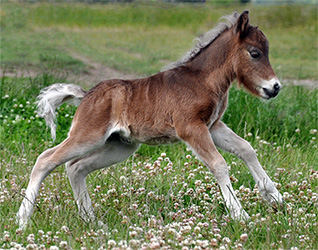 This was a very nice end to this years foaling season, which despite Pumpkin's terrible loss, ended up way better than last year.
Now all we can do is wait for next years season to arrive and hope it will be completely problem free.
June was also the month that we went to the Mountain and Moorland show with Blossom and River.
They were placed 2nd and 3rd with 39 and 38 points and some lovely descriptions.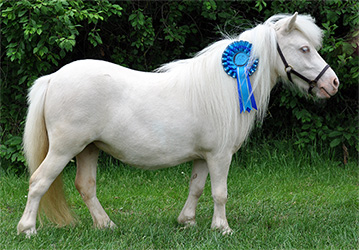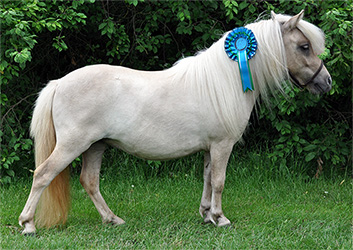 As usual, Waldo has been busy covering mine and visiting mares, but ofcourse he enjoys his job!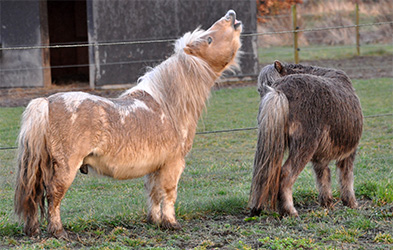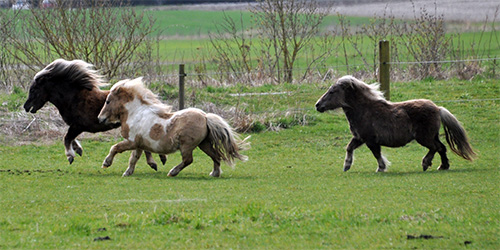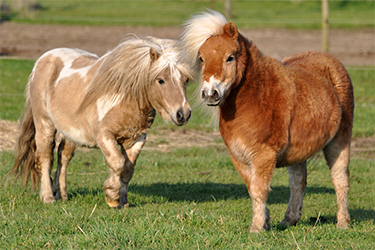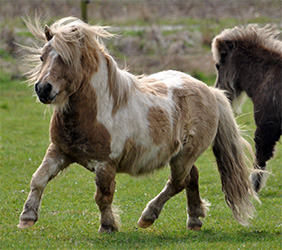 We are happy to have sent home all but one of our visiting mares home with a positive ultrasound. Below are a few examples.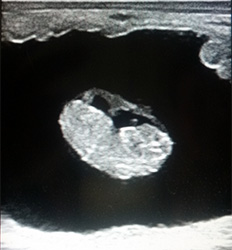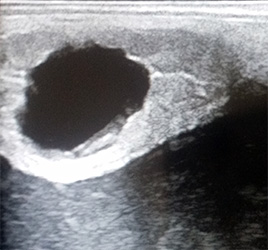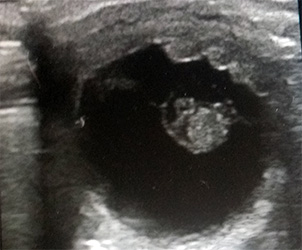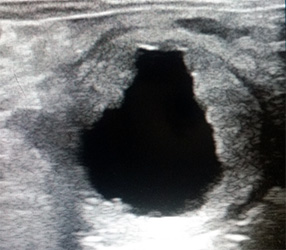 It is however not without risk, being a breeding stallion. One day Waldo got an unlucky kick to the head, which knocked a tooth loose, that had to be removed.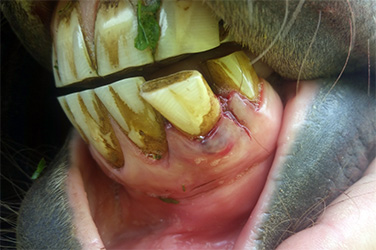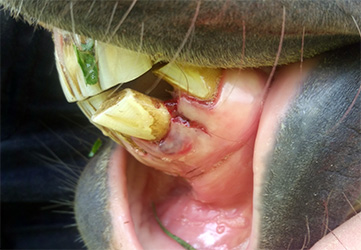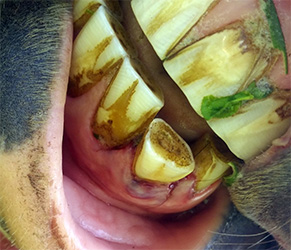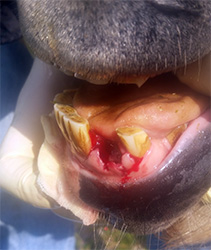 Waldo has recovered well, but ofcourse will have to have his front teeth done several times a year, for the rest of his life.
A lot of our mares have ofcourse been covered by Waldo and Arthur, but some have also been out on dates.
Gucci has visited Silbersee's Luxus again this year, Zilver has been with Balou v. Klein Engelland, and Sine had a date with Tyfoon v. Mini Stal de Ponydijk.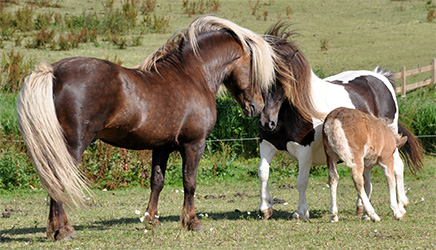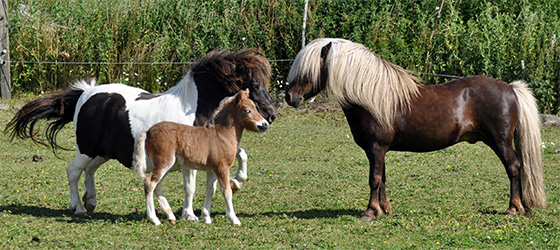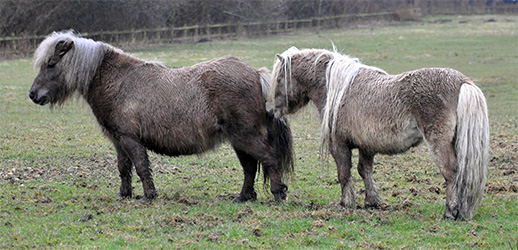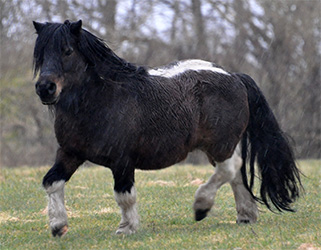 I have put all the expected foals for next year, on the Services Page, with possible outsomes.
If all goes well, we should get 13 lovely foals next year!
In july I was getting Zita ready for the annual mares assesment. She had to be trained and also needed to loose some weight efter a nice summer grazing.
In the middle of this, Lena calls to say, that Tristar has injured his hind leg on the fence.
I rush home from work and stitch him up. For the next few weeks, I drive to Lena's place, where him and Galaxy were staying, every day, to rinse and dress the wound and give him his medicine.
Luckily it seems he has recovered completely, even though the cut was through to the bone and cut into tendons.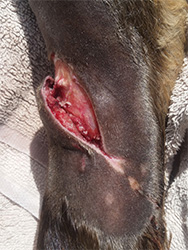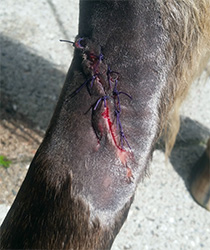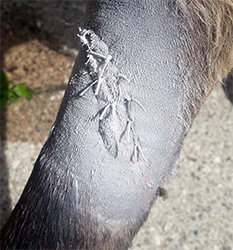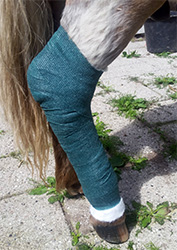 Soone the mares assesment was upon us. Zita was washed, brushed and shined up, and we were very exited.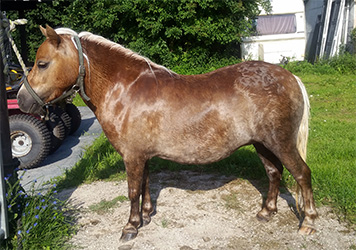 As the day went on, we were more and more hopeless, as the judges were proving to be more than though, and there were very nice ponies getting hardly any points.
When it was finally time for Zita's group, which was the second to last group of the day, the highest score of the day was 39 points.
At that time I was convinced that we woulds have to settle for something like 33 points.
The fact that Zita went first in the class, didn't give me much comfort, as I still suspected the points to be quite low, but to my surprise, she got amazing 39 points and a nice assesment in 2nd class A.
The description was for the most part very accurate, and I went home feeling like Zita was one of a very few ponies that day, that actually got what she derserved.
Later that day, Zita had to compete for the title of Best Mini Mare, and I was so happy and overwhelmed to win this title for the 3rd year in a row.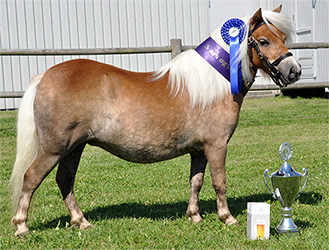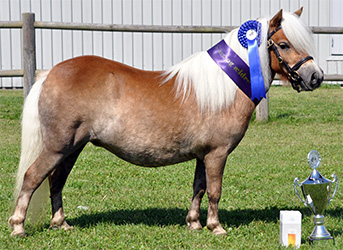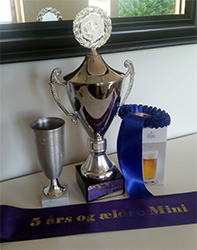 During the summer, we have made a lot of progress on the farm. After Steffen's enormous renovation of the house and stable, we have finally painted it all, and it looks beautiful.
The tiles in front of the open stable have been redone after a tractor had ruined them last year, and now Steffen has begone changing the ceiling in the stable. This, and many more small and larger projects have been done this year.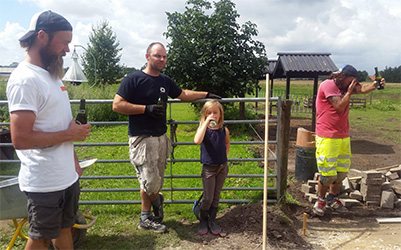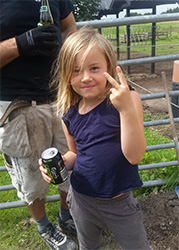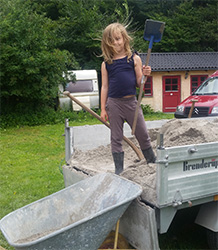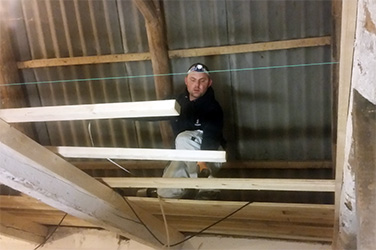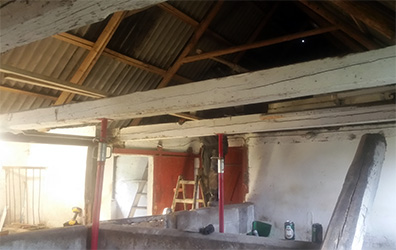 In august we went to a show in Sweeden for the first time. The Golden Crown Shetland Show at Hovdala Castle.
We brought Zilver, Pamela, Phoenix and River.
Two dutch judges were judging together, but gave their points seperately. One mini breeder and a standard breeder, but since the mini breeder had actually bred Pamela himself, he was not allowed to judge her or Pheonix.
It was only a few ponies that the judges seemed to like, and I have never heard so many 7s being given. 5-6 ponies got 40 points and above, but the rest were all at around 36-38 or less.
Many class winners got no more than 38 points, Pamela included, as she won her class. The judges actually really liked Zilver, especially the mini judge, who said that if she would have lost some weight and come back, he would have put her in front. This day though, they were very tough on her, especially the standard breeder, as she was unfortunately quite fat.
So well, the points at the show was nothing to write home about, but we had a very nice day in Sweeden with our friends.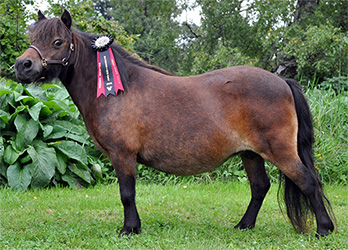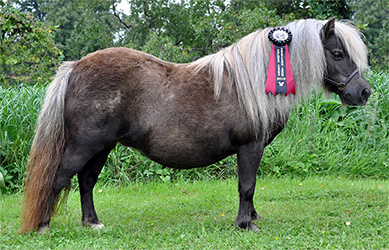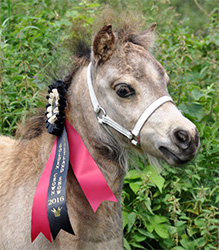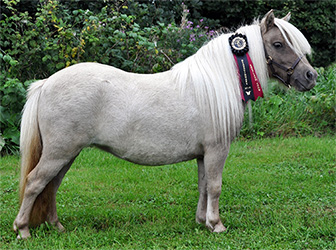 In september we went to the Youngstock Show and Mares Show in Roskilde.
We brought Fanny, Regina and Rover.
THe mares both got 22 out of 24 points which was great, but I thought the judges were quite tough on Rover.
They thought his lower thigh was too long, but it didn't seem to affect his movements, as he got a very nice description of those, and even got an 8 for his trot.
As always we had a great day at the show with our friends.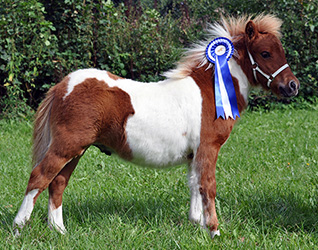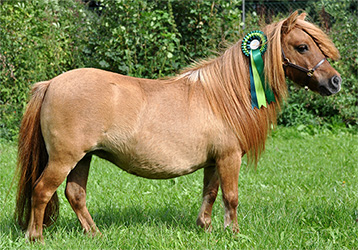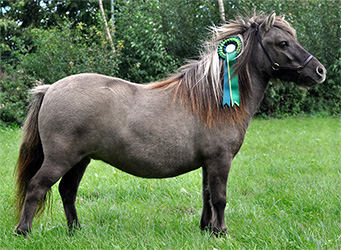 Well this was it for now. I will hopefully be back soon, with another update on the last 3 shows of the season.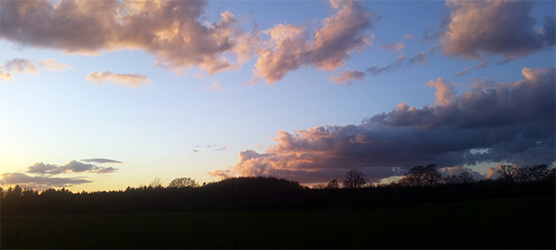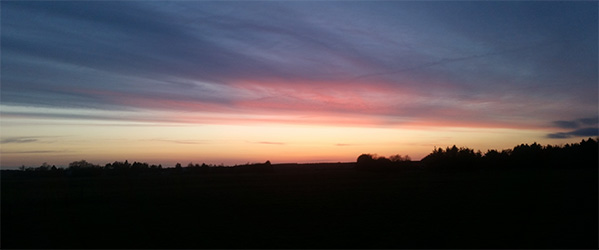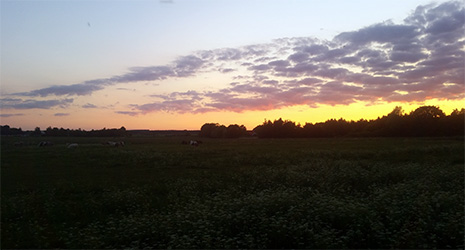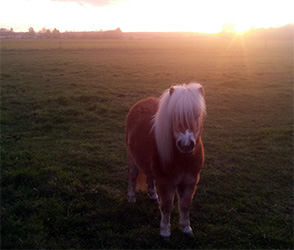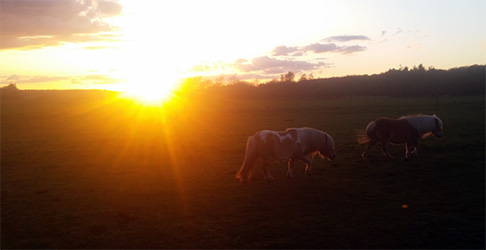 _________________________________________________________________________________________________
March 24th
The year is racing ahead, and I am already behind with my updates. Luckily not much happens in these first few months of the year.
One of the reasons I haven't had time to update the website is that we just spent the last 3 weeks in Bali. It was a great vacation, where I could really relax, knowing that my good friend Lena was taking excelent care of all the animals at home.
While I was away, it was the annual Mountain and Moorland Winther Show, which I was sad to miss, since it was finally a shetland judge judging, and even a favorite of mine.
Well in a way I had a small part in the show even if I wasn't there, since Janny from Stutteri Stjernen, showed a 1 year old filly, sired by my very own little Waldo. Stjernens Mini-Odine impressed the judge, epsecially with her nice trot and took 1st place in a strong class of 5 yearling fillies. She got amazing 43 points and I was especially pleased about her 9 for trot, since it looks like Waldo has again passed on his amazing movements.
Congratulations Janny and little Odine.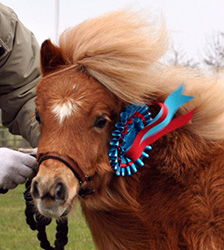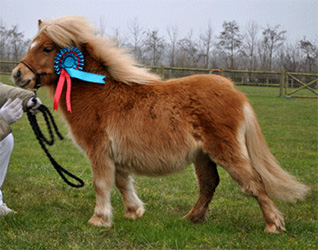 Stjernens Mini-Odine - Class winner w. 89989 = 43 points
Pictures: Janny Sørensen - Stutteri Stjernen.
After we got home from Bali, I have been for a visit, with Zilver, at the Equine University Hospital, for a control ultrasound.
They were looking for possible scar tissue,og leftover hematomas in her pelvic inlet.
The repro specialist who also examined her when she was hospitalized in the fall, came to do the ultrasound.
She said that by some miracle there was no scar tissue, no hematomoas, nothing left. This is unsusual efter such large hematomas.
I am just over the moon that Zilver got the all clear to breed again and that she is 100% back to normal.
We also did a uterine bacterial culture, which came back clean, så she is now ready for running with the stallion of my choise.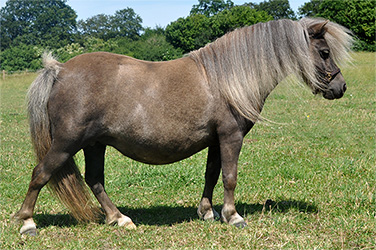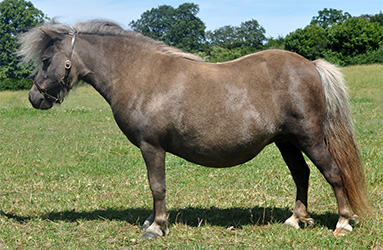 Easter is almost here, and I am hoping to use some of the days off to fence a new area of grassland that has been put at my disposal, for the colts.
It will be nice to get them away from our place during breeding and foaling season. No distractions for the mares and stallions then.
First foal is already due in less than a month. Pumpkin is first out, but I think Yesmine might end up beating her to it, since she is the only one stating to seriously bag up. She isn't due until end of april though.
I am looking so much foreward to this years foals, and I hope I get a problem free foaling season.
The covering plans are almost in place. Some are going out and some are staying here.
I have rented Bakkegaard's Kong-Arthur, so he will be covering mares here this year, together with Waldo.
Arthur is such a sweet and easy boy, so it will be nice to have him here again.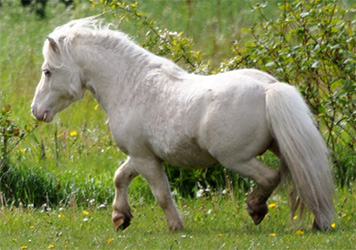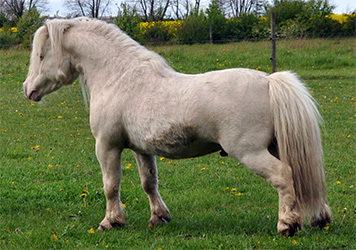 The first show for me this year, will be Dorthealyst Youngstock Show. I rarely have the best results at this particular show, but it is great practice for the young ones.
This year I have entered Yesterday and Galaxy.

__________________________________________________________________________________________________
The past year - 2015
Last year was largely marked by a somewhat problematic foaling season.
Blondie startet out by aborting her foal in february, many months before the due date.
In may, Gucci had a hard foaling, when the foal got stuck. We mannaged to get the foal out alive, but Gucci had some nerve damage in the pelvis efter the birth.
Luckily she has made almost a full recovery now.
Only two days after Gucci's delivery, I came home from work to find Sine standing over her aborted foal, 3 months before due date.
She had a retained placenta, which I mannaged to get out and I teated her efterwards, but still struggled to get her in foal all season. Looks like she did not take.
The end of the foaling season was marked by Zilver, who had a tiny little colt 3-4 weeks before her due date. He came out with a front and hind foot at the same time, so we had great difficulty getting him out.
Afterwards, Zilver had to be admitted to equine hospital for 1½ weeks, because of massive pains, resulting from two very large hematomas in her pelvis.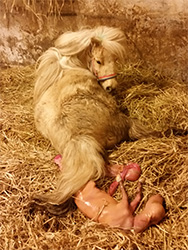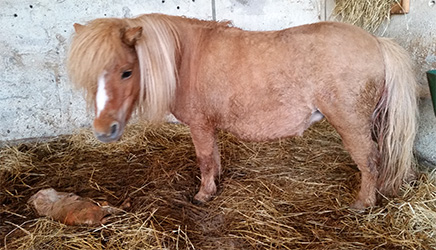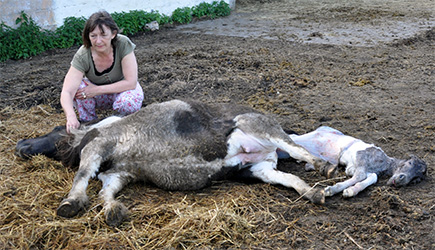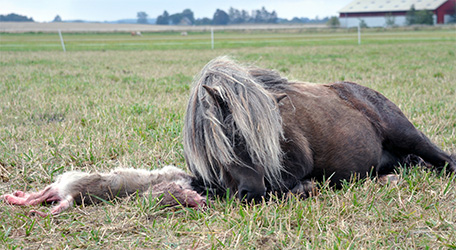 Well luckily we also had foalings that were right by the book.
One of them I mannaged to film from beginning to end, and have posted it on our facebookpage.
To see all of the lovely foals from 2015, look at this foal page.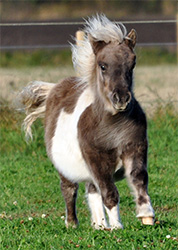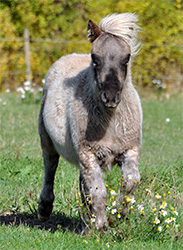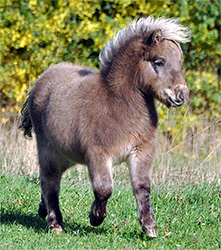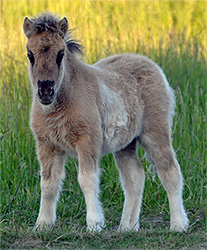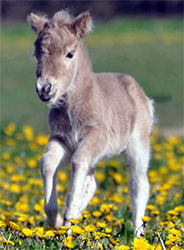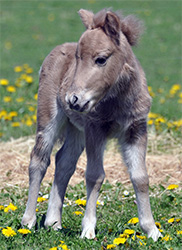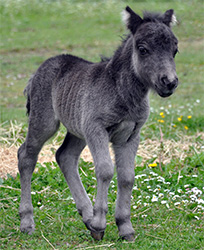 When it comes to showing, the hightligt of 2015 must be the annual mares assesment.
For the second year in a row, we toom home the title for Best Mini Mare.
This year it was Pamela who took home the trophies.
I think she is a very lovely mini, with some very nice movements, so I was hoping for a 1.class assesment for her, so maybe she will be shown again some day. We will she. She is definately gorgeous either way.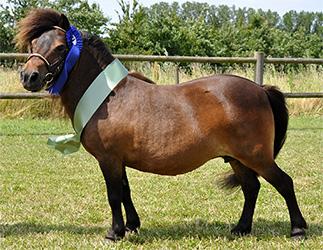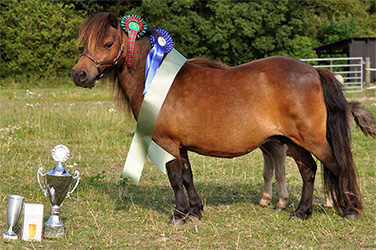 I hope this new year will grant us a problem free foaling season and lots of nice times with all our shetty-friends at the different shows.

____________________________________________________________________________________________________