On this page you will be able to follow the news of what happens in ours lives with the ponies.
____________________________________________________________________
December 3rd
On october 16th we went to the performance test in Ringsted.
I had been training Bakkegaard's Buzzlightning intensively, so the exitement was huge, when the day finally arrived.
The cheering section was in place, as my boyfriend and his parents had come to watch, and Kate had her grandchild, Lukas, with her.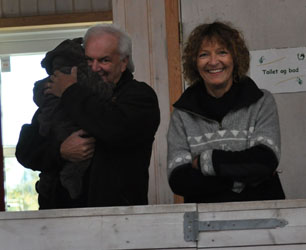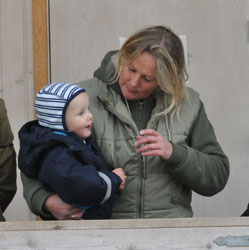 Papaya was also there to see how its done, but I think she was more interested in her toys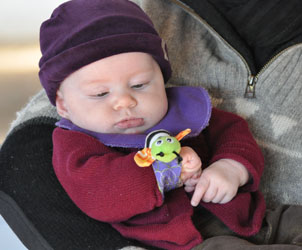 Buzz behaved very well, and after the warm-up it was time to drive in before the judges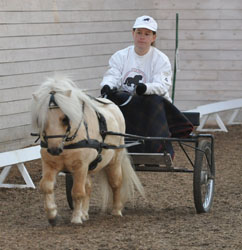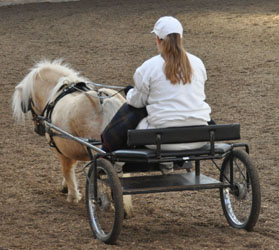 He was a bit slow, but he performed the program exactly as he should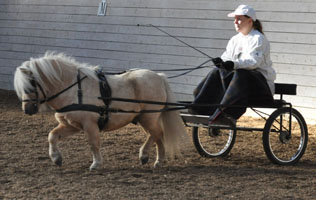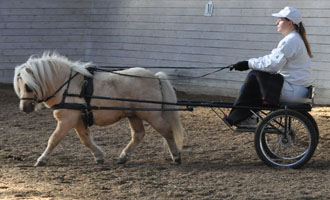 And then it was time for the judges to deliberate.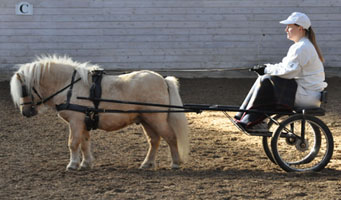 The judges liked what they saw, and Buzz got the following points: 9,5 - 8,7 - 8,7 whit an empressive 10 for his temperment.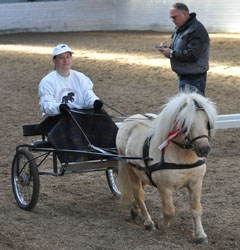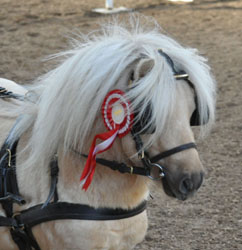 During the day we saw a lot of other great performance tests.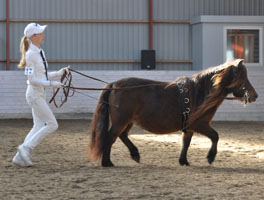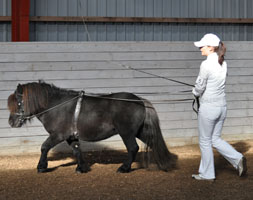 Among them was Zilver v.d. Koerberg who was the winner of the stallions performance test.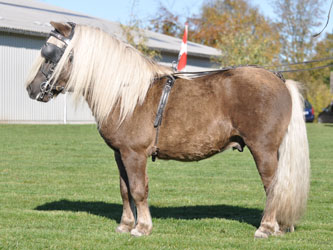 There were also a lot of ridden equipages. One of theese were Helle from Tusindfryd stud, on her lovely mare, Shoormal Vatina. They got a lot of praise from the judges.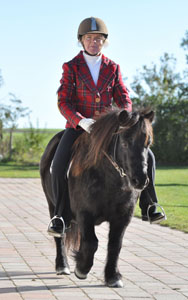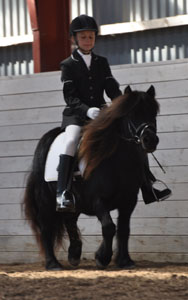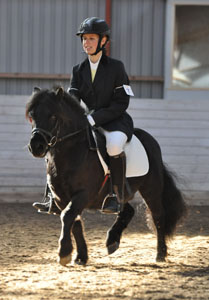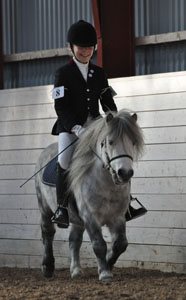 And ofcourse there were some beautiful driven equipages. Amongst theese were Jette from Annagaard stud, and her beautiful gelding Skattens Woody, who won the mares and geldings performance test, and got the highest points of the day: 10 - 9 - 9,3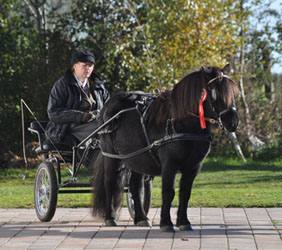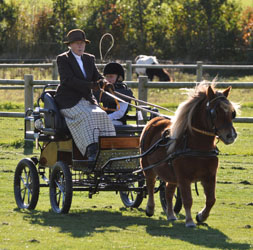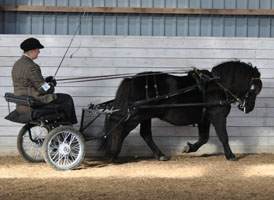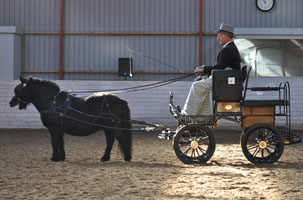 Here they are waiting for the points of the other equipages to see who is going to the finals.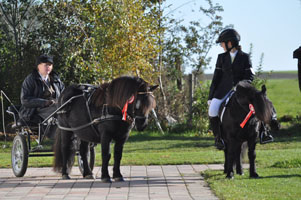 Maybe we should have been paying attention too, because when I went to watch the finals, I heard Buzz's number called over the loud speaker! We were very happy he had done so well, but we had never thought he would make it to the finals, with so many other lovely and talented equipages. But true enough, Buzz was 2nd best stallion of the day, and now had to be in the ring, to receive a prize from Ørnhøj stud. So I had to run to the parking place, and pull poor Buzz from the trailer. Just when he thought he was done for the day. And so we went as fast as we could, back to the ring, only wearing a bitless halter. Luckily Buzz is so easy to handle, so he trottet happily along and behaved perfectly. Lovely boy!!!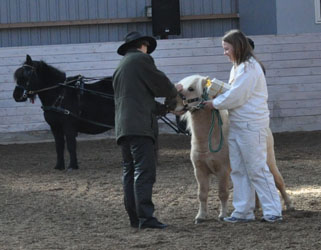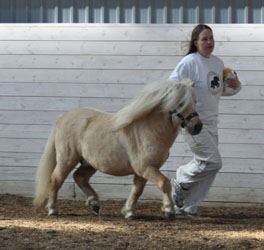 This sunday, the first of advent, we went to the Mountain and Moorland Christmas Foal and Youngstock Show.
With me I had Cyselle, Bella and Zodiac.
My good friend Jenny was once again with me, to help show the girls, as they were both in the same group.
Both Bella and Cyselle behaved perfectly all day and were so easy to handle.
Cyselle showed the judge, Mr. Steven Strang, that she has no problem trotting, and she recieved 2 x 8 for her movements. Both Bella and Cyselle ended up with 39 points, and were only beaten by a beautiful welsh mare, who got 40 points. Today Cyselle did a bit better than Bella, and ended up in second place, with Bella following in 3rd place.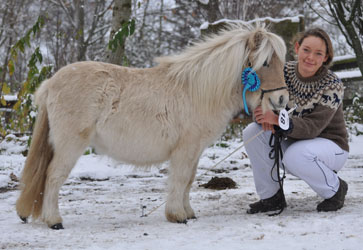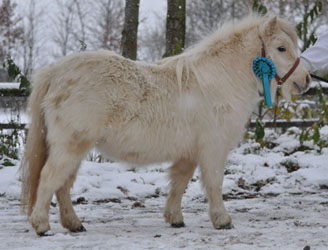 After this it was Zodiacs turn in the ring. I think he is just great, but he did not seem to be to the judges taste. Zodiac was quite anxious being away from his mother for the first time, and he pulled me around the ring, so unfortunately he didn't show of his movements in the best way. He ended up with 34 points. At least its one more point than last time ;)
I still believe in the little boy, so I will have to show him again some time.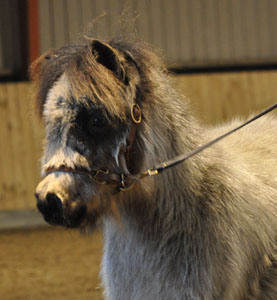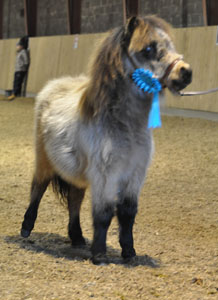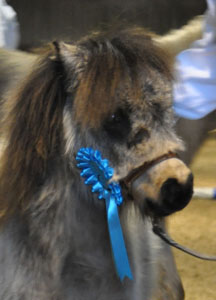 All three ponies have had their gallry-pages updated with pictures from the show. And we have put all the pictures from the show on a page in the gallery.
Since the beginning of this webpage, we have had a lot of great pictures on the frontpage, therefore I have gathered them all on a page in the gallery. So now you can see all the old frontpage pictures again.

_____________________________________________________________________
October 5th
Winther is on its way, and the ponies are all changing into their winther coats
My two lovely little foal are developing with each passing day.
Little Rosie is gettig more and more beautifulevery day. Too bad she is to tall for my breeding :(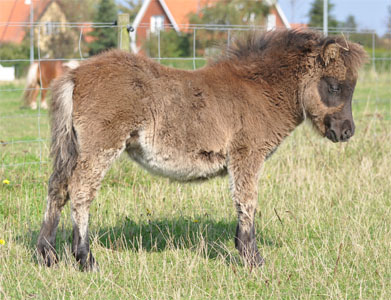 Little Zodiac is changing colour for the 4th time now. First he was a light bay, then he was lightened by the sun to a lovely golden brown colour. When he shed his foal fur he was almost black underneath. When the black dissapeared, it left him a funny silver/steel grey colour, which has now started to turn into a lovely golden buckskin colour like his father.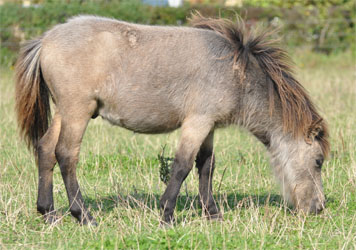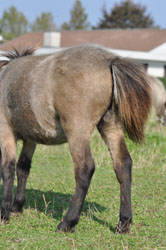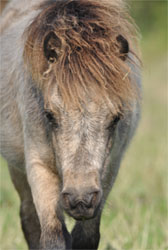 On september 4th, we went to the Foal- and Youngstock show in Roskilde.
I brought with me: Bella, Cyselle and Zodiac.
Bella won her class again this year, and became best 1 year mini mare.She was even placed in front of the lovely Elverhøjs Anabell, who was the best shetland pony at the Dorthealyst show earlier this year. Unfortunately Bella had one point less than last year, and therefore ended up with 39 point. 1 point shy of making it to the finals.
She had gone down one point in both walk and trot, which I can understand, since she is not moving as well as last year. Probaly because she has become quite overweight, which the judges also poited out ;)
However this year she did get her 9 for type, which I definately think she deserved, so that is great!
Generally I was in complete agreement with the judges in their description of my lovely little Bella.
Cyselle was in the same group as Bella and ended up 3 out of 3 with 36 points. The judges thought she lacked development, just as I had predicted. Also here I was pretty much in agreement with the judges in their description, although I think a 6 for trot, wasn't quite enough, but maybe she didn't show off her trot properly on the day.
Zodiac definately wasn't to the judges liking. He ended up dead last with 33 points. It was however a pretty positive description, especially for his movements: Straight and energetic in walk, straight and light in trot with a good lift.This very nice description of his movements only resulted in 7 7 which confused me a bit. Especially since I think his movement deserves at least an 8.
He was also told he had a harmonic build, and as the judge said: there is not much of him at the moment but it will come.
A 6 for type however is too low in my oppinion, even though he does need a bit of muscles.
I will have to show him agaim once he has filled out a bit more ;)
Unfortunately I have no pictures from the day.
Zilver hasn't shown signs of oestrus since her time with Buzz, so hopefully she is in foal. I already think she has changed personality a bit and begun to show a bit, but maybe thats just wishful thinking.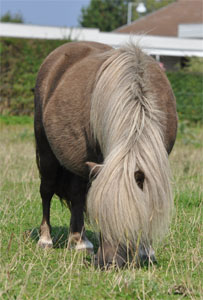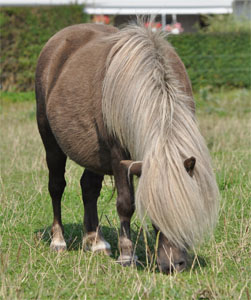 Otherwise my time at the moment is spent training Buzz for the performance test. It will be interesting to see how he does, and especially how he does at the stallion assesment this spring.

______________________________________________________________________
August 23rd
I finally managed to update the website.
On July 18th we went to Ringsted, for the anual mares assesment.
It was a lovely day with perfect weather, lots of great ponies and nice company.
My boyfriend and his parents came along to take care of little Papaya, who behaved perfectly and slept all day.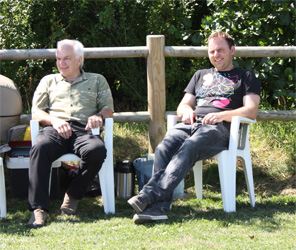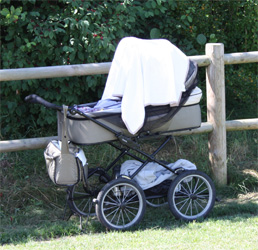 I had hoped Zilver would get one or two more points than last year as I beleive she deserves it. I definately would like her to get more than a 6 for her limbs, because even though they are a bit light boned, they are very well set. So I think they deserve at least a 7. Further more I definately think she deserves at least an 8 for her trot, which I think is very good. These wishes were actually both granted as she got a 7 for her limbs and an 8 for her trot, however instead she went down a point on both conformation and walk. Her shoulder which was last year described as "good" was this year described as "slightly straight" wich meant she dropped a point in conformation. The drop i point for her walk I can sort of follow, as she was less energetic than last year. (I took her out of her stall to early so she got too tired).
So in the end we ended up with 37 points just like last year, with a very good description. I pretty much agree completely with her description (except maybe the bit about the shoulder) but the points I still think are to low. To bad, but at least I know what an amazing mare she is ;)
Maybe I will show her again some day, we will see.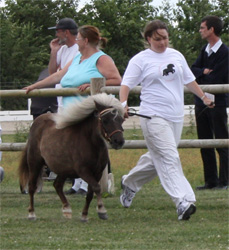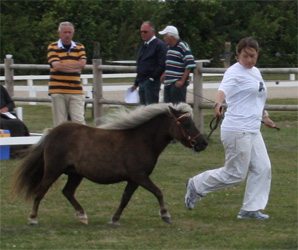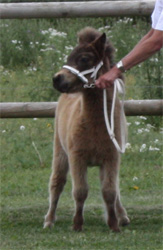 Zodiac behaved very well all day, and when it all became a bit too much, he took a little nap with his good friend Albert.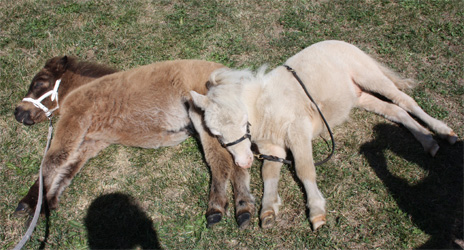 I was able to take some pictures of the later classes, which can be seen here:
Mares assesment 2010
From the very beginning I have been very much in doubt about Zodiac's colour. I thought it was an unusually light bay, but still to dark to be buckskin. Especially when comparing him to Kates little Ronja, which is very light. But when he started shedding his foal fur around the eyes, I started thinking he might be buckskin after all, so I decided to get him tested. And surely he actually did have a cream gene!! The genotype came back Cr/C which means he carries the cream gene ;)
By now the foal fur is also shedding on his body. He is very dark across the back and a lightner golden colour further down.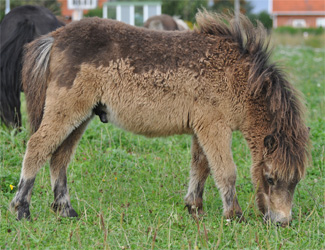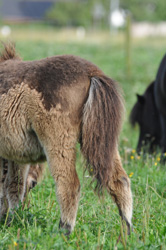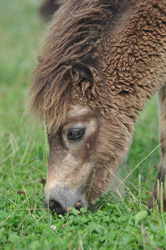 Maybe he is actually sooty buckskin, or maybe he is just dark during fur changes like his father. See for instance this picture of Sorcerer where he is changing his fur.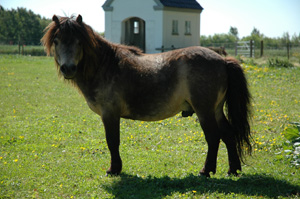 It is defnately very exciting, and now I think I better have his base coat colour tested as well, so I know wether it is black or bay, and if so, if he is heterozygous or homozygous for the bay gene. Very interesting to know, esspecially if he is approved for breeding some day.
So my little Zodiac is not only a carrier of the rare mushroom gene, but also the cream gene. Very nice!
I have also taken a lot of new pictures of the ponies, which have all had their galleries updated with the new pictures: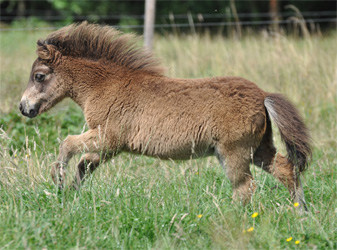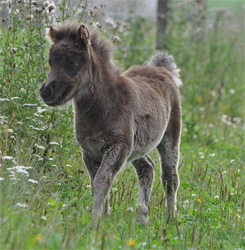 Shady Acres Zodiac and Shady Acres Rosie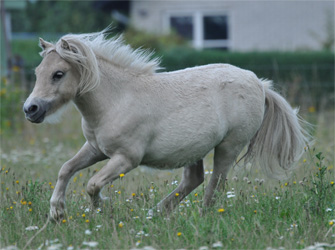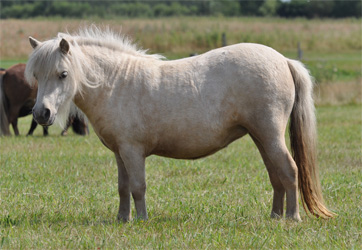 Cyselle Liebas and Bakkegaard's Bellalightning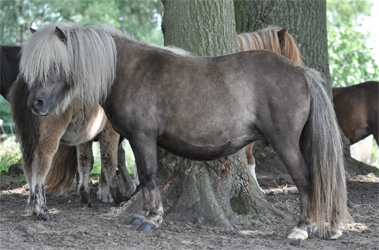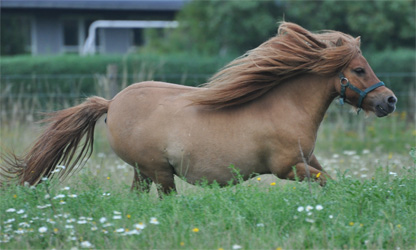 Zilver Sun v.d. Nijkamphoeve and Regina v.d. Westerbrink
I have now started training for the young stock show in Roskilde, where I have entered Bella, Cyselle and Zodiac.
Bella unfortunately has started to point out the left toe a bit in walk lately, and Cyselle still needs a bit of development, since she was born late in the year and, like her mother, had a massive tape worm infection. However is is very good training for the little ones so offcourse they are all three going.
It is exciting to get some fresh eyes on them, as you can often be a bit blind when it comes to your own beloved animals.
Now I have also put Rosie on the sales page. It has allways been the plan that Regina's foal should be put up for sale, because even though the father is a very wonderfull stallion, he unfortunately is too big for my breeding :(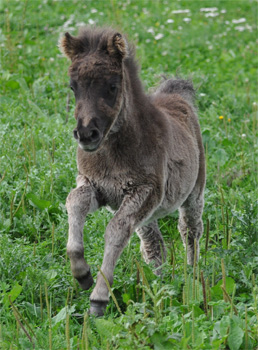 _______________________________________________________________________
July 10th
Once again its been quite a while since my last update. But this is definately not because nothing has happened. On the contrary!
In the beginning of june, i went to the Roskilde Show, where I had a great couple og days with lovely weather and very nice company. I took a lot of pictures which can all be seen here:
When the weather finally got a little warmer, all the ponies where let out in the meadows. They just love it, and I was able to take a lot of wonderful pictures.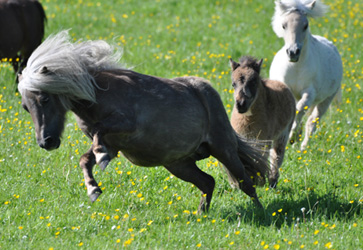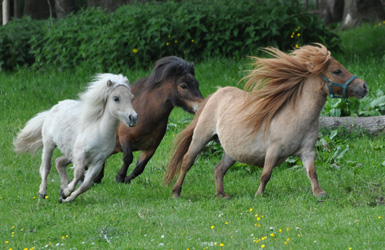 See the rest of all the pictures in the gallery - Summer Paddock 2010
Zilver has been covered by the lovely Bakkegaard's Buzzlightning. He has nice strong limbs, which Zilver lacks, and he just looks better and better every day, so it will be exiting to see if we get a beautiful little foal next year. Read more about Buzz, on the stallions page plus colour calculations on the services page.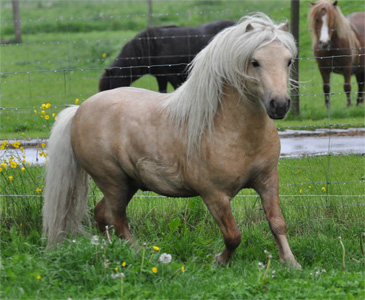 Bakkegaard's Buzzlightning
When Zilver was let in the paddock with Buzz, she really showed off, giving me the chance to take a lot of great pictures of her.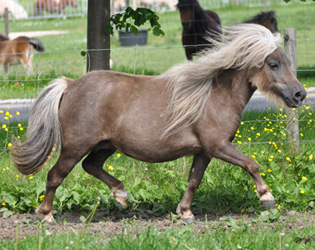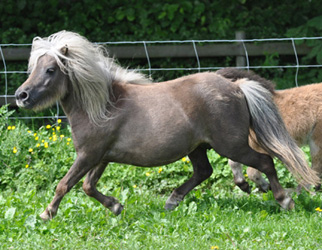 See all the pictures in Zilvers own gallery - Zilver Pictures
And probably the biggest and the best news is the fact that our little family now has a brand new member. On june 24th, at 4.49 in the morning, little Papaya was born.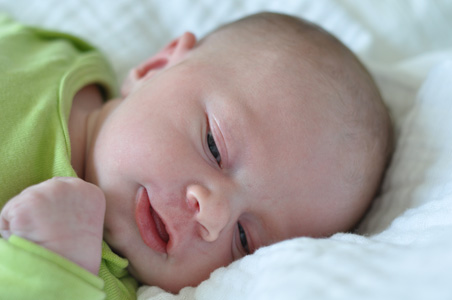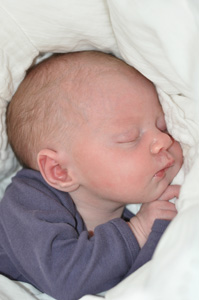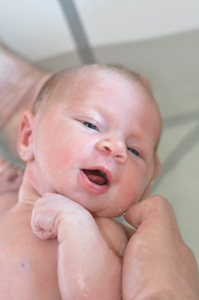 And as if that wasn't enough. Another little girl arrived when Regina, on July 2nd, gave birth to a beautiful little filly foal. Without any signs little Rosie was born two weeks early in the paddock along side all the other ponies. Luckily everything went perfectly and Regina mannaged it all on her own.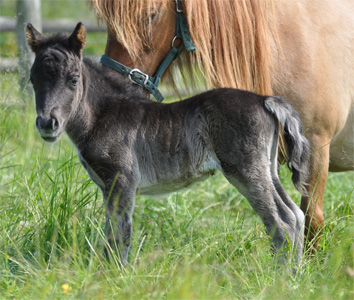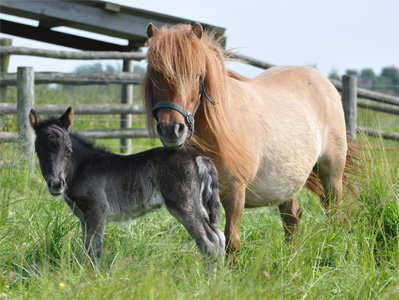 Shady Acres Rosie
At the moment time flies as I am training Zilver and Zodiac for the mares assesment. Also I am training 4 mares and their foals for Bakkegaarden, sp until the 18th of July I have plenty to keep me busy.

_______________________________________________________________________
May 28th
It's been a while since I updated the website, so here goes.
On May 15th we went to the Stallions Assesment. It was a great experience as allways.
The judges definately didn't just give the point away, and only two stallions ended up getting 1st class. A lot got 2B or got rejected.
I was very happy to see that both the offspring of Rascal-H, which my mare Regina is in foal with, were accepted. Especially the beautifull Ygor Liebas got a great description and 40 points!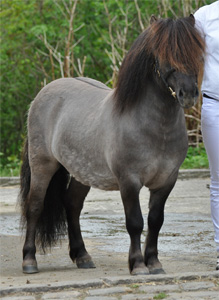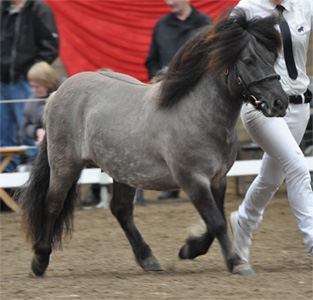 So now I can definately look forward to seeing Reginas little foal once it arrives some time in late July.
I took a lot of pictures at the Stallions Assesment, and at the Dorthealyst Young Stock show. See all the pictures in the albums I have made. Just follow this link:
Shetland Ponies
My little Zodiac is living life and developing very nicely. I think he looks better every day. He is probably the must trusting little foal I have ever come across. He allways runs straight for you in the paddock, and proceeds to follow you around to get a cuddle. When people come by the paddocks, and stop to look at all the little foals, Zodiac runs to the fence, so people can give him at rub.
I mannaged to take a lot of new photos of him: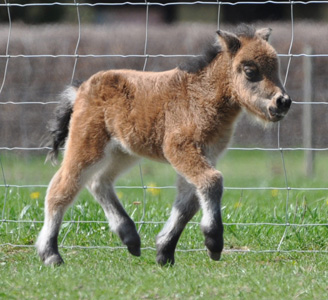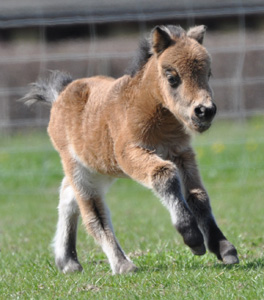 See all the rest of the pictures at Zodiac's Pictures page, here.
Offcourse I would love to keep little Zodiac, not only because of his amazing temperment, but also because he carries the mushroom gene, which would make it very interesting to try him as a stallion, but until I get my own place, the stallion adventure will have to wait.
Therefore my little baby is for sale.
_______________________________________________________________________
April 28th
Finally it happened!!
My little stud just got its first foal. The night between monday and tuesday, Zilver had a beautiful little very light bay colt. It wasn't a completely unproblematic birth, but luckily Kate and Leif where there to help the little man into this world.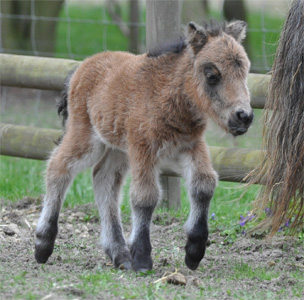 Shady Acres Zodiac
He is so beautiful and Zilver just loves him.
His colour is very exciting as he is very light in colour. I wonder if it is the mushroom gene he has gotten from Zilver, that is the cause of the light shade of his colour.
Now he will have a few days in the "kinder-garden" until he is ready to join the other foals, that have already been born at Bakkegaarden.
_______________________________________________________________________
March 30th
Exiting News!
The vet came by to check the mares that were hopefully in foal. I was pretty much convinced that Zilver would be empty, as she was in heat this summer after having been covered. I also had doubts about my new mare Regina, as she certainly didn't look like she was in foal. But to my surprise both my mares were in foal, so now I am expecting to beautiful little foals this year!
Zilvers udder has now grown, and her belly is starting to show, so it will be very exiting: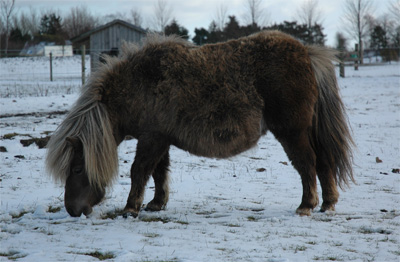 On saturday March 6th we went to the Mountain & Moorland Show in Ringsted.
It was an amazing show with all the british pony breeds. I had chosen to bring my beautiful little Bella. She had to compeed with to big and beautiful standard fillies, so it didn't come as a surprise when she came in third place. However I was veru much surprised when I went to collocther commentcard, and saw that she had only gotten 30 points!! Thats 10 points less that what she got in september. Anyways, luckily it tuned out that the english judges had at bit of difficulty using the danish point system, so all the point were very low all morning, but started to improve during the day, so that was a bit of a comfort. Unfortunately the comment card didn't really have any comments besides the points, but we did receive a beautiful handmade rosette from Wales.
All in all it was a great show and I can't wait to participate again next year.
Unfortunately I don't have any pictures from the show, as my camera broke, however here is a picture of Bella's beautiful rosette: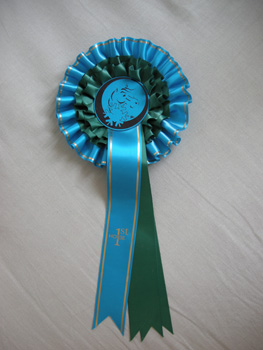 I now have a new camera, and ofcourse that had to be tested, which resulted in a few new pictures of Regina, Cyselle and Zilver, which can be seen on their respective gallery pages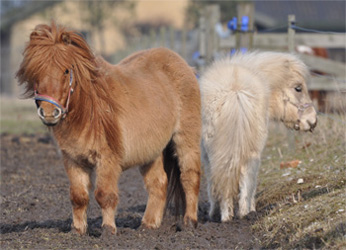 ________________________________________________________________________
January 14th
A new year has begun.
2009 has been a very exiting first year for my little "stud".
It all started when I bouht my lovely little mare Zilver Sun, a little girl I just had to have, when I saw her on the website of Stutteri Stjernen. Soon hereafter Kate let me buy my beautiful little Bella, who had just become the apple of my eye. She just loves to cuddle for hours, and I am allways in such a good mood when I have been to see her and Zilver. Thank you so much to Kate and Leif from Stutteri Bakkegaard, not only because I got to buy my little star, but also because you have let my little girls live with you and all your ponies. I am looking foreward to spending many more enjoyable hours in your company in this new year!
Over the summer I had Zilver and Bella to different showa. We went to Gørlev Horseshow, The mare keuring in Ringsted and finally to the Foal and Young Stock show in Roskilde. They were great days, and I am looking foreward to another show season in 2010..
In the fall I bought two new ponies in Holland. Regina and her lovely foal Cyselle. Regina has been covered by the great stallion Raschal-H van de Wechterholt, so it will be very exiting to see if there will be a cute little foal after those two this summer.
As previously mentioned, I very much doubt that Zilver is in foal, so we will just have to try again this year.
There is another exiting thing about spring... a breeding plan has to be made. For my concern it is pretty easily managed as I only have two mares, but it is still allways fun and exiting to consider which stallions would make a good match. The final descision however will have to wait until after the stallion keuring in May, which we are looking very much foreward to.
Again I have recieved some great looking pictures from Jutland, where my two little dutch ladies are frolicking in the snow: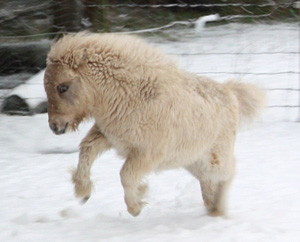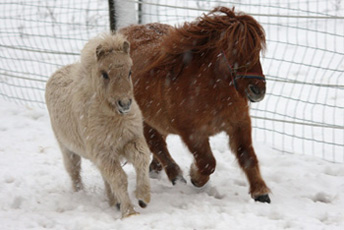 There are a lot of lovely pictures and I have put them under Cyselle and Reginas own pages. They have both gotten their own galleries now, so just press "Pictures" on their respective pages, then you can see all the snow pictures.

I have also updated my Links page with two new links. Stutteri Birkehøj, that have been so kind as to help me with samples for my mushroom project, and who are also now again the proud owners of little Niki Star, a beautiful mini mushroom stallion, that hopefully will be approved for breeding.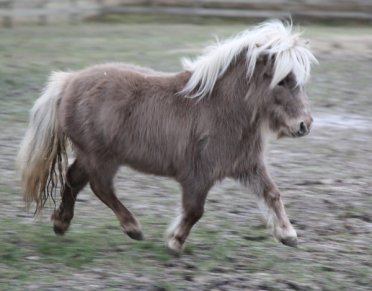 Foto: Tina Brandt - Stutteri Birkehøj
If he is approved, he will be the only approved mini shetland pony stallion in this colour in Denmark. The only other mini shetland pony stallion, who didn't have the colour, but carried the mushroom gene, was Niki's father, Smevallens Golden Hazzard, who unfortunately passed away this summer. This means that at this moment, there is no possibility to breed mini foals in this colour in Denmark, since the gene is recessive and therefore has to come from both the mother and the father for the foal to get the colour. Therefore hopes are big that little Niki Star will do well at the keuring..

I have also provided a link to Stutteri Kongsgaard, where my two lovely ladies Regina and Cyselle are being looked after. Mette and Peter is amongst other things breeding Gotlandsruss, and have now also started breeding mini shetland ponies. They have recently bought the lovely golden dun stallion Halstock Chester Cat who measures only 76 cm.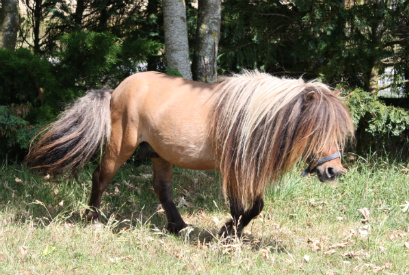 Foto: Mette Kongsgaard
Chester Cat got a very nice 40 points at the keuring , and is definately a stallion I would love to use for my mares sometime in the future..

I am looking foreward to all the exiting experiences 2010 will bring..
________________________________________________________________________________________________