On this page you will be able to follow the news of what happens in ours lives with the ponies.
________________________________________________________________________
27th of November
I have received some beautiful pictures of my two new little girls.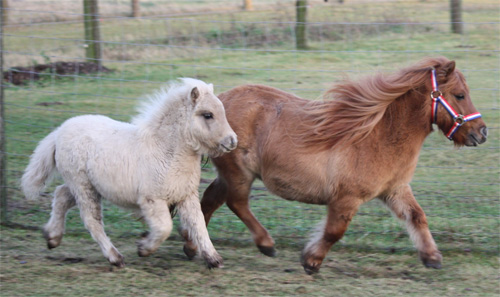 See more pictures on their respective pages: Cyselle and Regina
_________________________________________________________________________
22nd of November
Exiting news!

I have just bought a lovely little cream dun mare and her foal.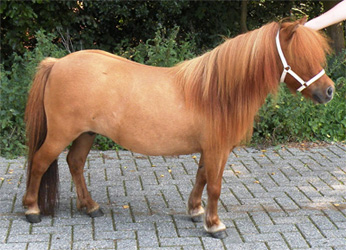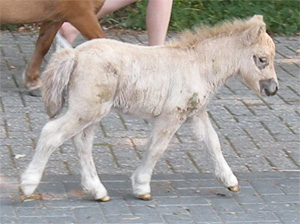 Regina and Cyselle

I bought them both from Wielfred Ten Dam in Holland, and you can read more about them both on their seperate pages.
They arrived in Denmark yesterday and will be staying with friends in Jutland, until I get my own place.
_________________________________________________________________________
26th of September

The english version of my website is now finally finnished. I hope you will enjoy it.

Not much has happened since the last update. Zilver and Bella are enjoying themselves in the meadows of Stutteri Bakkegaard, and are both starting to sport a very thick and soft winter coat. It seems like the front of Zilver's utter is slowly getting bigger, but is this is just because she might be gaining weight I donøt know. I still have a desperate hope that maybe she is in foal after all. We will see this spring.
Next week the farrier is coming to take care of the girls hooves.

_________________________________________________________________________
18th of September
On the 5th of september we went to the big foal and young stock show in Roskilde.
I brought my lovely little Bella, who received 40 points, red ribbon and was named the best mini filly foal of the day. So even though the weather wasn't the best, it vas a very nice day, with a super result.
I was able to take lots of great pictures of Bella, which I have put in the Gallery.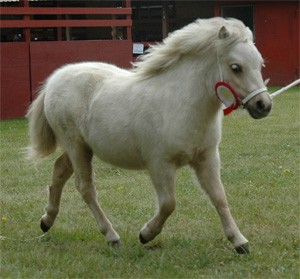 I have gotten the colour test back on Zilver, and it showed that she is negative for the silver gene, and that she has a red base coat colour, and is a carrier of brown/bay.
This offcourse means that she is not silver dapple, but that she is probably what is called "mushroom".
So far a lot is pointing in the direction that none of the silver shetland ponies are actually silver dapple. All the ones that have been tested, have turned out to be negative for the silver gene, and have red base coat colour, just like Zilver.
So the silver shetland ponies are probably the result of a completely new and undiscovered gene..
I have now set out to investigate this further, so with the help of Helle Friis Proschowsky, I will now try to get as many samples as possible, from mushroom shetland ponies, to test these for base coat colour and the silver gene.
If I mannage to collect enough samples, I might be able to collaborate with a researcher in USA, Gus Colthran, and a researcher in Sweeden, Sofia Mikko, in mapping this "mushroom gene"
Read more about mushroom shetland ponies here: Colour Genetics.
________________________________________________________________________
13th of August
Time for an update.
Zilver has completely recovered after 2-3 weeks of stall rest.
When she was fairly pain free, her and Mini-Boy, where put in the little enclusure in the garden and there they stayed for a while, until they where both ready to join the others again.

Unfortunately I am not so sure that Zilver is in foal, since she showed a bit of heat, when she was let out in the little enclosure.
However she definately would't let the stallion cover her, so now I don't know if she was just a bit stir crazy after having been cooped up in the stall for so long, or if maybe she hasn't let herself be covered, when she was with Sorcerer.
We never actually saw him covering her, but we assumed he would have, because she was so much in heat.
However if she has been just as hysterical as she was now, and kicked him when he approached, then he definately won't have covered her, as Sorcerer is very gentle and carefull with the mares.

Anyways, we'll just have to cross our fingers, and if not, there is allways next year. I definately think its too late now, if she goes into heat again this year.
I have also started training Bella, whom I am bringing to the Foal and Young Stock show in Roskilde on the 5th of September.
She is doing very well, but she is still very dependent of her mother, so I still don't know if we will have to bring Blondie too. Bella will be 5 month old at the time, so we will just have to see.
Besides Bella, I am also training 3 of Kate's ponies, that we are also bringing:
Bakkegaard's Kong Arthur, Bakkegaard's Robynlightning og Anita v. stal Ankeveen.
_________________________________________________________________________
24th of July
Now I think its time for an update. A lot has happened since last time.
Zilver was so unlucky as to get a branch in her eye, and therefore we had the vet visit 3 times until the yey had healed. Luckily she was ready in time for the Gørlev Show.
On the 4th of July, Zilver and Bakkegaard's Amanda was brought up from the meadows, and then we where washing ponies all afternoon.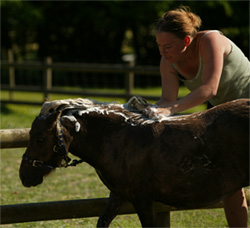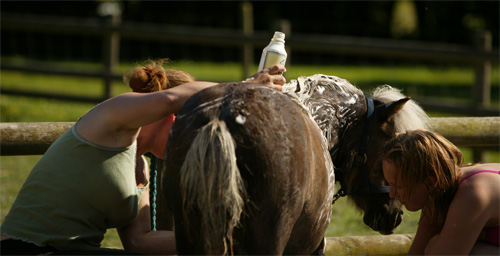 On July 5th we went to the Gørlev Show.
Zilver was a little nervous, but she behaved perfectly and did exactly as she should when we where in the ring.
She ended up recieving 21 points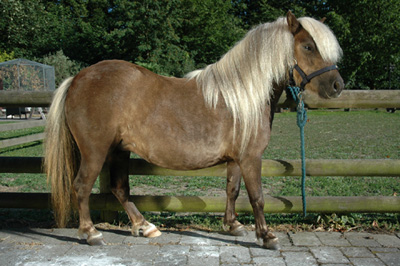 All in all it was a very nice day, and we would definately like to come back next year.
On July 17th it was time for the mare keuring.
I had entered Zilvermostly for fun and for the experience, since she is only 3 years old.
Again my little Zilver had been unlucky, and had been kicked or maybe stung by a bee right on the muzzle. Therefore she was a bit swollen and quite tender, but still she behaved perfectly, and even let me show her teeth to the judges.
Anyways, the judging started and the first class was 3 year standard size. One got 37 points and got a 2A prize, but the rest got 2B. No 1. class prizes.
Then there where 3 ponies in the next class of 3 year medium size. They all got 2B!
Then it was Zilver's turn. She was alone inher class, and following the results of the previous classes, I was now really nervous, as the judges seemed to be very tough this year.
But in fact it wasn't too bad. The judges really liked her and she ended up getting 37 points = 2A. So of all the 3 year mares only Zilver and one other mare managed to get 2A, the rest got 2B and still no 1. class.
Description:
Pony of good type, with a nice head and a nice silky coat.
Good lenght of rein and a good shoulder.
Lacking bone.
Walk is good and trot is satisfactory.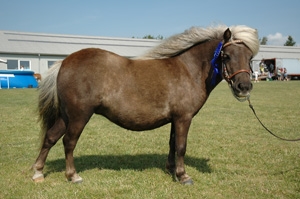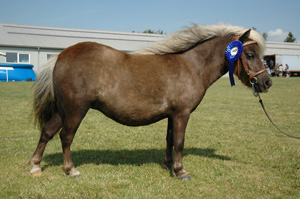 Sunday after the keuring, things where bad with Zilver again.
She was standing all by herself down at the meadows and was shaking. She wouldn't move.
Kate and I brought down the trailer and got her up, in time for the vet. Zilver's left front leg was cold and the vet feared it might be a blood clot. She was very lame in the left front leg, and very stiff in all four legs.She had a reactions to insect bites and edema on most of the body. Luckily the vet was a certified kiropractor, and with some excersices, was able to warm up her leg.
Zilver got some pain medication and I continued with the excersices for the rest of the day.
Monday morning she was really bad again. Zilver was shaking and seemed very lethargic. All 4 legs where now cold.
Our own vet, Anders, came out and saw her, and he thought that all of her symptoms could be explaned by pain reactions. He gave her an injection for the pain, and I walked her around until she got better and the warmth returned to her legs.
Tuesday Anders came back to check up on her, and he thought she looked a lot better. We agreed that the lameness problably originated from at sprain in the shoulder..
I have now managed her with pain medication for 5 days, and I think it is finally starting to look a bit better. She is still quite lame, especially morning and evening, before she gets her pain medication, but not as much as in the beginning.
I hope to see a significant improvement at the end of this weekend.

____________________________________________________________________________________________
29th of June 2009
I have taken lots of lovely pictures of Zilver and Bella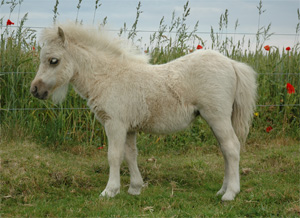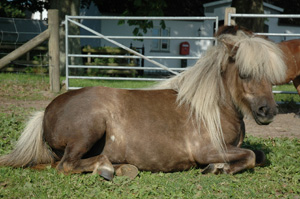 See all the pictures in their respective profiles: Zilver og Bella
__________________________________________________________________________
24th of May 2009
Zilver has been put with Kerswell Sorcerer.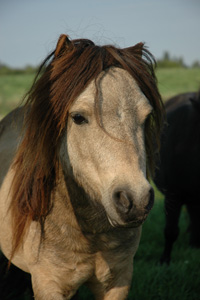 Zilvernot yet in heat, so now we wait in anticipation.

___________________________________________________________________________
20th of May 2009
Today I bought the most beautiful little palomino filly foal: Bakkegaard's Bellalightning.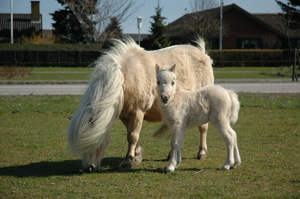 Thank you so much to Kate from Stutteri Bakkegaard, for letting me buy this beautiful little lady.
She has a very good pedigree and already is moving very well on her little legs, so I am sure she will be a regular little star.
____________________________________________________________________________
16th of May 2009
The webpage is now up and running.
I have just bought the beautiful Zilver Sun v.d. Nijkamphoeve from Janny fra Stutteri Stjernen. She is the pony of my dreams an every way. Beautiful with exelent type, mushroom and mini size.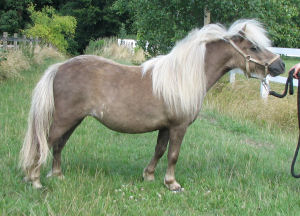 ________________________________________________________________________________________________