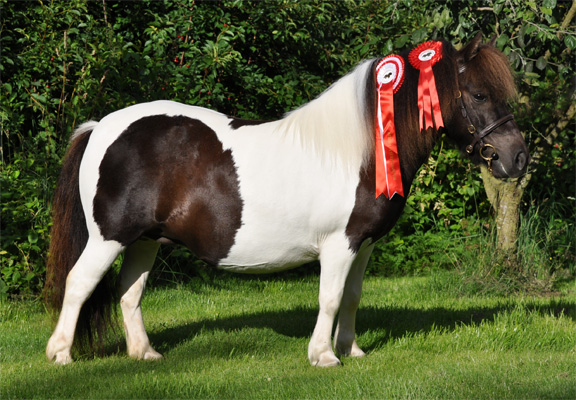 Mare
Born: 17/6 2006
Measurements: 92 cm in height, 14 cm cannon bone
Color: Piebald (Black Tobiano)
Genotype: E/E a/a To/to
Non chestnut carrier, heterozygous for tobiano.

Gucci is a lovely well built mare, with nice strong bone and a great temperment. I have primarily gotten her as my daughter Papaya's future riding pony and my future driving pony.
She is over the mini measurement, but I will still try to breed a few foals from her, since I think she has many qualities. Then time will tell if she can breed smaller foals. There are minis in her pedigree, Parlington Lythwood amongst other, and she is only 78 cm. Besides that, the stallion Mountross Buster comes from a pure Birling-line with ancestors with an average height of 77 cm.

Gucci has been sold to a lovely family as a riding and driving pony.
Results:

2012
Gørlev Show
22 point (out of 24)
Nr. 8 af 9
Mares Assesment - Ringsted
Judges: Mrs. Anna Stevens and Mr. Ian Spence
98989 = 43 points
No. 1 of 6
1st class - Medium Reserve Champion
2014
Store Hestedag - Foal and Youngstock Show - Roskilde
Judges: Jan Bjørnshøj and Christina Vhirs
23 out of 24 points
Nr. 5 of 9
2015
Roskilde Show
Judges: Jane Lund Ladegård and Bent Christensen
22 out of 24 points
Nr. 7 of 10

Stamtavle

Lythwood Tommy-Gum

AC 2374

Piebald, 89 cm

Top-Rock Bravo

3219 GBR

Piebald

AH0396

Piebald, 86 cm

Parlington Lythwood

S. 125997

PREF.
Black, 78 cm

Stjernens Gucci-Rush

208333SH0604613

Westbrook Greymist

AB0225


Black, 89 cm

Mountross Buster

4191 GBR

Greenhurst Anah

15589 GBR



SH 75

1. kl.
Black, 88 cm

SH 5

1. kl.
Black, 96 cm

S 950

1. kl
Reservechampion 1991
Black, 88 cm

Dawn of Berry

SB 0109317

2.kl.A
Black, 95 cm

L.L. Lindegaards Bettina

S 396

1. kl.
Black

Supervision of Marshwood

1724 GBR

Black, 99 cm

Lydia of Mousa

S 172

1. kl.
Brown, 88 cm
Family: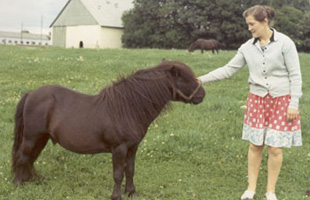 Harviestoun Bombshell
One of the very first Shetland ponies in Denmark.
1. prize and mother of three 1. prize mares and one 1.prize stallion.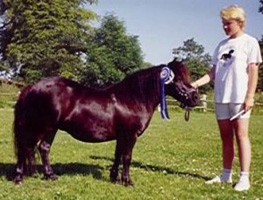 L.L. Lindegaards Bourgogne
1. prize. Reserve Champion.
Mother of three 1. prize mares and two approved stallions, one of which is Stjernens Gambler, 1st prize with 9 9 9 9 10 = 46 points!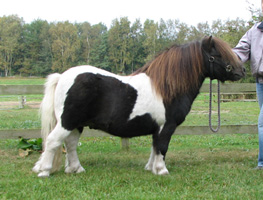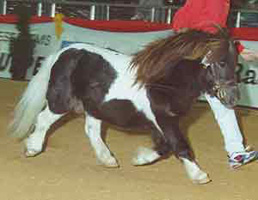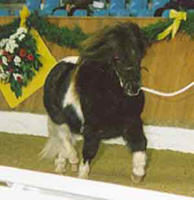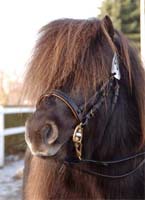 Whitalis Colour Contrast
Approved and showed in Germany with great result.
Father of two 1. prize mares in Denmark.
Sire of the Champion stallion in Germany 2004: Casino v. Ellernbrook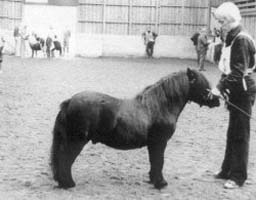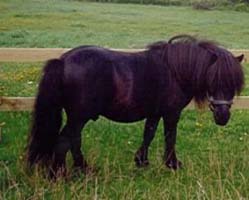 Øxenholms Sergio
1973: Best danish bred stallion
1976: 1. prize and number 1 in his class.
1991: Offspring assembly at the Roskilde Show - 24 out of 24 points, 1. prize + honorary prize.


Half brother father's side: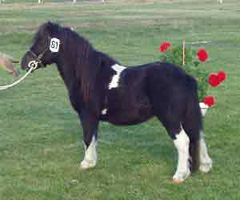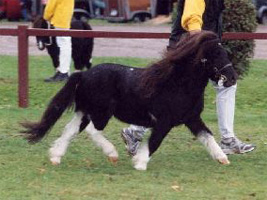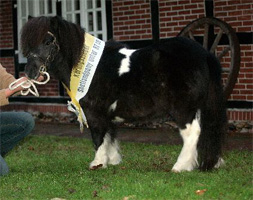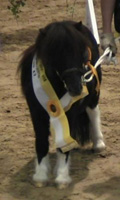 Casino v. Ellernbrook
Champion Stallion Germany 2004
Half brother mother's side: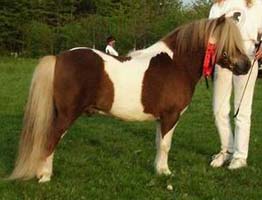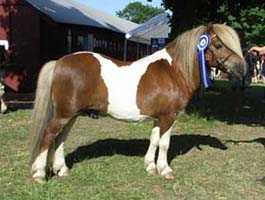 Stjernens Gambler
1. prize with 9 9 9 9 10 = 46 points, Overall Champion 2002
24 out of 24 points at the Kimbrerskuet and Hobro Dyrskue in 2000
2nd best stallion across breeds at Roskilde Dyrskue 2007
Father of 3 approved sons, and three 1. prize mares, one of which is Aarupgaards Disya, Mini Champion in 2010.

Half sister mother's side: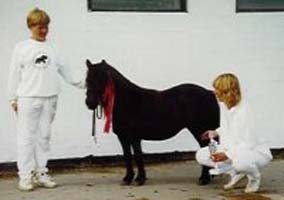 Stjernens Gardenia
1. prize - Overall Champion 1996
Half sister - Fathers side: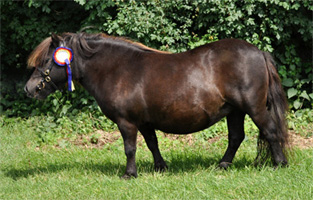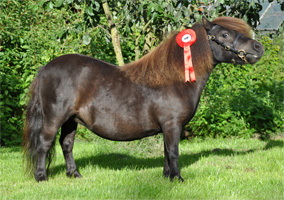 Stjernens Mini-Mie
Only 79 cm.
23 out of 24 points at the Gørlev Show 2012
Mares assesment 2012: 1. prize with 988 89 = 42 points