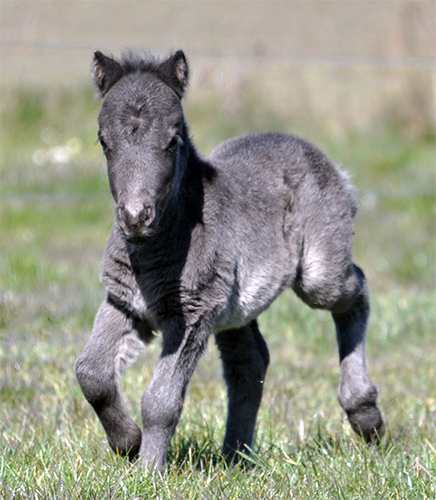 Filly
Born: 20/3 - 2020
Height: 52 cm day 1
Colour: Black
Genotype: E/? a/a
Our very first foal from our lovely Esprit
A most gorgeous little filly foal with amazingf prescence and lots of spunk.
Pedigree

SH 719

1.kl.x m. 43 point
Standard Res. Champion.
Gold w. 41 points + Champion Stallion - Sweeden
Silver Brown, 98 cm

Lowieke v. Bunswaard

V. 809768

Black
1. premie

SH 790

2.kl.B
Silver Black, 86 cm

Lady

DE334347435490

Chestnut

Shady Acres Epic Epidemic

Wiesje v. stal v. Aschberg

S 3788

2.kl.A w. 40 points
Black, 95 cm

010820179

1. premie
Black Tobiano, 89 cm

Prisca v.d. Vendel

S 3113

2. kl. A w. 40 points
Black Tobiano, 95 cm

SB 030822031

1. premie PREF.
Black, 83 cm


Onyx of Sportview

SB 990815062

1. premie
Chestnut, 89 cm

SB 111183686

1. premie KR. BIS
Black, 86 cm


Hillary of Sportview

SB 930110047

1. premie KR
SUPERPREF.
Bay, 81 cm

SB 071136486

2. premie KR.
Chestnut, 89 cm

SB 971089832

2. premie
Chestnut, 89 cm

SB 950116930

1. premie. KR. PREF.
Chestnut, 87 cm

Family: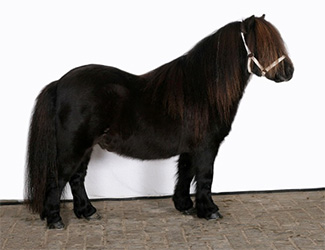 Thorgal of Sportsview
One of the leading mini stallions in Holland.
4 x 1 premie - PREF.
Sired 9 mares with 1. premie, and no less than 7 approved sons, of which most also have 1. premie.
His father is the 1. premie stallion Onyx of Sportview and his mother is the famous Hillary of Sportview 1. premie KR. SUPERPREF. and Overall Champion at Minifokdag in 1995.
The mother of Hillary, is another SUPERPREF. star, Ethel v. Stal Isala, who is the daughter of the famous 1. premie PREF. mare: Anja v.h. Wald, who is also the mother of Perigeux v. Isala and 3 other 1. premie daughters, besides Ethel. Amazing pedigree in this little stallion.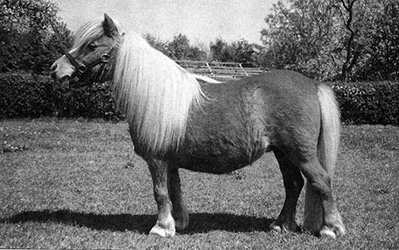 Strathbogie Millie
She herself was not a great show pony, and thus every time she was shown, she recived a 2. premie, but she has still become KR. SUPERPREF. on the basis of her completely amazing breeding results!
Out of 8 assessed offspring in Holland 7 of them have been shown with 1. premie. Out of these are no less than three 1 premie sons and 3 PREF. daughters!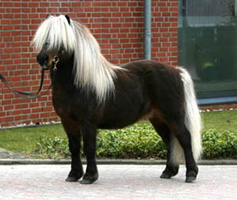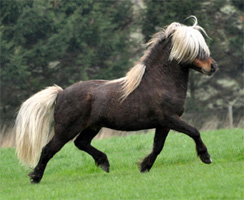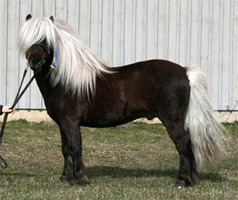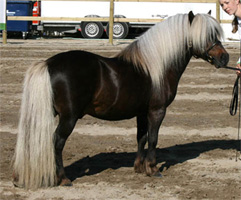 Silbersee Luxus
1.kl.x. w. 43 point + Standard Res. Champion - Denmark
Gold w. 41 points and Champion Stallion at Show - Sweeden.
Nr. 2 of 6 with 23 out of 24 point at Roskilde Dyrskue.
Luxus foals are doing extremely well at the foal and youngstock shows here in Denmark so far. See more of his offspirng further down the page.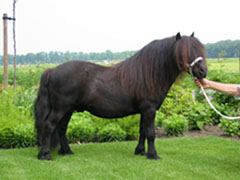 Edmund v.d. Brouwerij
Got 4 x 1. premie in Holland before he was exported to Sweeden.
In 2002, after only 3 years in Sweeden, he was bought back to Holland, where he the following year was awarded lifetime approval because of the high quality of his offspring.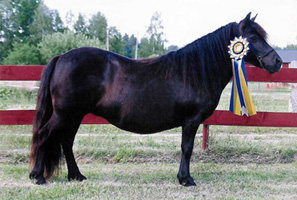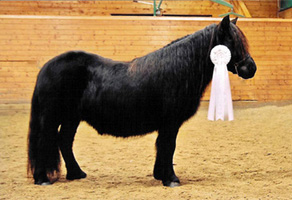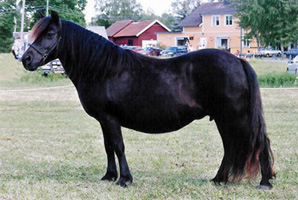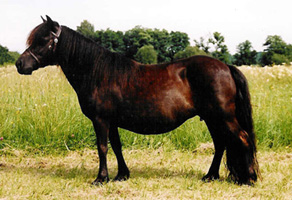 Fixy v. Bunswaard
An excelent mare who has won several times 1. premie in Holland.
KROON PREFERENT
4 x gold in Sweeden + 2 x Best in Show with as much as 44 points, and a maximum score of 10 for type and trot!
SUCH, SUPER-SUCH and ELIT
At the age of 20 år she was shown in Denmark and won her class: 1. kl.x w. 43 points and Best Veteran
Standard Res. Champion and Overall Res. Champion.
She is the mother of 2 approved stallions; 1. premie stallion Kylian v. Bunswaard, who is also National Champion and 1. premie stalllion Lowieke v. Bunswaard.
She is also the mother of several amazing mares.