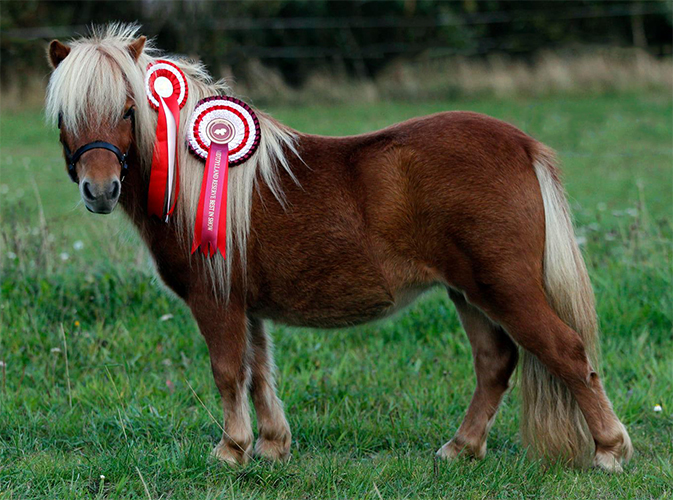 Filly
Born: 9/5 - 2018
Colour: Chestnut
Genotype: e/e ?
Height: 53 cm day 1
Dreamer is a gorgeous little girl, out of 2 parents both with excellent movements.
I was very much in doubt wether or not to sell this beauty, but finally decided to sell her to Malene from Trinhedegaard, who just like me, fell head over heels in love with Dreamer's mother, Diamora, when we both saw her at the 2017 Select Sale in Holland.
I am looking foreward to meeting little dreamer again, in the show ring.
Results:

2020
Youngstock Show - Randers - Denmark
Nr. 3 of 10
98888 = 41 points
Res. Best in Show
Pedigree

SB 000816891

2. premie
Chestnut, 81 cm

SB 960809398

1. premie
Chestnut, 83 cm

SB 091160162

1. premie
Chestnut, 89 cm

Manischa v.d. Raven

SB 970124018

1. premie KR. PREF.
Chestnut, 82 cm


Shady Acres Darling Dreamer

SB 041104690

1. premie KR
Chestnut, 88 cm


SB 920802592

1. premie PREF.
Chestnut, 86 cm

SB 910106562

1. premie KR. PREF.
Chestnut, 86 cm

SB 940805645

1. premie
Bay, 85 cm

SB 0000961

1. premie - Overall Champion
KEUR. PREF. 
Bay, 85 cm

SB 101174691

2. premie KR.
Rød, 84 cm

Diana v.d. Lindenhof

SB 890101900

2. premie KR. PREF.
Bay, 81 cm

Xamora v. ´t Terp

SB 061129172

1. premie KR. PREF.
Chestnut, 91 cm

SB 920802592

1. premie PREF.
Chestnut, 86 cm

Oxella v. ´t Terp

SB 990129480

1. premie KR. PREF.
Chestnut, 89 cm
Some family: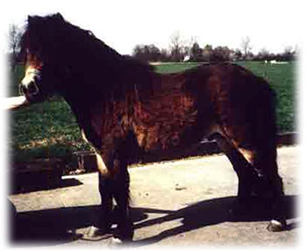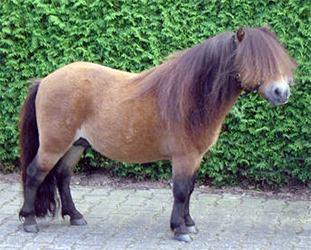 Ivo v.d. Lindenhof
Ivo has done well in dutch breeding so far,he has 14 1. premie daughters and 4 approved sons in Holland, all with 1. premie..
He especially breeds very good movements.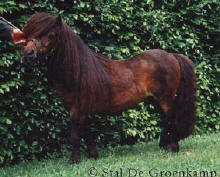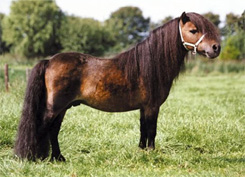 Adam v. Spuitjesdom
Many regard him as the best mini in Holland in history.
Another incredible stallion, with many high quality offspring. Is especially well known for passing on his incredible movements..
Shown in Holland with 1. premie in 1990, 1991, 1992 and 1993. Keur and Preferent.
In 1990 he was also best placed mini, best dutch bred mini and best 4 year old.
In 1994 he was also awarded 1. premie and was mini champion, overall champion and honorary champion.
He has ofcourse both Keur and Preferent predicat because of his and his offsprings amazing results.
He has no less than 24 approved sons in Holland alone.
He is after the famous Preferent stallion Vorden Budleia and out of the Super Preferent mare Chatsworth Blossom.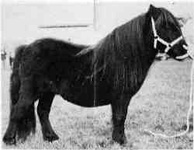 xxxxxxxxxxxxxxxxx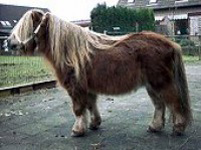 Chatsworth Blossom xxxxxxxxxxxxxxxxxxxxxxxxxxxxxxVorden Budleia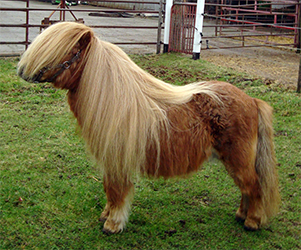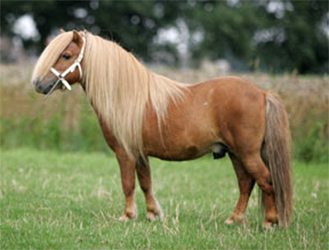 Gold Star v.d. Beatrixlaan
One of the very prominent stallions in the dutch mini shetland breeding.
Has sired no less than 12 approved sons.
1. premie + Preferent with 400 points for his daughters and 75 points for his sons.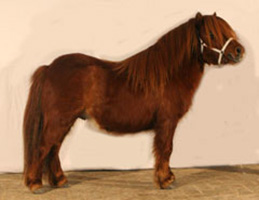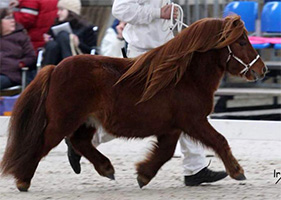 Concorde of Sportsview
1. premie stallion with excellent movements.
In 2018, he was chosen to compete in the Best Trotting competition.