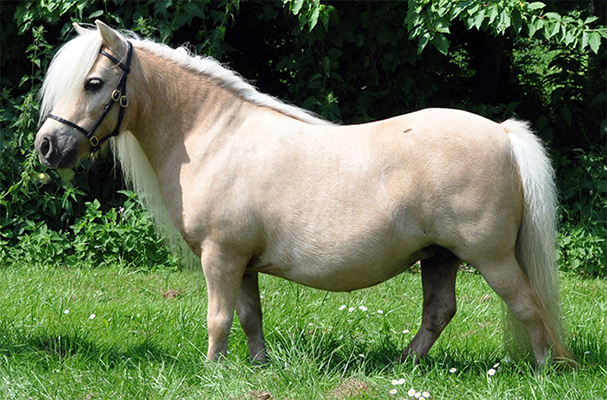 Mare
Born: 21/4 2001
Colour: Palomino
Genotype: e/e a/a C/Cr
Blondie is a fantastic mare, I have been in love with since I started helping out at Stutteri Bakkegaard all the way back in 2004.
I was there in 2005 when she became Mini Champion and 1st prize at the mares assesment. A wonderful day I will never forget.
Since I saw her for the first time, I have dreamt of owning a mare liek Blondie, and now she is finally mine.
Thank you to Kate, from all my heart, for letting me have this beautiful mare, which she bought back in 2001, when Blondie was only a cpouple of days old.
I am sure Blondie will bless me with some wonderful foals.

Results:
2005

Mares Assesment
Mini Champion
Best Danish Bred Mare
Nr. 1 of 6
Grades: 998 89 = 43 points
1. kl. X
2015
Gørlev Hesteskue
Judges: Jan Bjørnshøj and Ole Paarup-Nielsen
23 out of 24 points
Pedigree

Maundy Boy Of Southfieldgate

4347 SSB 

Bay Tobiano, 81 cm

Hayes Hill Champion Pathin

3696 SSB

SH 358

2 kl. A x w. 45 points
Palomino, 82 cm

Stranduff Tania

12793 SSB

Stjernens Mini-Blondie

S 2772

1. kl. x w. 43 points
Mini Champion


Tyros Goldilocks

15967 SSB 

Palomino, 78 cm

3965 SSB

Chestnut, 78 cm

Tyros Goldsprite

13399 SSB

Palomino

SH 197

1. kl
Chestnut, 88 cm

Ll. Lindegaards Tordenskjold

SH 100

1. kl, Champion
Black, 95 cm

S 2255

2 kl. B
Chestnut, 88 cm


Ørnhøj Nessie

S 1027

1. kl.
Black, 92 cm

S 1738

2. kl. A
Chestnut, 86 cm

Skovlundens Gordon

SH 186

1. kl.
Chestnut, 87 cm

Paradisets Nadia

S 1422

2.kl. A
Chestnut, 91 cm

Some family: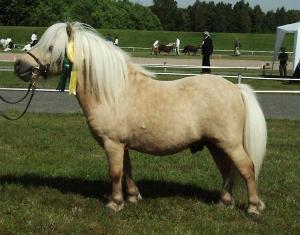 Southfieldgate Goldstike
2.kl.Ax with 99999 = 45 points 1998
Junior Champion - International Show 1995
A stallion with much importace in the breeding of palomino ponies in Scandinavia.
Sire to several approved sons in Denmark and Sweeden.
And also several 1st prize mares.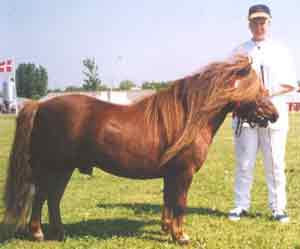 Ørnhøj Red Label
1. prize at stallions assesment and shown with 24 points (out of 24) with honorary prize several times.
Halvsøster - fars side: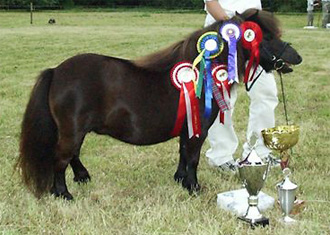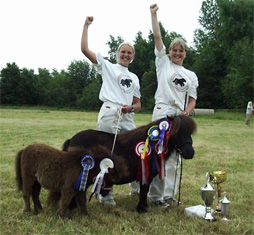 Gerda McVerdi
Tiny little Gerda - only 73 cm tall.
1. kl. x with 999 89 = 44 points
Miniature Champion Zealand 2003
Best Miniature Zealand 2003
Overall Reserve Champion Zealand 2003
Also her foal that year, Bakkegaard's Elinor, was also Best Foal in Zealand 2003.

Halfsister - fathers side: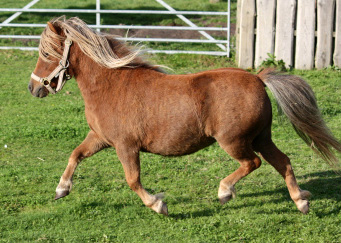 Stjernens Mini-Krinoline
1. kl.x with 99978 = 42 points
Nr. 1 of 6


Some offspring: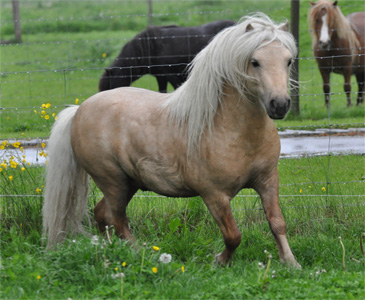 Bakkegaard's Buzzlightning
2. kl.A with 88788 = 39 points
2. best stallion with honorary prize at the performance test.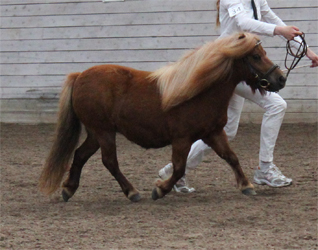 Bakkegaard's Bambilightning
2. kl.A with 888 88 = 40 points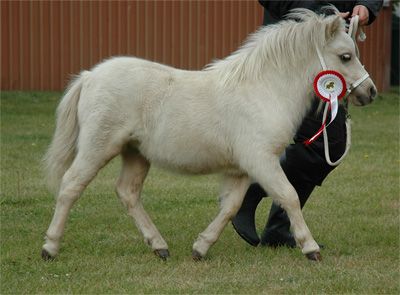 Bakkegaard's Bellalightning
Best Mini Filly Foal 2009
Best Mini Yearling Filly 2010