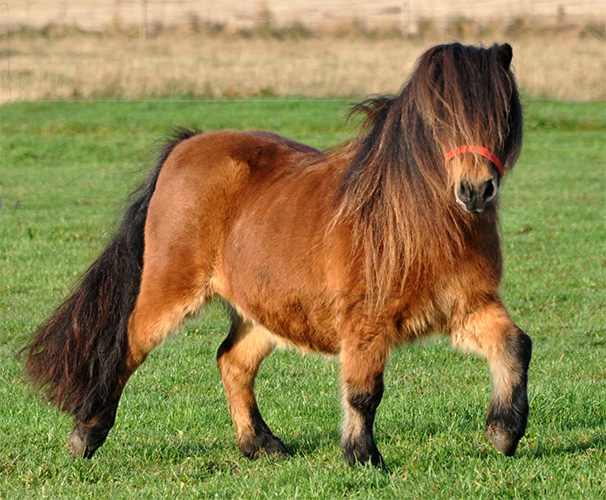 Mare
Born: 8/5 - 2007
Colour: Bay
Genotype: E/e A/a
Height: 83 cm
Amy is somewhat of an impulse purchase.
I fell for her at the Select Sale in Holland in 2019. I hadn't really had my eyes on her before the auction, but when I spotted her in the stable I had to take her out a bit to have a look at her movements, since she looked a lot better in real life than in her puctures.
Her movements definately didn't dissapoint. In fact she turned out to be the very best mover of the auction, in my opinion.
I just had to have her, and after a short bidding war with some german breeders, I mannaged to secure her and take her home with me to Denmark.
I haven't regretted it for one minute. She is so beautiful and such a great mover.
Her pedigree is also very interesting, since she is out of the well known preferent mini mare, Nathalie v.h. Wald who is the mother of two 1. premie champion mares and no less than 3 approved sons in Holland. Her granddam, Gin Tonic v. Stal Brammelo, is also preferent and the mother of 4 x 1. premie daughters.
Her sire, Subliem v.d. Colorstable, so far has eight 1. premie daughters and one 1. premie approved son.
Subliem is by the legendary Adam v. Spuitjedom and out of the 1. premie champion superprefent mare Darling v.d. Zandkamp.
Darling is an amazing mare, and all of her 9 daugthers have a 1. premie. She is also the mother of 2 approved stallions. Subliem and the 1. premie stallion Justus v. Kort Ambacht.
I am looking so much foreward to showing this beautiful mare, and including her in my breeding program. .

Results:

2007
Veulenspremie
2010
1. premie
2011
2. premie
2012
2. premie
Kroon
2020
Halloween show - Sölvesborg - Sweeden
Judge: Annika Strindgård
Nr. 1 of 4
88899 = 42 points - Gold
Champion Mini Mare

Pedigree

SB 0000961

1. premie KEUR. PREF.
Overall Champion
Bay, 85 cm

820000883

2. premie PREF.
Chestnut, 82 cm

020821776

2, premie
Black, 86 cm

710094398

SUPERPREF.
Black, 82 cm

Amy of Duke Stable

890102567

1. premie KR. SUPERPREF. Champion.
Black, 84 cm

Winston L.H.

840000925

1. premie PREF. IBOP-B
Chestnut, 98 cm

Wikkie v.d. Zandkamp

840095706

1. premie KR. PREF.
Black, 92 cm

Fazal v.d. Reehof

910800783

1. premie. PREF.
Chestnut, 83 cm

SB 0000892

1. premie, ELIT
KR. PREF
Chestnut, 84 cm

Natalie v.h. Wald

980126545

1. premie KR. PREF.
Chestnut, 85 cm

Cecielia v.d. Reehof

880100700

1. premie KR. PREF.
Chestnut, 94 cm

Gin Tonic v. Stal Brammelo

920109621

1. premie KR. PREF.
Chestnut, 90 cm

SB 0000961

1. premie KEUR. PREF.
Overall Champion
Bay, 85 cm

Bianca v. Lierop

870099118

1. premie KR..
Chestnut, 93 cm
Some family: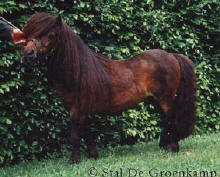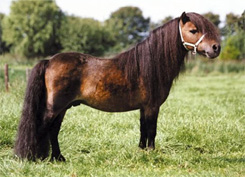 Adam v. Spuitjesdom
Many regard him as the best mini in Holland in history.
Another incredible stallion, with many high quality offspring. Is especially well known for passing on his incredible movements..
Shown in Holland with 1. premie in 1990, 1991, 1992 and 1993. Keur and Preferent.
In 1990 he was also best placed mini, best dutch bred mini and best 4 year old.
In 1994 he was also awarded 1. premie and was mini champion, overall champion and honorary champion.
He has ofcourse both Keur and Preferent predicat because of his and his offsprings amazing results.
He has no less than 24 approved sons in Holland alone.
He is after the famous Preferent stallion Vorden Budleia and out of the Super Preferent mare Chatsworth Blossom.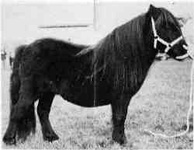 xxxxxxxxxxxxxxxxx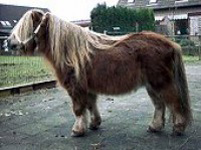 Chatsworth Blossom xxxxxxxxxxxxxxxxxxxxxxxxxxxxxxVorden Budleia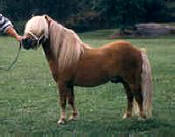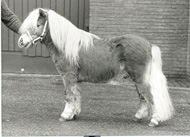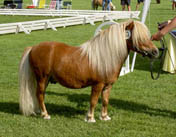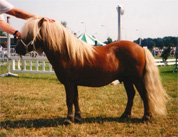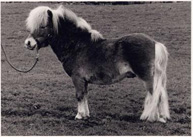 Parlington Pimpernell
One of the leading stallions in both Holland and Sweeden.
He was the best mini stallion in Holland for 4 years, before he was exported to Sweeden in 1991.
One of Europes leading stallion fathers with more than 25 approved sons in Holland, and approved sons in both Germany, Sweitzerland and Sweeden.
Used in Sweeden from 1991 til 2001, where he won severel BIS and champion titles. He was awarded ELITE, and was shown with up to 45 points.
In 1991 he was reserve world champion in Paris, and in 1994 he was best mini champion at the international show in Holland.
In 2001 he had 278 registered offspring in Holland, and more than 500 offspring all in all.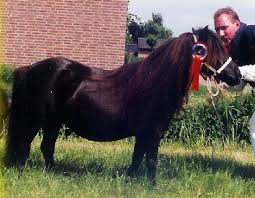 Darling v.d. Zankamp
One of the best mini mares in dutch breeding.
4 x 1. premie. Kroon and Superpreferent
Champion.
All of Darling's 9 daughters have recieved a 1. premie.
She is also the dam of 2 approved sons in Holland.