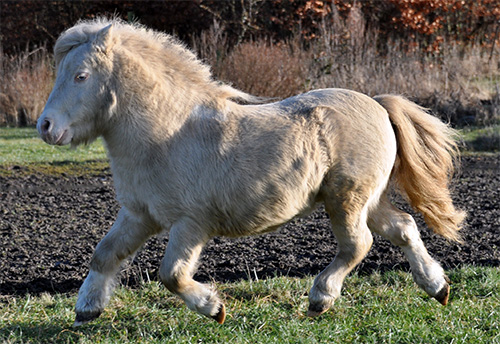 Stallion
Born: 12/5 2010
Measurements: Height: 85 cm
Colour: Smoky Cream Tobiano
Genotype: E/e a/a Cr/Cr To/to
Albert is a lovely and very easy little boy.
He was bred by my good friend Kate, and I was completely smitten with him when he was a foal. Unfortunately it wasnøt possible for me to buy him at that time, and he went to Austria.
In the following years I have followed him there, and when I suddenly got the chance to bring him back to Denmark, I didn'y hesitate.
I really hope he makes it through assesment, so that he can be a future breeding stallion at my little stud..
The future will tell.
Results:

Pedigree

Kerswell Mistral

AC0647

Palomino, 82 cm

Kerswell Firecracker

4215 SSB

Palomino, 79 cm

SH 518

2.kl.B w. 37 points
Buckskin, 85 cm

Kerswell Mimosa

15935 SSB

Palomino


Bakkegaard's Albert

Kerswell Sienna

AC0643

Bay, 80 cm


3593 SSB

Brown, 80 cm

Kerswell Sorrel

15937 SSB

Bay, 76 cm

SH 464

2.kl.A, w. 39 points
Chestnut, 85 cm

SH 376

1 kl. x. w. 45 points
Chestnut tobiano 82 cm

S 3506

2.kl.A, w. 38 points
Palomino Tobiano, 82 cm

S 2052

2 kl. A x w. 39 points
Chestnut, 82 cm

S 3012

2 kl. A x w. 39 points
Palomino Tobiano, 73 cm

SH 358

2 kl. A x w. 45 points
Palomino, 82 cm

S 2113

2 kl. A w. 39 points
Black Tobiano, 71 cm
Some family: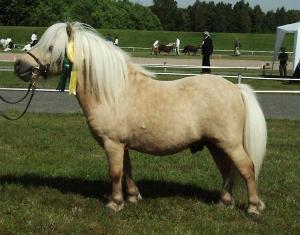 Southfieldgate Goldstrike
2nd class Ax with 99999 = 45 points
Junior Champion - International Show 1995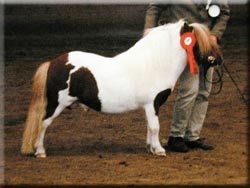 Darwin Lightening
1st class x with 99999 = 45 points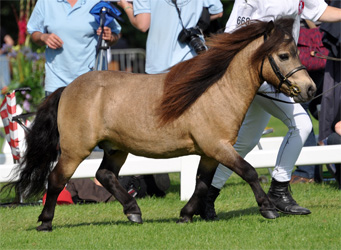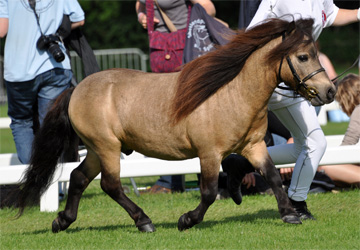 Kerswell Sorcerer
Classwinner at the International Show 2012